(Or, How To Be Comfortable And Stay Safe On Washington Trails)
Invisible Campsite
On Friday, October 21, 2022 after hiking a couple miles through the damp coastal woods south of Neah Bay near the extreme northwest corner of the United States, I found a campsite under the trees near the southern end of the beach, pitched my tent, then walked back in the direction I came from to get some water from the creek for tomorrow's breakfast. 
The only trouble was, by the time I had filtered two bottles of water and started heading back along Shi Shi Beach, the daylight was nearly gone and all the woods lining the beach looked exactly the same. I knew some previous camper had hung a multicolored Styrofoam float from a branch above the hidden trail that led to the site, but as the light was now almost gone, it had vanished into the dark green of the fir trees. If I'd only have made a mental note of how the large pieces of driftwood looked where my site was on the strand, I might have had a chance of finding them again. 
So here I was, listening to the roar of the North Pacific Ocean in a chilling breeze and unable to determine where on this long expanse of sand I had walked into the woods and set up camp. All I had were two bottles of water and my iPhone in my back pocket, which seemed of little use, as I was far from cell reception.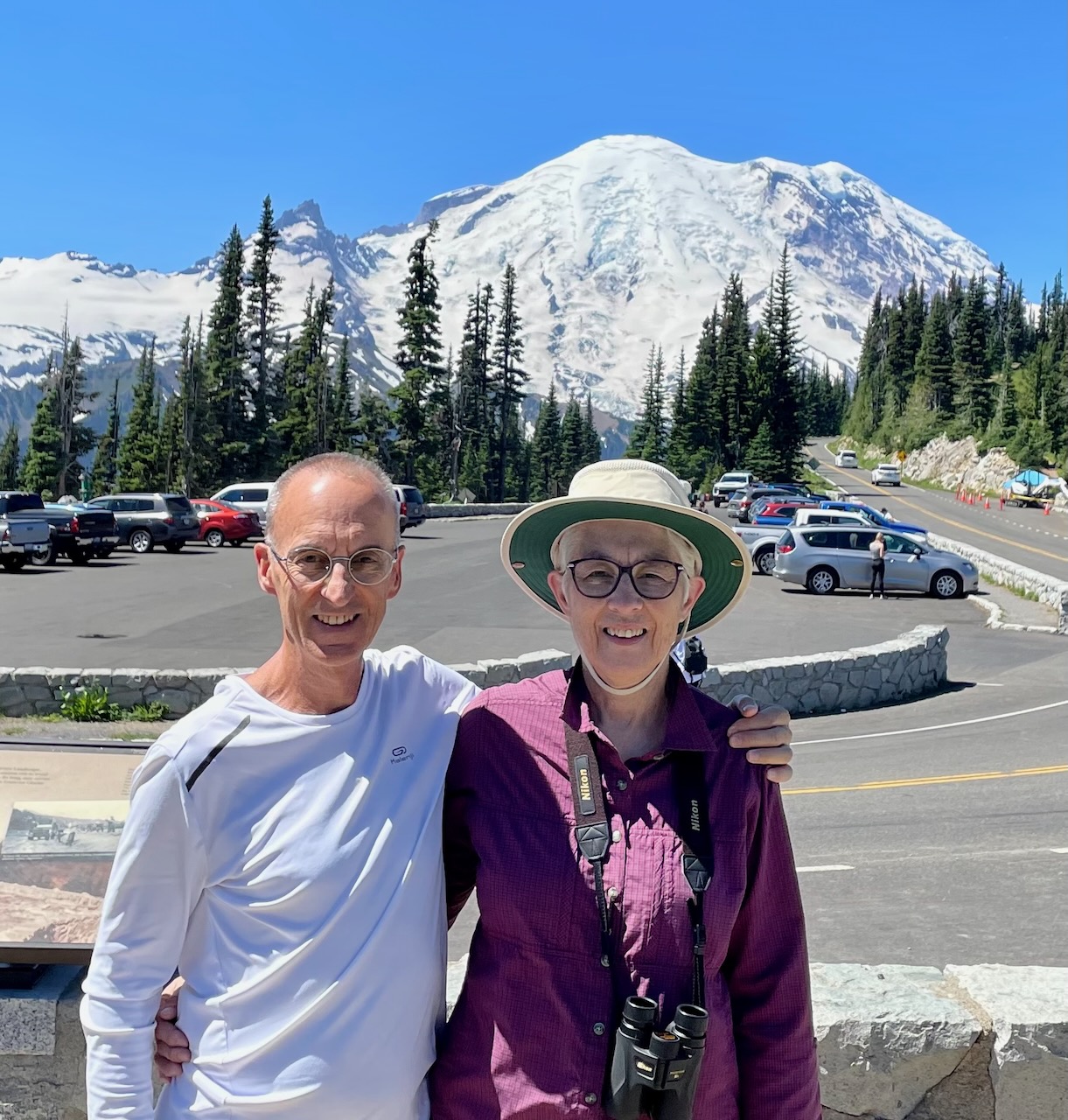 The Bug
I'd gotten the idea to get into backpacking about three months before in July, after visiting Mount Rainier with my sister, Ellen. The thinner air at 6400 feet had been a problem for her, so she hung back at a shaded spot in the trail and chatted with a ranger woman while I hiked toward Frozen Lake for twenty minutes, then turned back. 
I've always loved nature, and after twenty-five years in Asia away from the Pacific Northwest, I was giddy at re-experiencing the clear, fresh air above the tree line, to feel my feet and legs remember what it was like to navigate the uneven trail, to pause and take in the infinite view of Tahoma (the native name for what many Seattleites simply call "the mountain," since it dominates the view south from the city during the clear summer months).
Gearing Up
I knew my Skechers sneakers were not the best for hiking, so replacing them was the first thing I researched upon returning home. It didn't take long to find hikers online who advocated the minimalist 'barefoot' style trail shoes over the bulkier traditional shoes with raised heels and arch support. I bought a pair of Altra minimalist shoes, but knew it would take a while for my feet to adjust to wearing them and, since I didn't know how long that would take, also bought a pair of regular KEEN hiking shoes as a backup.
Indeed, my feet were sore after the first few times walking around Seattle parks in the Altra shoes. But after a couple months I got over the hump and can now wear them constantly. I even swapped my everyday Skechers for a pair of Birchbury barefoot style casual shoes to complete the transition. (There's tons of info online on the how and why of barefoot shoes.)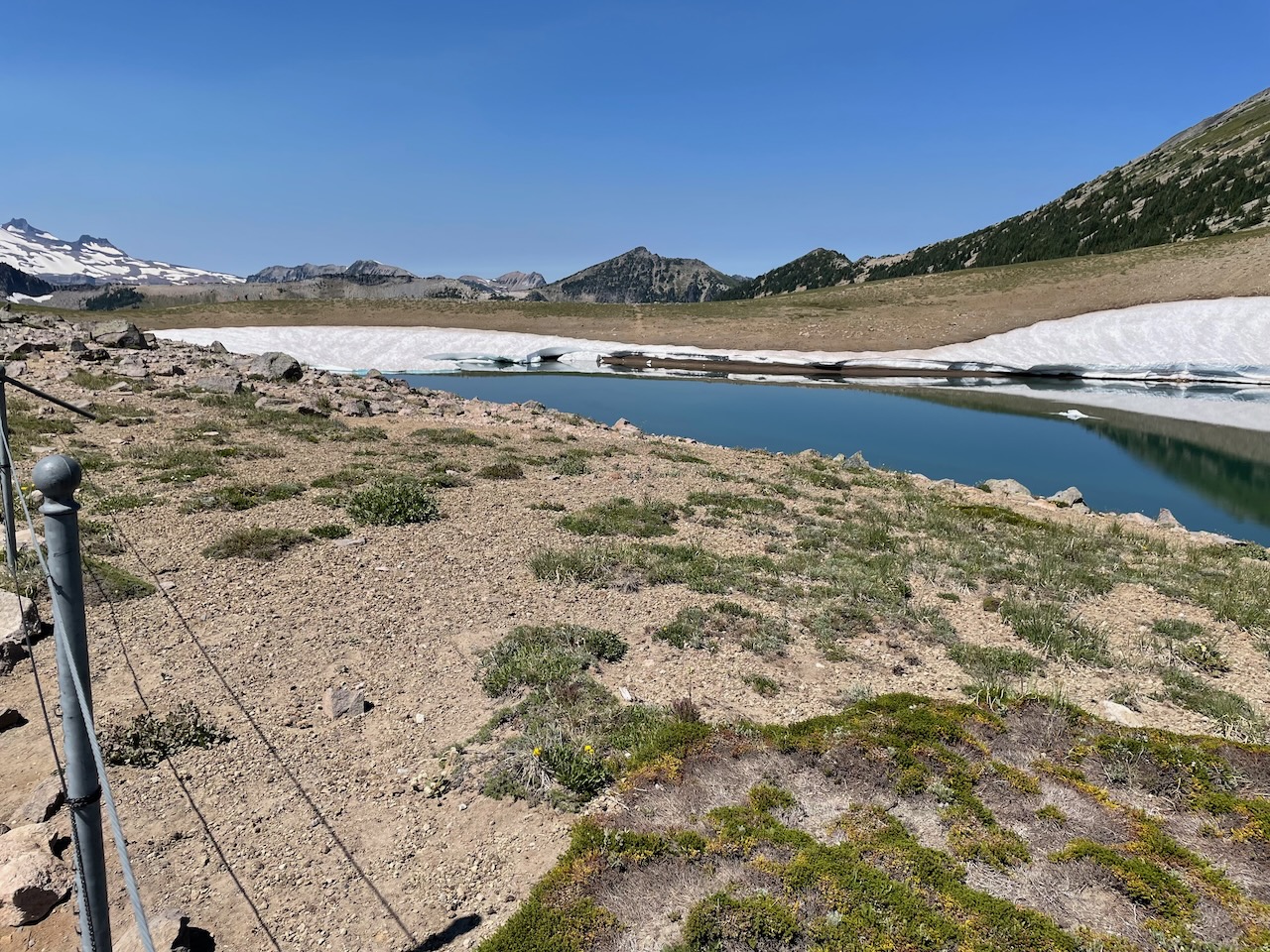 Thawed Lake
I couldn't stop thinking about Rainier and that rarified air, so two weeks after going there with Ellen, I drove back for a trial run with my new shoes. I wore the conventional KEENs on the 1.5 mile way up to the lake, then changed into the flat Altra's for the walk back. By the time I got back to the parking lot by the Sunrise Visitor Center, my feet were a little sore from the Altras, but not bad. It was another gorgeous day with lots of people enjoying the mountain and fresh air like me. But now there were essentially no more parking spaces in the immense lot for those who'd gotten a late start from the city.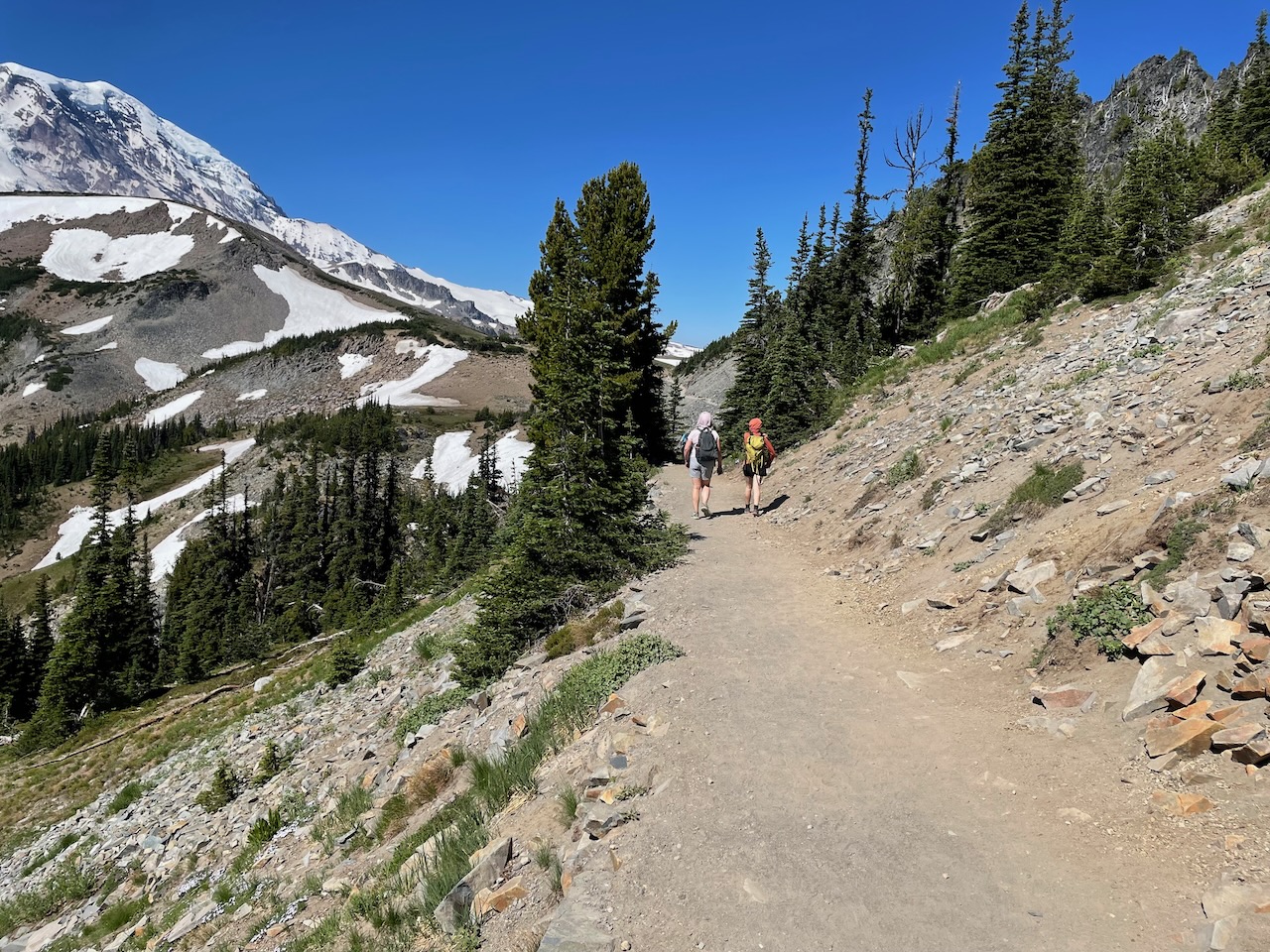 Take My Money
With my shoe trial out of the way, it was now time to think about all the other gear I'd need if I wanted to actually go backpacking; that is, to hike into the wilderness, spend one or more nights, and hike out. At first I thought I'd try to avoid REI (Recreational Equipment, Inc.; the famous outdoor equipment company founded in Seattle in 1938), since it elicited images of yuppy types with more money than sense (or actual interest in the outdoors), queuing for stylish and expensive doodads for their annual camping trip. But I eventually realized that, though prices are indeed sobering, it's really the best place to browse and try out most of what you need.
For example, as much as I researched backpacks online, there was no way to actually know how the different models would feel to wear. The staff at REI can measure your torso, know how adjust packs to fit, and have weighted bags of different sizes to load them up so you can see how it actually feels wearing them. Same thing with sleeping pads: You can stretch out on all of them to compare. There's even an angled "mountain path" to stand on to test hiking shoes. Plus: If what you bought isn't working for you, you have one year to return it, no questions asked!
The Big Three
Backpackers talk about the "big three" items: your backpack, tent and sleeping bag (or "sleeping system," which includes a pad). These are normally your biggest expenses, as well as the most important, and heaviest, items. I got my tent, pack and sleeping pad (and lots more), from REI.
My other main channel for acquiring gear will come as no surprise and is, coincidentally, also based in Seattle: Amazon. Love it or hate it, it's undeniably convenient for finding a wide range of items that would be difficult-to-impossible to get elsewhere. After watching a ton of YouTube videos on backcountry kit, I ordered a 20-degree down bag from them, as well as some basic trekking poles, stove and pot kit, headlamp and water filter.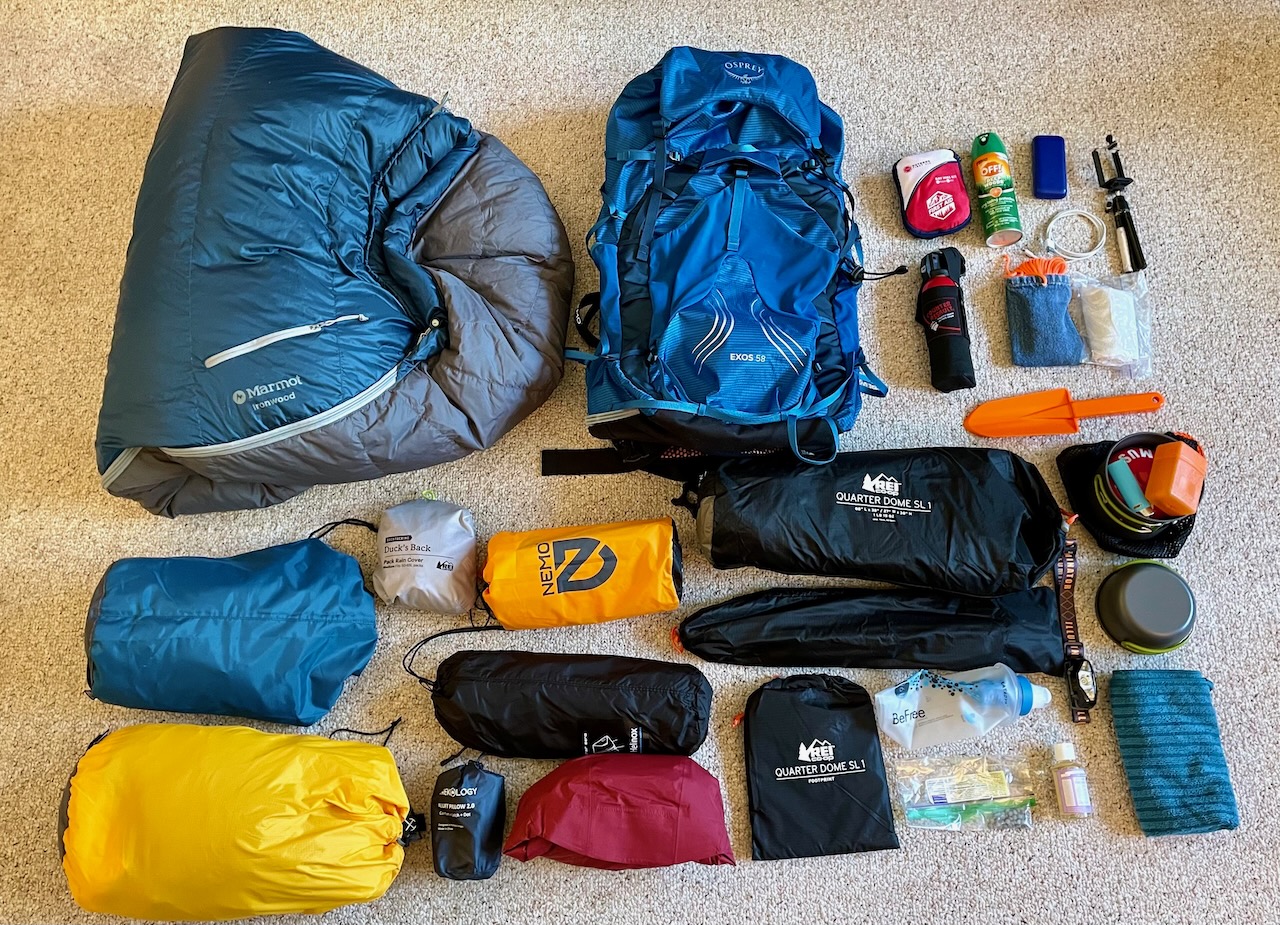 Ranger Ricardo
Maybe the best thing about REI's flagship store in Seattle is the Ranger Station, with real live state rangers who can answer questions about the backcountry and also sell the passes you'll need, like the America the Beautiful pass for federal lands, and the Discover pass for Washington State government lands.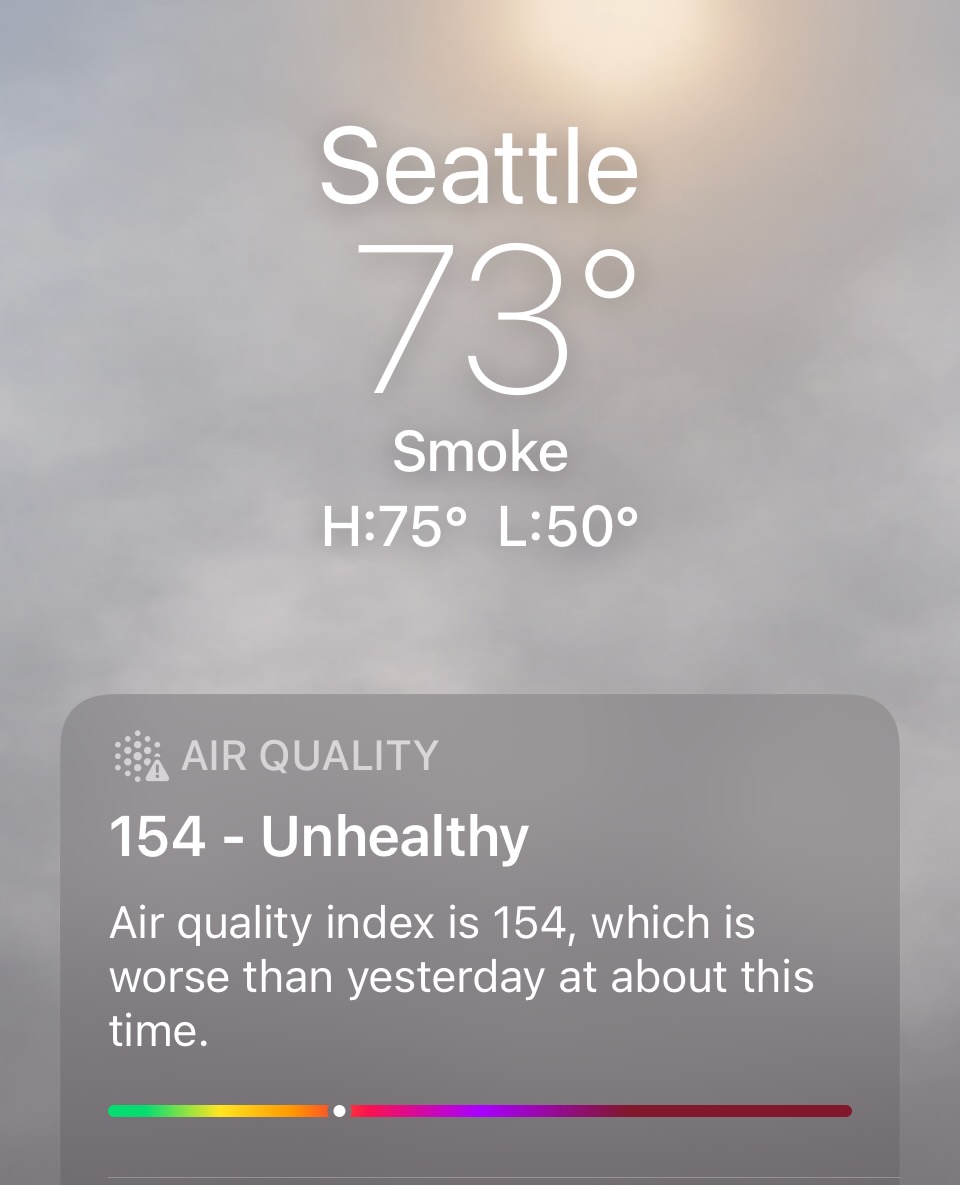 Where There's Fire…
It was one of these rangers who first made me aware of the wildfires in the Cascade Mountains east of Seattle and resulting smoke. He said many of the hikes suggested in my Facebook group were overcrowded, and recommended a few trails near Stevens Pass instead, but with the caveat that I ought to wait a few days, since they were forecasting clearer skies soon.
Unfortunately, the wildfires went from bad to worse, and I was becoming despondent that I'd started too late in the season to catch the best conditions.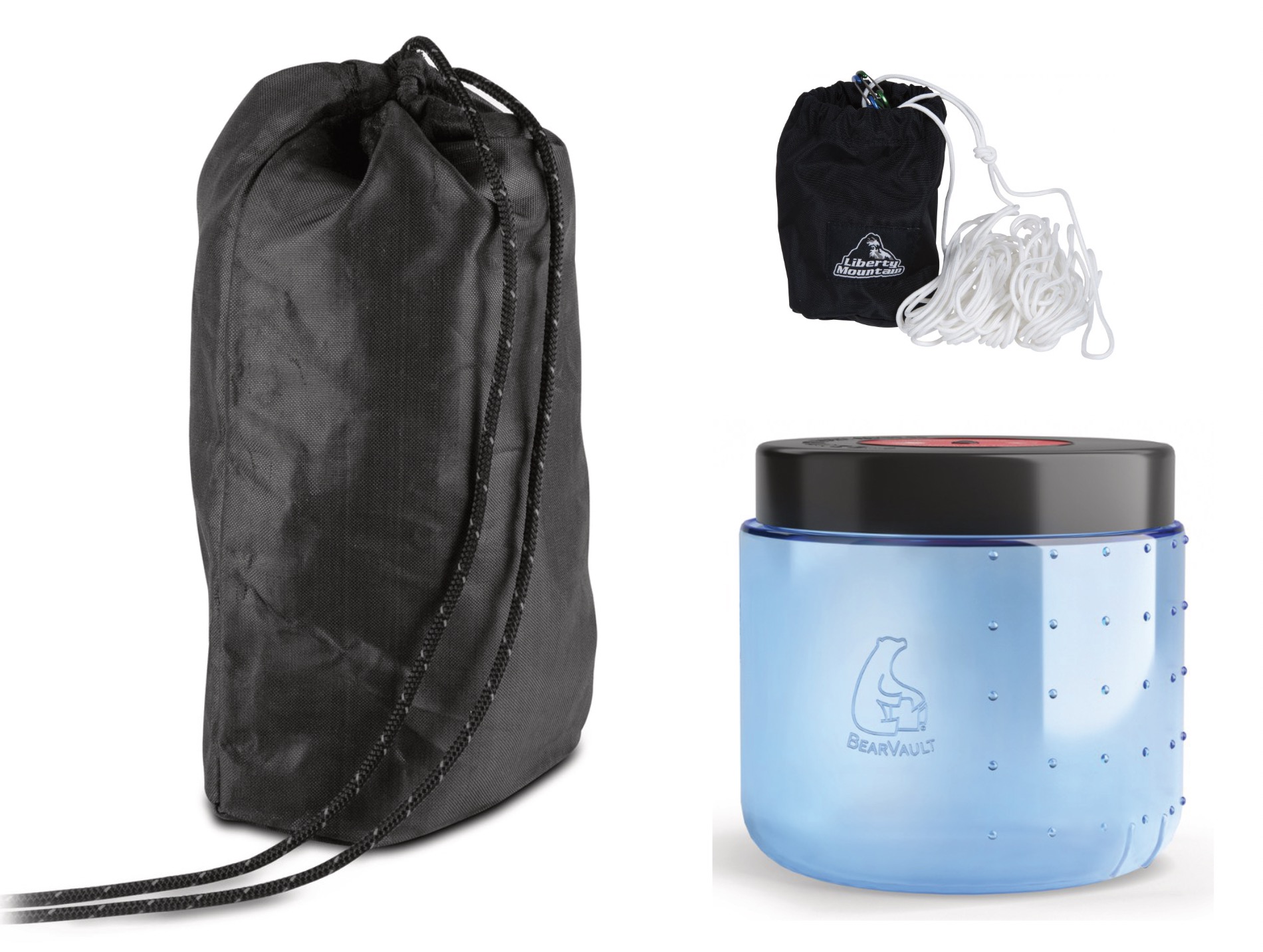 Bear Essentials
If you're wondering if it's safe to spend the night in the woods where bears are known to roam, you're not alone. There are almost no brown bears (i.e., grizzlies), in Washington State; only a few in the remote northeast near Canada. The smaller black bears (which confusingly can be brown in color), are far less dangerous, and I heard only one person was ever killed by one in Washington in the last hundred years.
But part of the challenge, for me, is to overcome my fear of being alone in the wilderness, even if there are dangerous wild critters living there.
There are a number of things people use to deal with bears (and mountain lions, for that matter), and it depends on where you're hiking. Their sense of smell is many times better than ours. If they discover they can get an easy meal by approaching campsites, then the bear may eventually have to be put down. So, it's essential to store your food such that bears can't get to it. There are three methods for doing this: hanging your food from a tree, putting it in an approved bear canister ("bear can"), and approved bear bags, like the Ursack. 
The only one I knew of from before was the hanging method. The trouble is, sometimes it's impossible to find a good tree to hang your food in. Bear bags are made of bullet proof Kevlar and have been tested against actual bears. When used correctly, they work, but if a bear mauls your bag, your food will likely end up squished.
The ultimate solution is a hard-sided bear can, and these are actually required in many national parks and wilderness areas. I now have all three: bear bag, canister and homemade hanging kit (paracord and pouch to fill with rocks for throwing over a branch). 
Light, Lighter, Lightest
Around 2002 when I was living in Berkeley, California, I'd gotten the full complement of backpacking gear from the REI there. That was around the time ultralight backpacking was becoming a thing, and since I was making decent dough at the time, I had splurged on some of the new pricey items, like a titanium cook pot and palm sized folding stove.
Thru-Hikers
It doesn't take much searching to learn of the "super trails" people are hiking these days, like the Appalachian Trail, which runs from Maine to Georgia, and the Pacific Crest Trail (Canada to Mexico). There are others, but these are the two most famous.
People who attempt to complete a trail like this are known as "thru-hikers," and it's these folks who are, understandably, the most interested in trimming the weight of their kits to the absolute minimum. The most extreme of them have been referred to as "gram weenies," as they'll even (famously), cut the handle off their toothbrushes to save a gram or two.
Business Or Pleasure?
Debate persists online over weight versus comfort. One popular YouTuber, Dan Becker, makes sense to me, since he's more of a weekend warrior than a thru-hiker. While acknowledging that, all else equal, lighter is better, the lightest gear can be crazy expensive, and some thru-hikers are willing to forgo basic comfort or convenience just to save a few ounces.
After watching a few of his videos, I ended up investing in some things that not only make one's excursion more pleasant, but are also pretty cool. Though it seemed exorbitant at first, I eventually sprung for the Chair Zero by Helinox. Dan made the case that, at just one pound and with a small folded size, it was worth it for him to be able to sit comfortably at camp after a long day's hike. Several companies have built copies, and some are cheaper, but I decided to reward the originators and debited my card $120 for theirs. So far I'd agree with Dan on this one.
His take on sleeping pads also made sense to me. I'd scrimped in California and went for an ultralight–and ultra-uncomfortable–thin, self-inflating pad. The NEMO Tensor inflatable pad I ended up with this time is considerably thicker and with an insulation rating of 4R, which is good down to about thirty-five degrees. (I later decided to add a Therm-a-Rest Z Lite closed cell folding pad for an additional 2R of insulation, since the NEMO by itself was not quite enough on the two nights I spent in the outback.)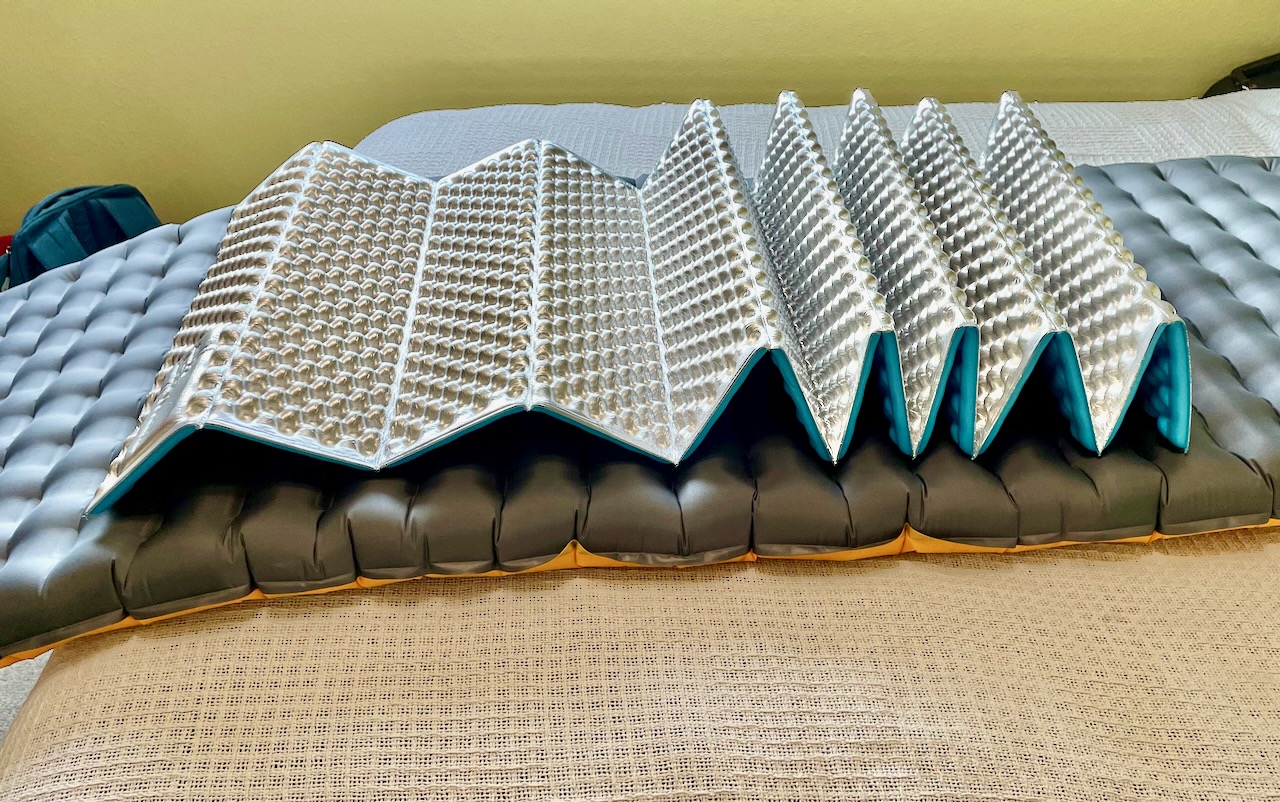 When I lived in Berkeley, it seemed everyone was using rubber water bladders from companies like CamelBak that fit into a pocket in your pack. A tube goes from the bladder through an opening, which makes it easy to take a sip whenever you're thirsty. Now however, while many people still use bladders, others just carry plastic water bottles in a pocket on the side of their packs, like the popular Smartwater brand.
The problem with bladders is they're kind of a hassle to refill and replace. One of Dan's videos is about a simple, seven-dollar piece of plastic that clips onto the top of a Smartwater bottle, that allows you to hang it on your shoulder strap (aptly named the AquaClip). Don't know what I'd do without mine.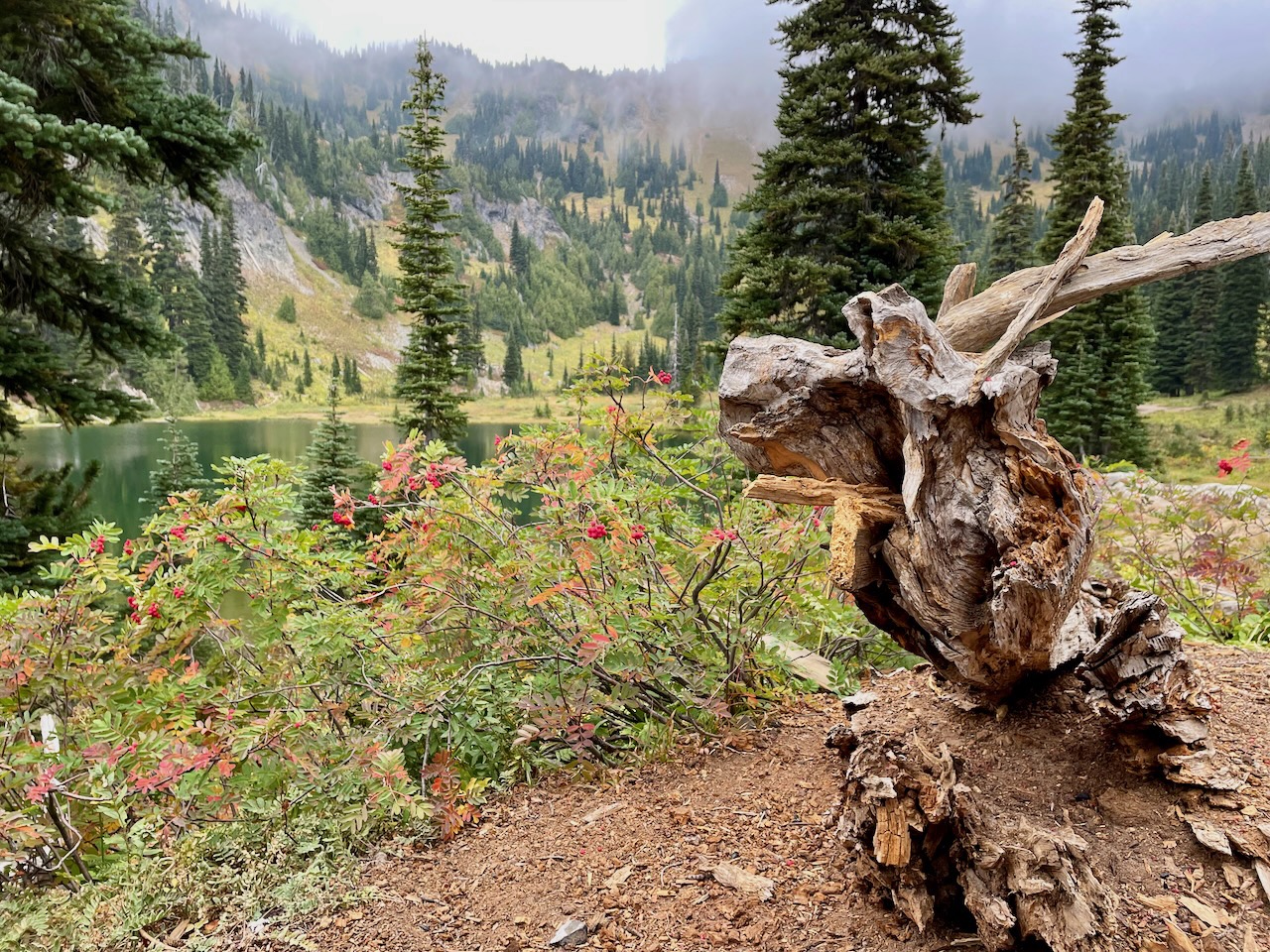 Sheep Lake
It seemed to take forever to decide on everything I wanted in my pack, but finally, on September 22, I pointed my Honda Civic back at Mount Rainier, then went east, ascending to the trailhead for Sheep Lake, which had been recommended as a good first hike by members of the Washington Hikers and Climbers Facebook group I'd joined. Another great resource, the Washington Trail Association site (wta.org), had recent reports recommending arriving before 10:00am in order to get a parking space. Obviously a popular route, I was anticipating a busy trail, so left about 4:00am, so I could have breakfast on the way and still get there by 7:00. I forgot to doublecheck the weather forecast, but thought temperatures would not drop below the forties at night. 
I was surprised to find only a couple cars in the parking lot when I arrived, and even more surprised it was close to freezing, so decided to sleep in the car until it warmed up a bit outside.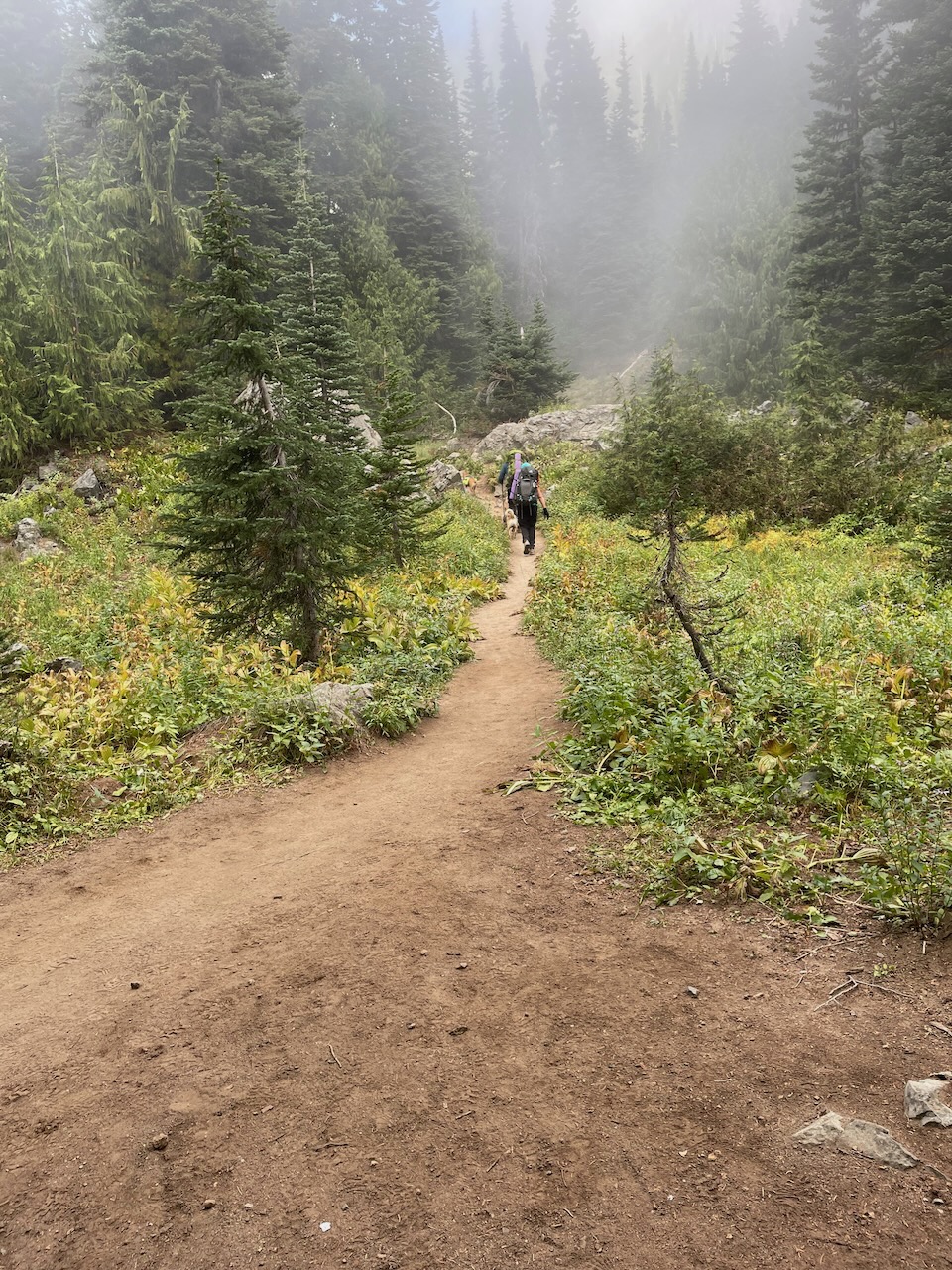 I started out around 9:00; a nice but foggy walk, then set up camp on a hill above the lake, crawled in and took a nap, during which I heard some hikers talking and their big dog jumping in the lake playing fetch.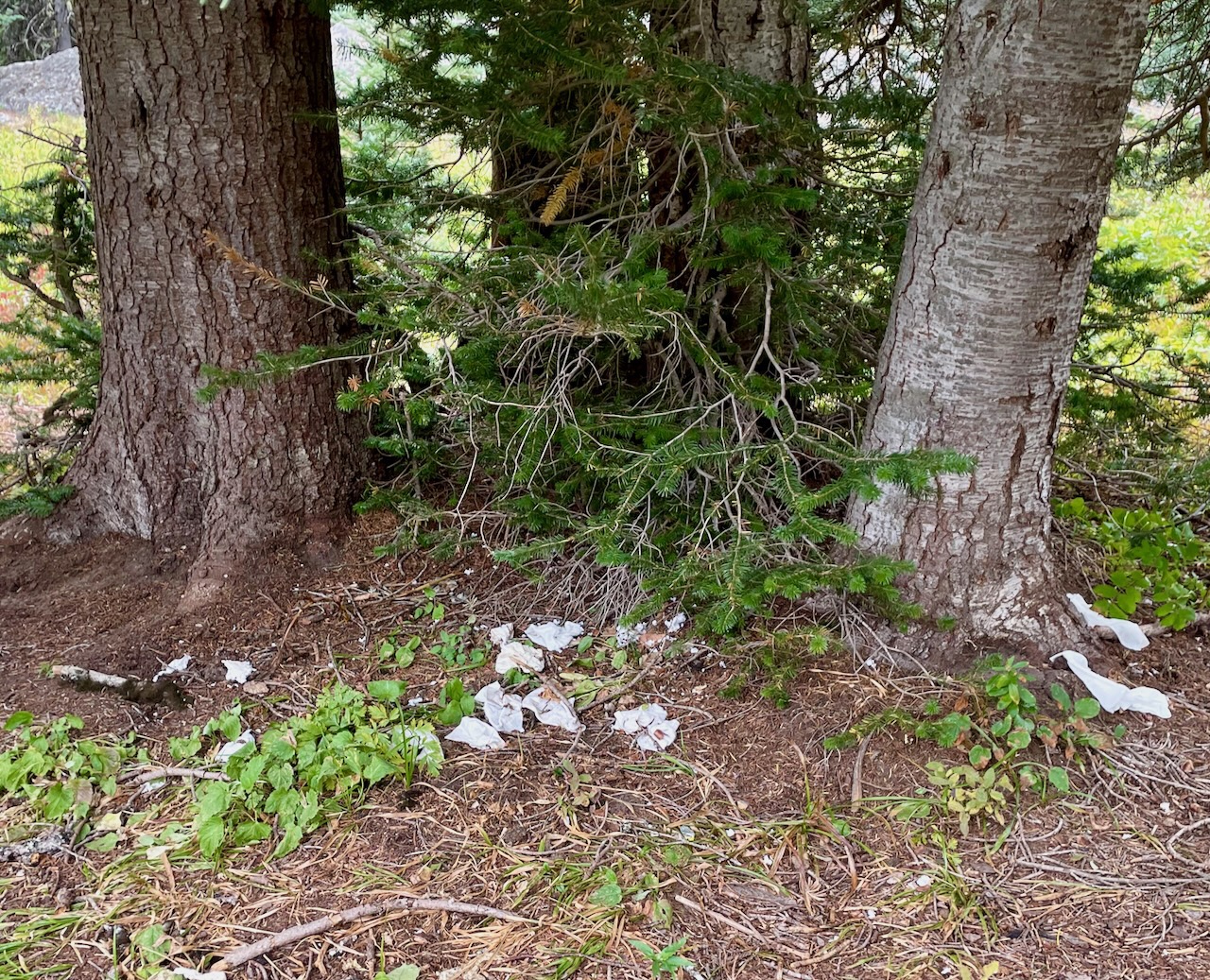 Later I saw lots of toilet paper at the base of trees near my site–disgusting, and evidence of how popular this place was during the summer.
At 3:00pm my thermometer showed near freezing and I decided I wasn't really interested in spending a cold night in the fog, so baled and returned to my car. So, I sort of failed in my goal to spend a first night with my new gear. But I did succeed in testing it out and it was a nice hike. The lake and surrounding mountains were beautiful during the few moments when the cloud lifted.
The trail to Sheep Lake is part of the Pacific Crest Trail, and I did see one or two stalwart and fit folks wandering resolutely toward the Canadian border, 150 miles north. (Most PCT thru-hikers start in March or April at the Mexican border and hike north, taking about five months to complete the journey. Only about a quarter are successful.)
Satellite Communicator
At this point I had bear spray and cord for hanging my food from a branch, so felt prepared to deal with that danger. I'd have my iPhone with me but, of course, most wilderness is out of cell range. I thought I'd be fine, but knew a couple people who'd feel better if I were able to tell them from the trail that everything was OK. Since I'd already spent a significant amount on my setup, I figured it didn't make much difference in the scheme of things if I also got a satellite communicator. 
The Garmin inReach Mini is a $400 device that fits in the palm of your hand and gives you the ability to send short messages to friends and loved ones from the outback. It requires a monthly subscription to make it work, but you can pause your plan during winter months if you like. There's also an emergency SOS button on the side that you should only press if you're in real trouble, since you'll probably end up having to pay for the helicopter that comes to rescue you.
Marmot Pass (-Ish)
The ranger at REI had also circled one hike on the Olympic Peninsula: the Upper Big Quilcene Trail to Marmot Pass, and since the smoke had not yet made it there, it was an obvious choice.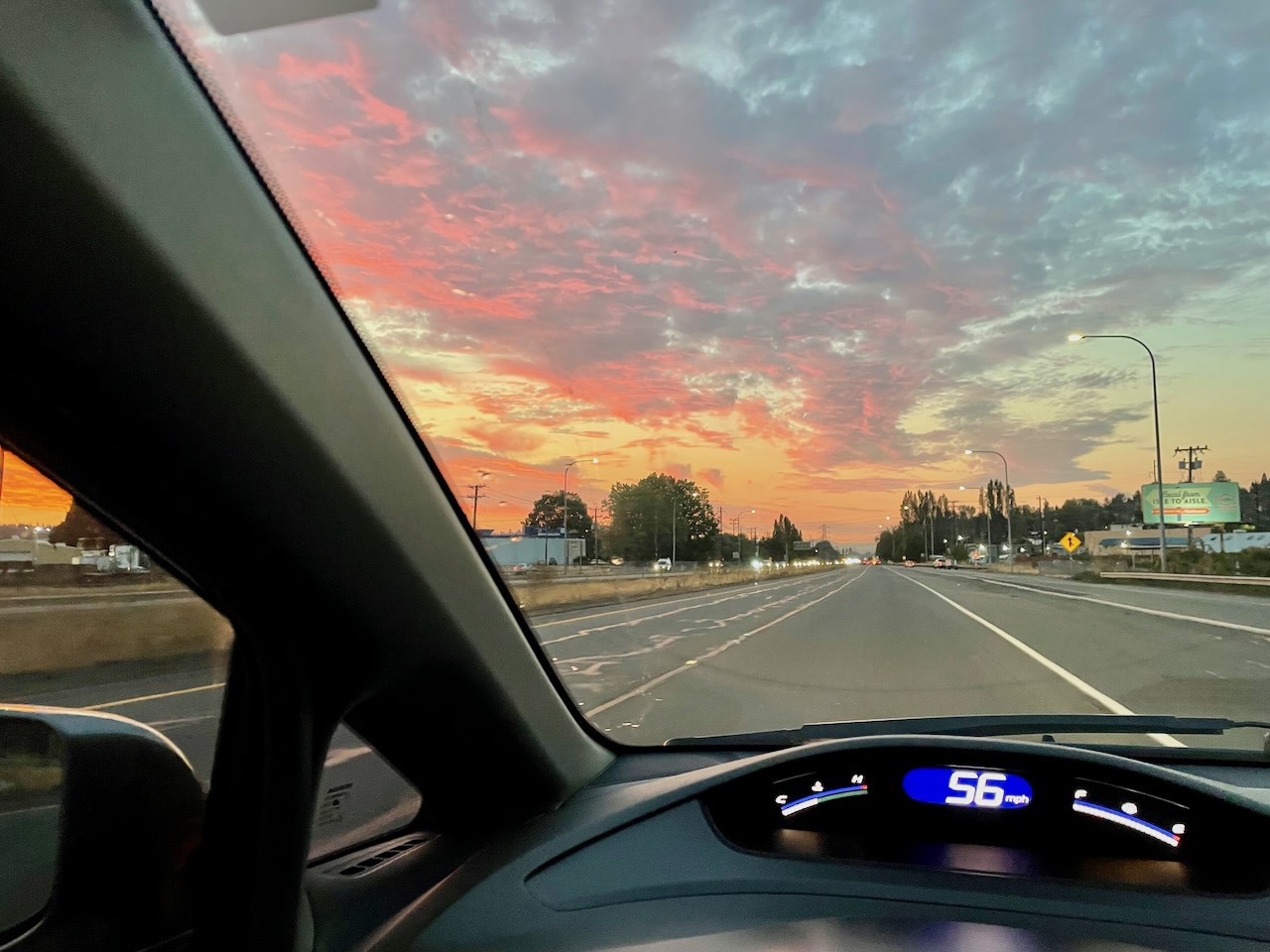 The only benefit of air pollution I can think of is the beautiful sunsets it creates. I'm not sure if it was because of that, but when I drove south from Seattle on the morning of September 27, the sky was covered with fluffy pink and orange clouds.
Though I set off before 7:00am, stops for gas, coffee and trail food, plus slow going on the last 15 miles into the Oylmpic Mountains meant I didn't start hiking until after noon. The last three miles were potholed and, though my Civic made it OK, I can see that an SUV is a much better tool for the job. That, or a truck or van and you would also have the advantage of being able to drive out the day before, crash one night near the trailhead, and hit the trail fresh the next morning.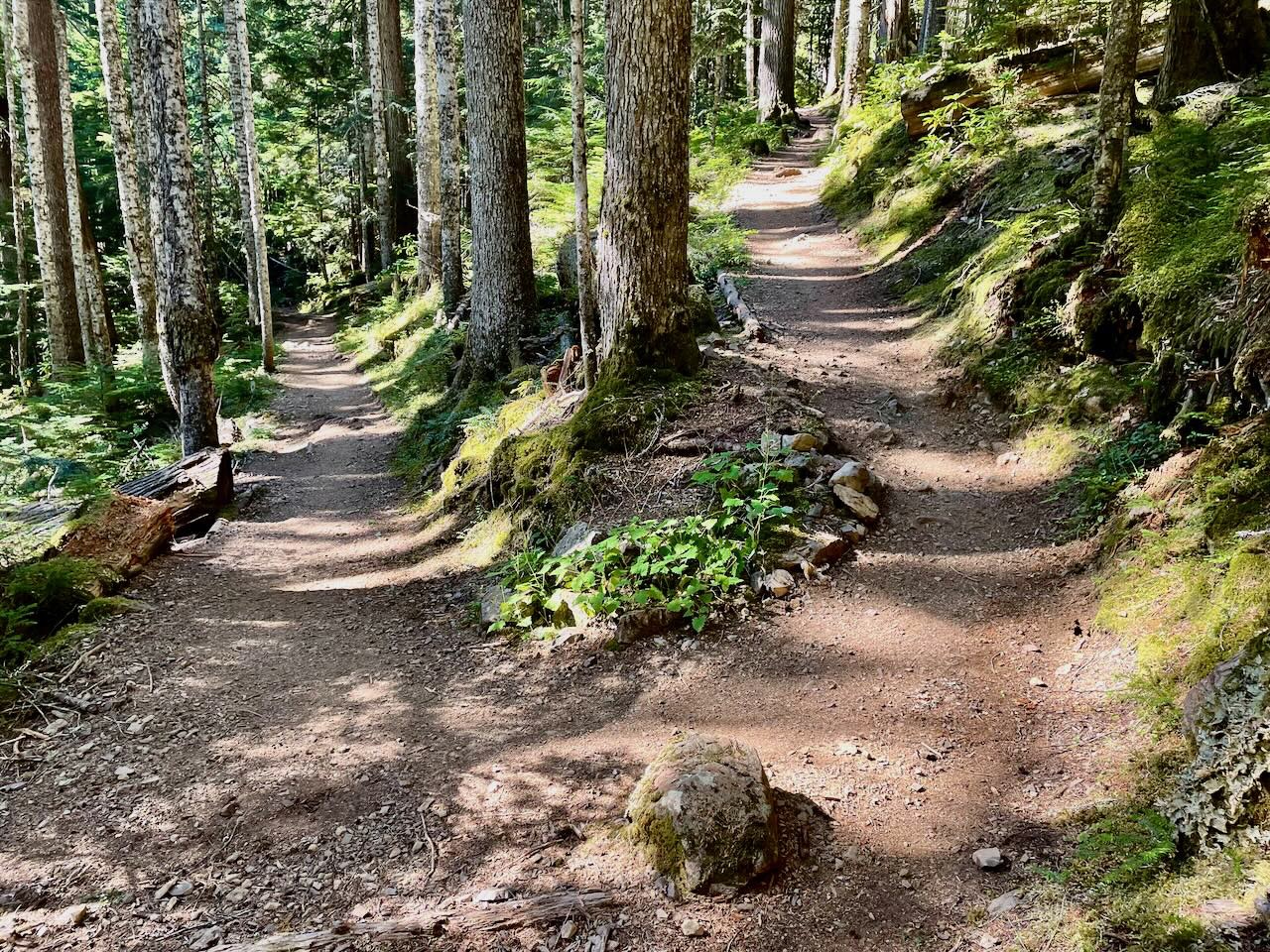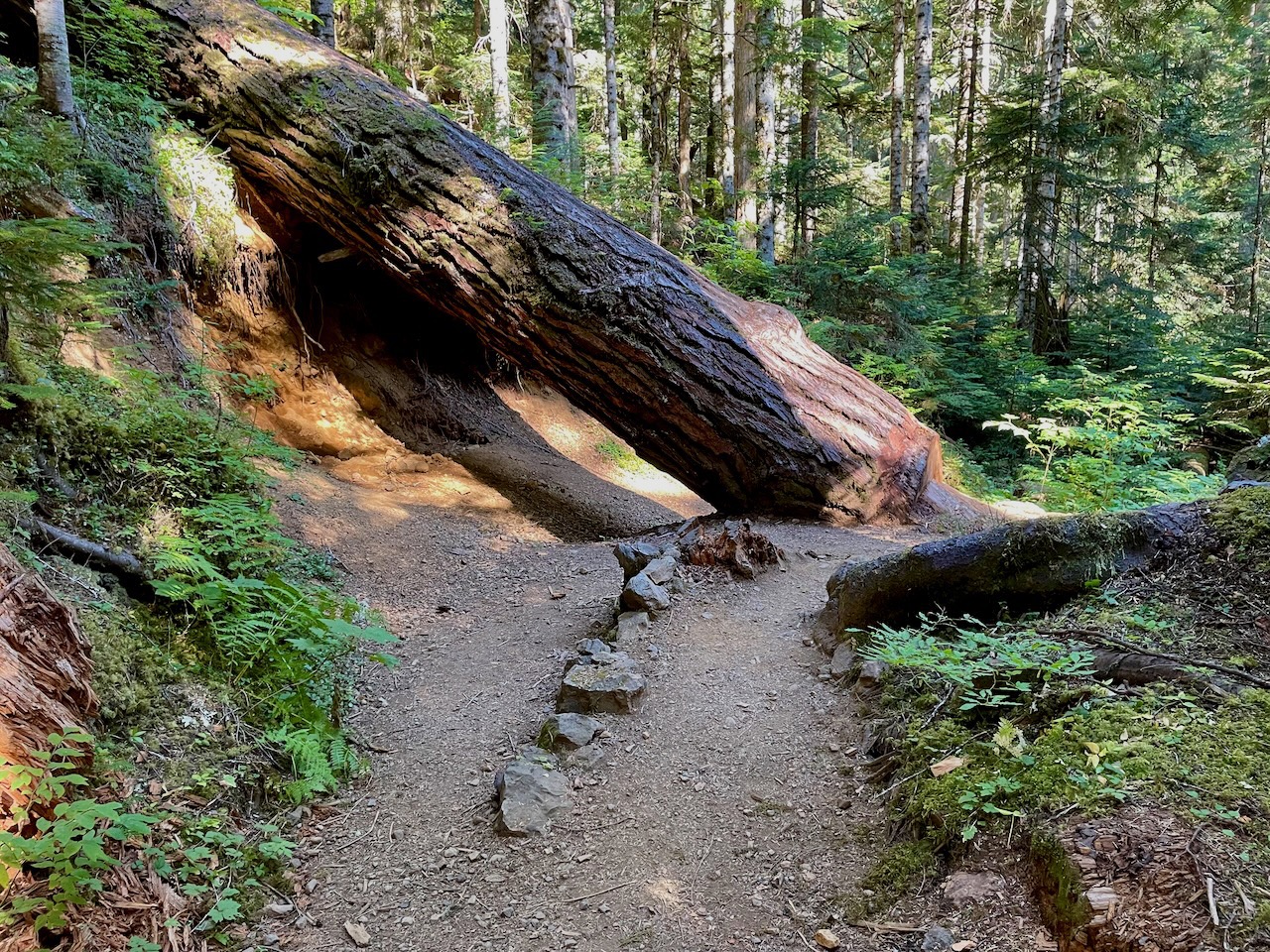 Life, it seems to me, is one big experiment, and learning how to hike is, as well. I'd seen that the WTA site rated this twelve-mile hike as "hard," but still figured I'd give it a try.
The ranger had pointed out a place to camp about halfway to the pass that I could stop at, if necessary. Sure enough, by the time I made it to the Shelter Rock camp area, about three miles in, I was spent.
With the trailhead at about 2000 feet, the altitude was not much of a problem. The challenging part was the steady incline the entire way. Besides having stopped several times on the way up to take photos of the majestic forest and Upper Quilcene River, or have some water or a snack, I was also aware my heart was beating hard from exertion. That was a bit troubling, and the fact that it was almost 4:00pm, getting colder, and I was only halfway to the pass sealed my decision to call it good.
This time I had checked the weather for the area but, similar to Sheep Lake, the reality was it was much colder than forecast. Though the weather report said lows in the 50s, I had to put on my warm clothes at night and at 9:00am saw it was 42, so it had probably gotten into the 30s at night, which was a bit beyond the comfortable range of my sleeping bag/pad combo. (That's why I added the closed-cell pad for extra insulation on my next trip.)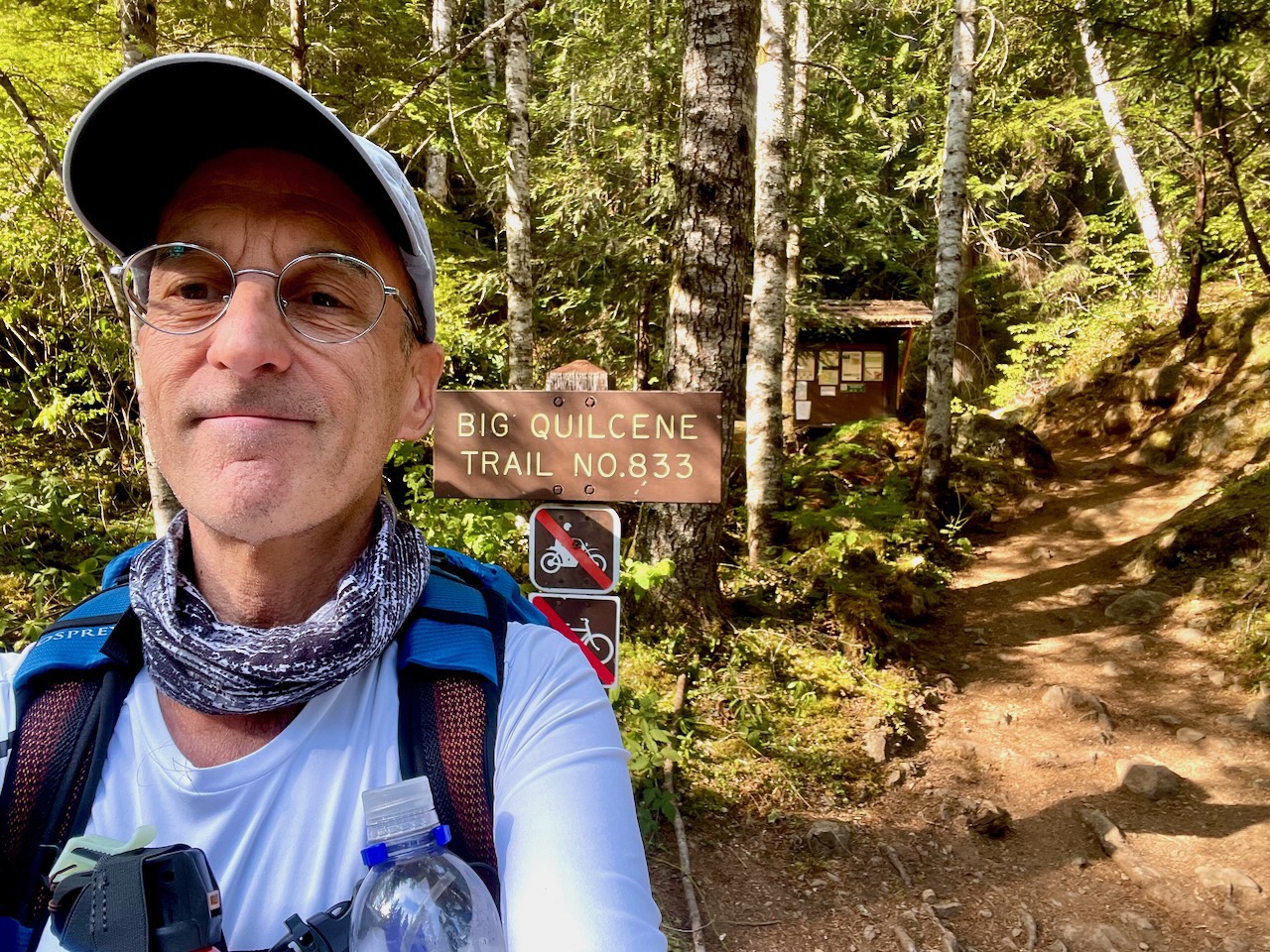 I made it back to my car the next day before 4:00pm. There were a couple people who appeared to work for the park service and one of them said in all the years he'd been in this area he'd never seen a bear, but that you will encounter them in some of the popular valleys in the Olympics and toward the coast. (So perhaps I looked a little green with my bear spray hanging at the ready from my shoulder strap?)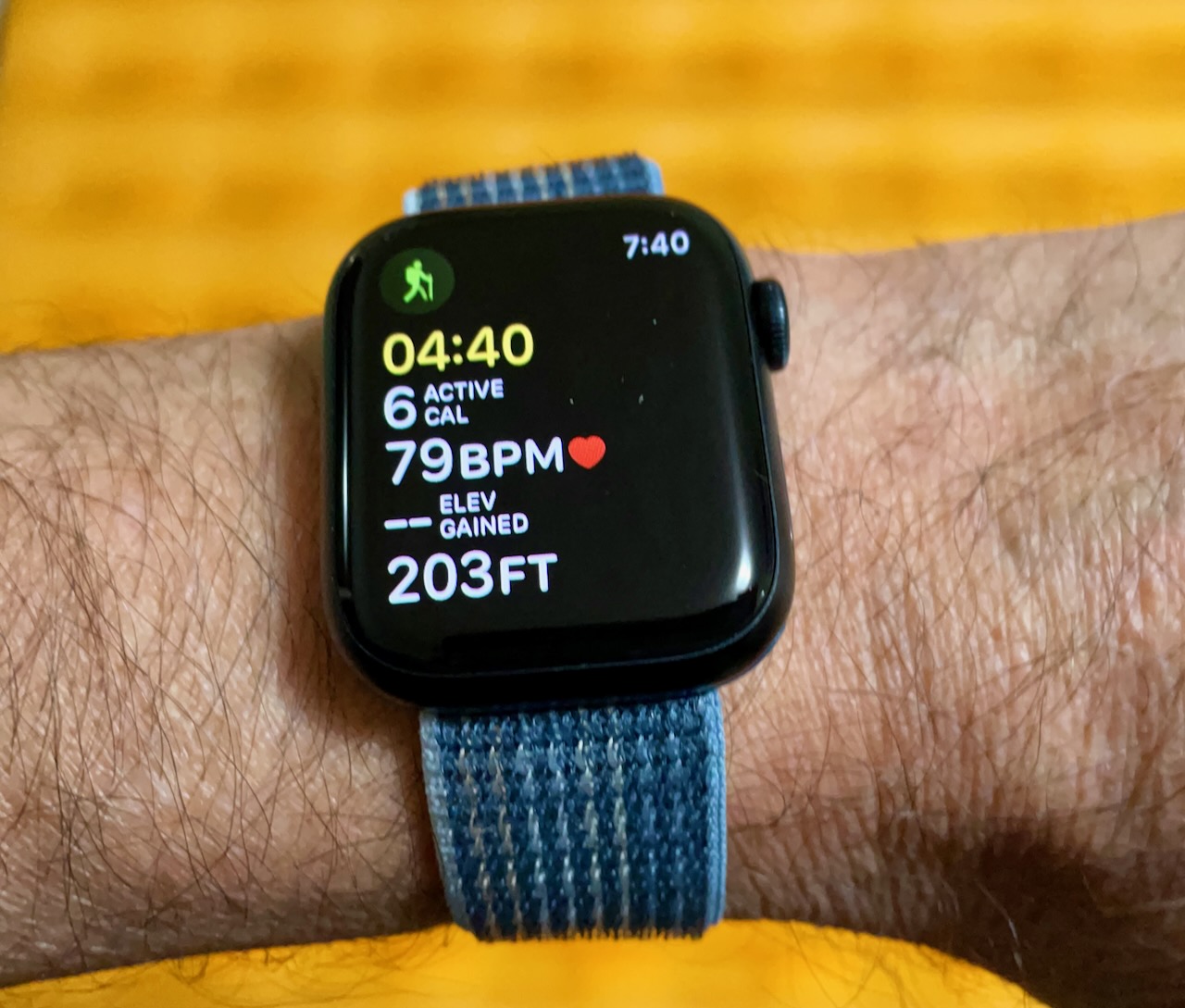 Taking Heart
As I said, I learned on that hike I needed to work on my cardio endurance if I wanted to tackle any longer or more difficult trails, and that meant some sort of heart rate monitor was in order. After quite a bit of research and hemming and hawing, I eventually plopped for an Apple Watch which, surprisingly, is almost as accurate at measuring one's heart rate as the chest straps from companies like Polar. And though I certainly don't need a watch, I'd rather have something on my wrist to monitor my vitals than something strapped to my chest. I picked up a new Series 8 watch at a mall south of Seattle. It does all sorts of things besides monitor your heart, most of which I'm not interested in. But it would be one more thing to have to charge on the trail.
Don't Be Shy Shy
An old high school friend had posted a photo on Facebook of his feet sticking out of a tent on the Washington coast, saying it was of Shi Shi Beach (pronounced "shy shy"). I knew there were places to hike all across the state, but was more attracted to the alpine lakes and meadows above the tree line than to the smell of kelp and moss-covered rain forests near the Pacific Ocean. But as the season was slipping away, and the wildfires raging on, the shoreline started to seem more alluring.
It turns out the state and federal passes you buy at REI are still not sufficient for some hikes. If you plan to camp at Shi Shi, you'll also need to get a Washington backcountry permit. Since it would take at least five hours to drive to the trailhead from Seattle, and since I still didn't have a permit, I figured I'd first drive the three hours to Port Angeles (on the Strait of Juan de Fuca across from Victoria, Canada), spend the night and acquire the permit the next morning at the Olympic National Park Ranger Station just outside town.
You have to tell the ranger how many nights you will camp, pay a reasonable fee ($6 + $8 per night), then attach the receipt to your pack and later tent. And: Bear canisters are mandatory (bear bags or hanging your food is not good enough).
I had to stop at the Walmart in town to get an adapter for my new watch's charger, but I was eventually back on Highway 101 heading toward Neah Bay, which is almost at the extreme northwest tip of the state (and, therefore, the US). 
In Neah Bay there is one last hoop to jump through before driving fifteen miles south to the trailhead: You need to buy a recreation permit ($20), from the Makah Indian Tribe (indigenous people?), since you have to cross over their land to get to the trail.
Last, if you plan to overnight on the beach, you don't park your car at the trailhead, but at a private residence a half mile before. (Apparently, if you park at the trailhead, local kids will plunder your vehicle.) The double-wide mobile home has a large yard which probably fills up with cars in the summer, but now there was only one car besides mine up near the house. Breeze, a handsome and outgoing Makah man with two long braids, runs the lot for his aunt Tillie. He said the $10-per-day fee goes to the tribe elders. (Just before leaving he asked me to save any feathers I found for the artwork he creates with them. But I only brought back one.)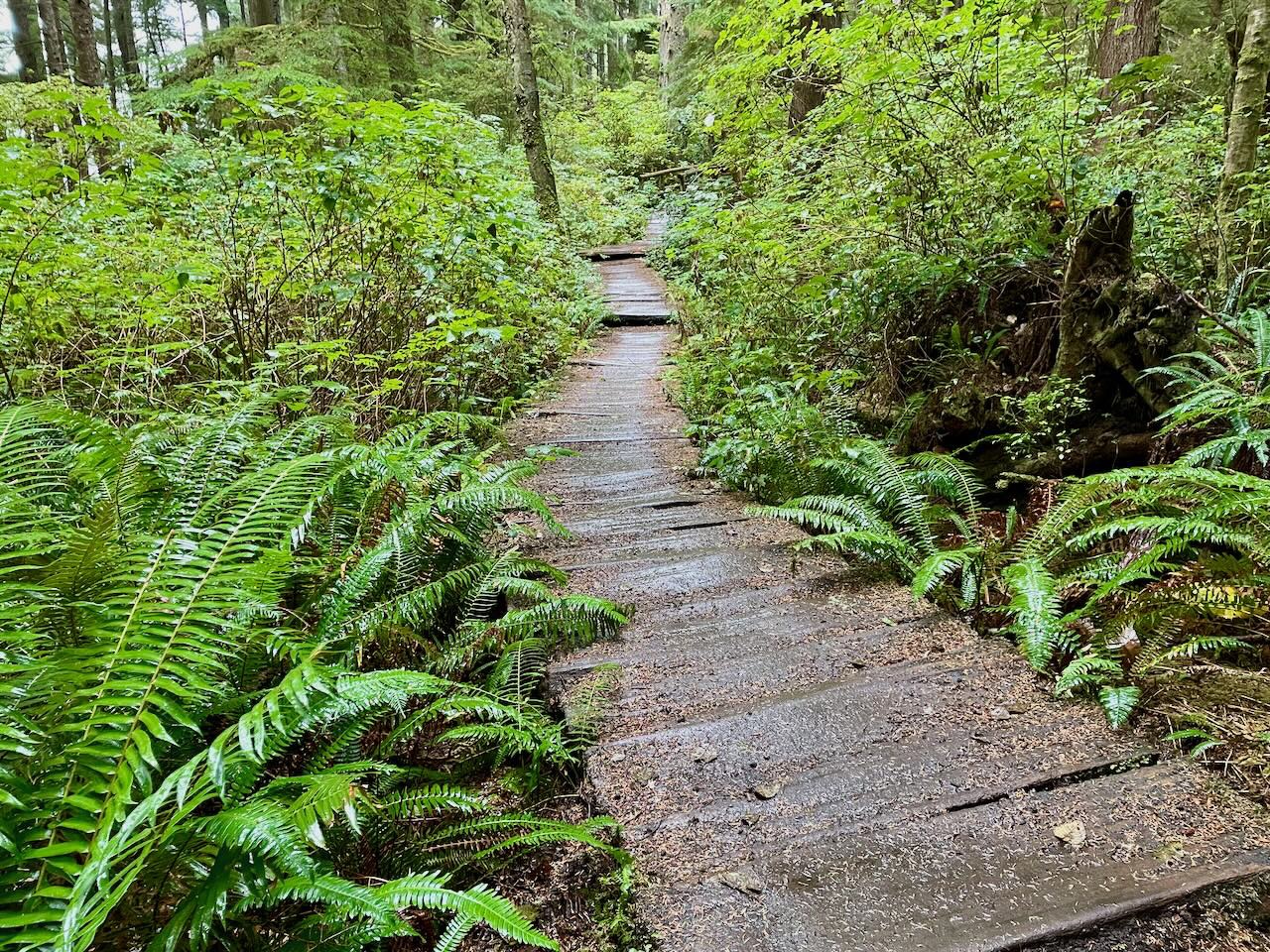 There are several raised wooden walkways over mushy terrain on the trail to the beach, most of which ascends gradually through the trees. I imagine after the rains come in earnest that some sections could be a sloppy mess. Though rain was forecast for tomorrow, so far there were only a few muddy sections, and these were new, so firm and easy to traverse. 
Eventually you can see, hear and smell of the ocean, which is energizing. The 160-foot descent to the beach is made easier by new stairs with railings that were installed this season.
Shi Shi, they say, is one of the most photographed beaches on the peninsula. Sliding through the high grass to the beach and facing the roaring surf, I could see why. I've been on many lovely beaches, like those in Asia and Mexico, but this was another world. Though none were present on this day, I could imagine seal moms with their pups relaxing nearby, or eagles, deer, raccoons and other critters. Large tangles of kelp line the dark sand, with occasional shells, small jellyfish and gull feathers. Wild and formidable.
At the far southern end of the expanse, two miles away, sits Point Of The Arches; which is "a line of  sea stacks stretching out into the ocean that were formed as the Pacific ate away at the cliffs of the coast." [from Washington Geological Survey site]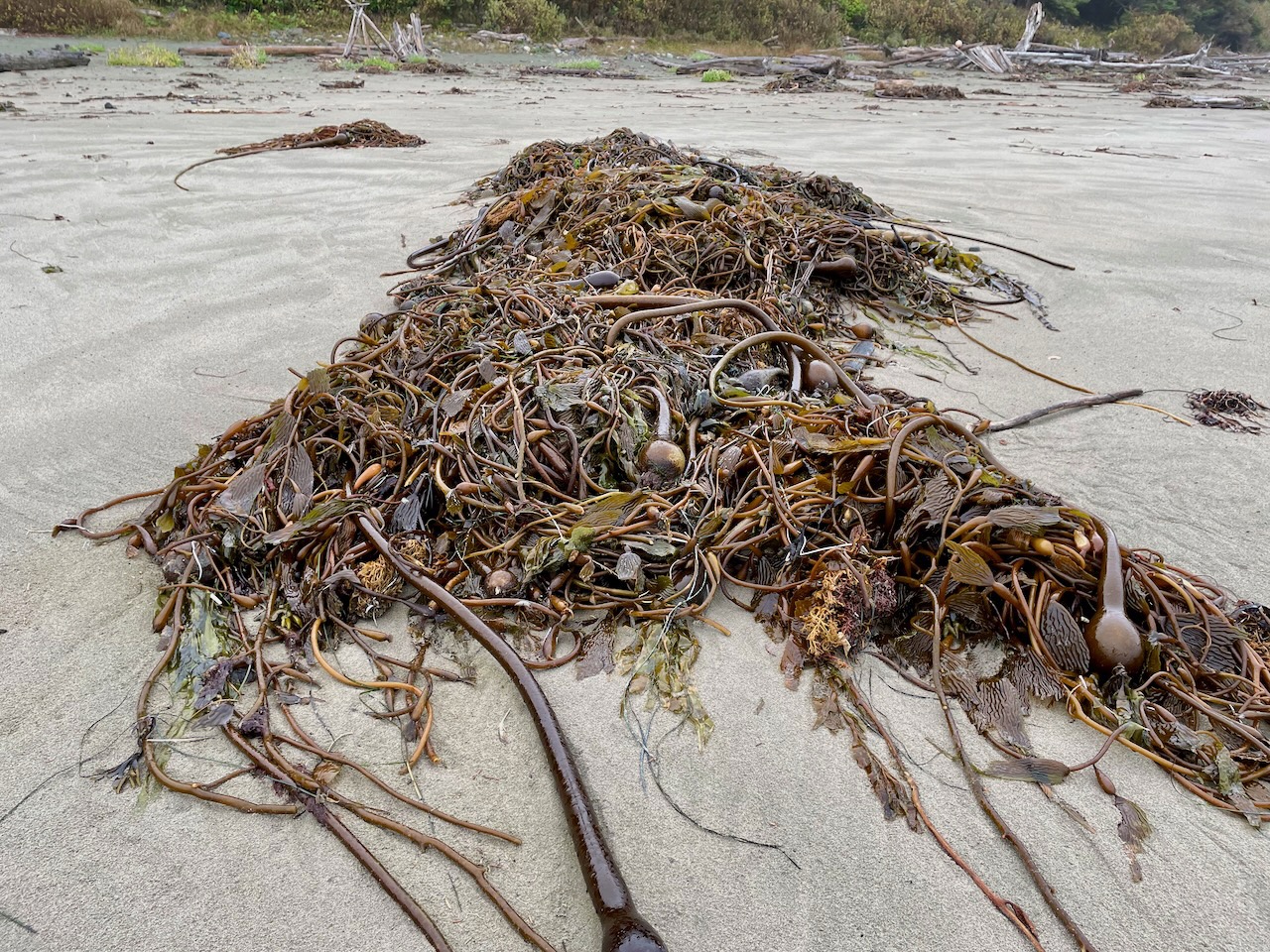 Hikers are advised to camp high up the beach and always carry a tidal chart. (I'd been given the latest one in Port Angeles, which showed relatively moderate tides this time of month.) It's safer and more comfortable to camp in the trees next to the beach, and my friend had told me there were good sites down past Petroleum Creek, a mile and a half to the south. (The name probably comes from the oil exploration in the area in the 1930s. No significant oil reserves were found.)
I took some photos and video as a remembrance, but then realized I best not tarry as it was already after 5:00pm and, with sunset at 6:20, I'd better get moving if I wanted to set up camp before dark.
I only saw a few people and they were not far from where I reached the beach, so trudged along in solitude most of the way, trying to find the firmest sand without getting dangerously close to the water line, as some surf rolled quite far up the shore.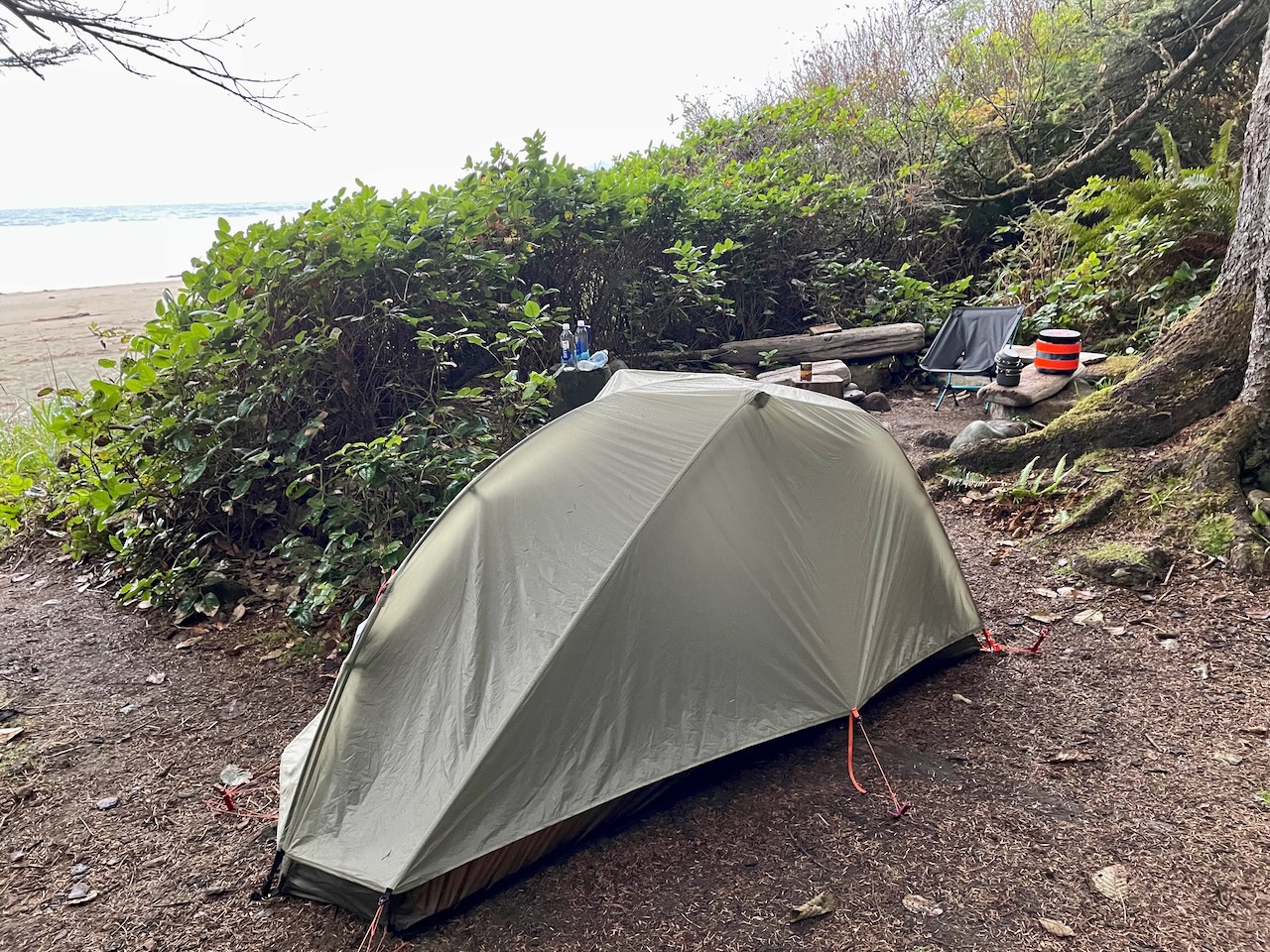 The creek itself turns into a trickle where it runs into the Pacific and is easily crossed with one foot on a mid-stream rock. Less than a quarter mile further I found an existing campsite through the grass under the trees, set up my tent and boiled some water, which I poured into one of the dehydrated meal pouches I brought: Mountain House Beef Stroganoff. 
You have to wait five or ten minutes for the hot water to do its thing and, since I was now getting low on water, took my filter and two empty bottles back up the beach to the creek to fill them so I'd have plenty of water for coffee and oatmeal in the morning.
The light was rapidly waning now, but I figured it wasn't far and the errand wouldn't take long. The mistake I made was not making a clear mental note of how the driftwood logs looked in front of my site.
The only other soul I saw at this end of the beach was a young man in his twenties who was just finishing filling his bottles as I arrived at Petroleum Creek. I told him I was just here for maybe two nights and asked about him. He said he was part of a group who were there for about two weeks (though the others must have been up in their tents, hidden under the trees).
The only thing I could think of, heading back, was that I'd walked about five minutes to get to the creek, so I walked approximately the same back, looking for the multi-colored float that hung from a branch over the trail that went to my site. But now there was so little light and that marker was so small that I couldn't see it. I walked closer to the tree line to get a better view, but that's also where the sand is softest and the most driftwood collects, which makes it slow going.
At one spot I saw an opening and walked up from the beach, only to find another vacant campsite, not mine. "What the hell," I thought to myself, "it can't be that hard to find!" Maybe I'd gone too far? I went back to the beach and walked back in the direction I'd come from, straining to see the colored float…but nothing. "It's got to be here somewhere. What, am I going to have to go find the kid by the creek and ask him to help me find it?"
Then I had a brainstorm: I'd gotten in the habit of using an app on my iPhone, which I had with me, to record various outings, from bike rides in Asia to walks around Lincoln Park in Seattle. I'd also set my Apple Watch to track my hike, but that was mainly for health data, and I had stopped it when I reached the campsite. The Strava app, on the other hand, which I'd forgotten to turn off, was still running in my back pocket. Unlike Wifi and cell communication, it relies on GPS satellites, which are accessible pretty much anywhere in the world (as long as you have an unobstructed view of the sky, as I did at Shi Shi).
I took my phone out and opened Strava, then pinched out to zoom in on my location. There I was! I could plainly see the tortured path I'd just taken; to the creek, back south, up under the trees to the vacant site, back north, then back south to where I now stood. Hallelujah! All I had to do was find the little knot of activity in the woods marking where I started from, then watch my dot on the screen to navigate back there; which is what I did.
Panic resolved and lesson learned, my stroganoff was now as reconstituted as it was going to get and the perfect temperature to eat. I sunk into the Helinox chair I'd already set up to consume it, listening to the roar of the rising tide and feeling humbled by the immensity of this wild world, its challenges and rewards.
Some Chill
After dinner, though it was barely eight p.m., I was tired and ready to crawl in for the night. With the new closed-cell pad under my inflatable mattress, I now had better protection from ground chill, and at first my Marmot down sleeping bag made me cozy and warm. But a feature of my one-person tent is that wind can easily blow under the rain shell, so, as the temperature dropped in the wee hours, I woke up shivering. 
The same thing had happened on my last trip, but I had simply fetched my thin wool long johns out of my pack and slipped them on. Adding my jeans and fleece top took care of the problem this time, and I slept the rest of the night in relative comfort. The only other impediment was the sound of the ocean. (Imagine sleeping in a tent next to a jet runway.) Don't go to Shi Shi for peace and quiet.
Some Rain
Shortly before dawn it started to sprinkle, then stop, so that when I got up, my rain fly and the ground were damp. My bear can was where I left it, a hundred feet away behind a log, and I fetched it to get oatmeal and coffee for breakfast. By the time it was ready it was raining again; not hard, but raining, just as forecast.
I was prepared, and ate in the drizzle in my raincoat, knowing everything in my tent and pack were dry. However: What if the wind and rain got heavier? Did I really want to stay and spend another night by the jet engine in the cold? That didn't sound like fun and, since I'm no masochist, decided I'd pack up before things could take a turn for the worse and head back.
Humility Lesson Two
At 11:30am I heisted my twenty-five pound Osprey pack onto my back, grabbed my trekking poles and started back. (I left the can of Hormel chili someone had left at the site where I found it: Bounty for the next camper.)
Not a soul in site the whole way back to the trail, just kelp, gulls and other flotsam from the sea. But where was the trail? Again, the vegetation where the steep hill meets the sand all looked the same. My watch and phone apps told me I'd walked about 1.2 miles back from my campsite, which was about the correct distance I thought. But again, it was like trying to spot a bee in a field of dandelions.
After walking up and down this area of the beach a few times in vain, I started to wonder if the God Of The Backcountry had it in for me. While I could still see a bit of humor in it, and knew I wouldn't starve and die at Shi Shi, I decided to stop, pause and see if I couldn't reason my way out of the predicament. 
I tried to remember the moment I'd come out onto the beach the day before. I remembered pausing to take it all in. I remembered seeing some rocks in the surf directly (or almost directly), off the beach. I'd wondered if they weren't in fact seals, but after some consideration realized they were not moving, only appearing to move due to the waves crashing around them. But now the tide was at a different level and there were no rocks that looked like yesterday's. 
At the north end of the beach is a large outcropping that also swings into the sea, but not as dramatically as Point of the Arches. How close, exactly, was I to that when I landed on the beach yesterday? I wasn't sure.
And then some synapse fired. "If I only had a record of what it looked like when I got to the beach," I thought to myself. And realized I did: The photos and video I'd taken at the time.
It was actually the video that was the key, since I'd panned around as I took it. If I paused it just as I turned southward, I could see some large, distinctive bleached logs with their ends in the air as they crossed other logs. And, now I realized that the trailhead was marked—in a fashion—by a short tree trunk someone had buried vertically in the sand on the beach.
Even so, it took a few minutes to find these markers; which turned out to be even farther north than I thought. The path off the beach and back to civilization was indeed there, but still ridiculously hidden in high grass. So, a warning to all who come this way: Take pictures and make a mental note of where you come out, as it is not at all obvious where to start back from.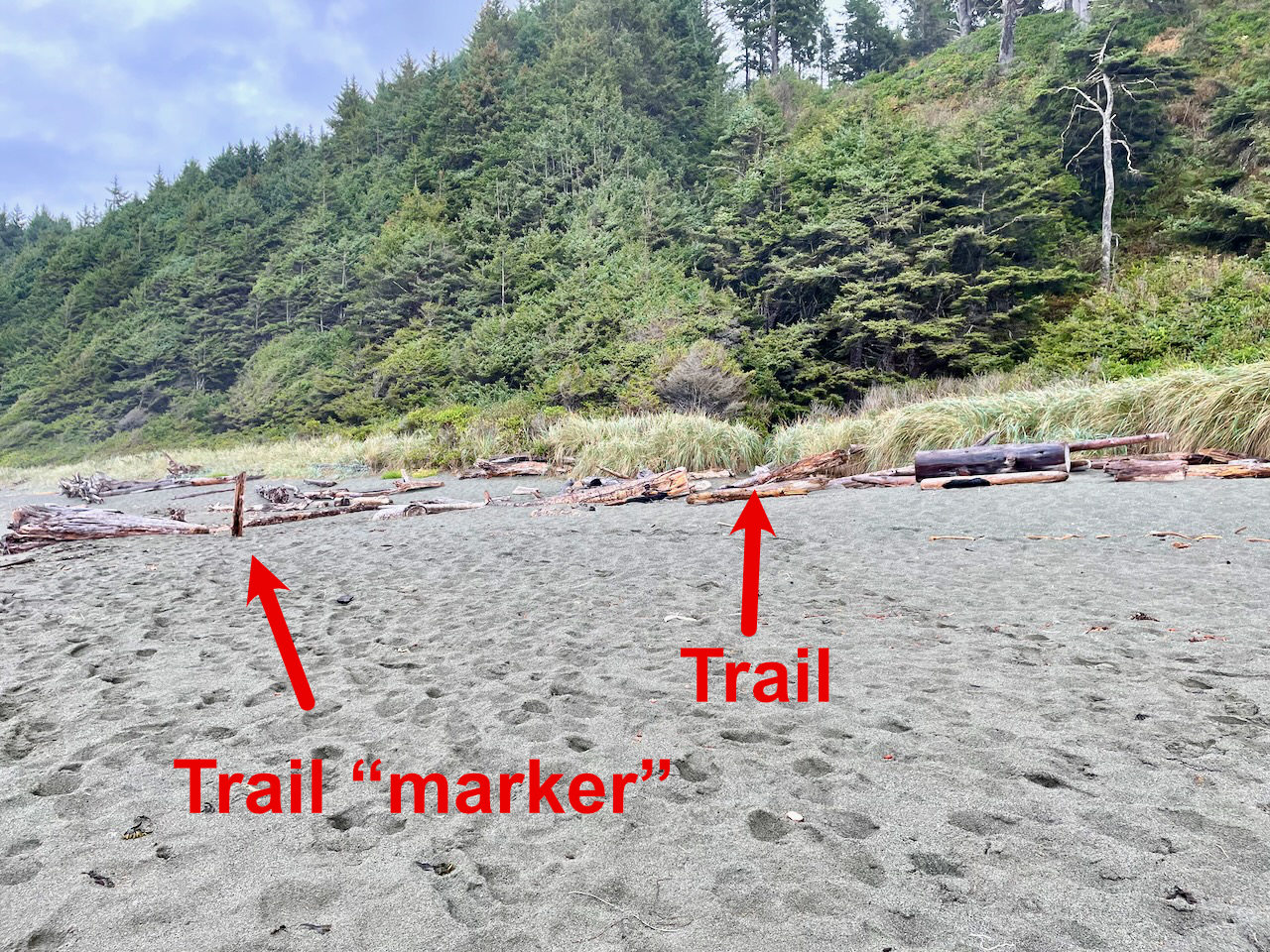 And uh…try to get to camp well before sunset, so you don't get lost in the dark. But if the worst happens, you can always press SOS. 🙂