Recently an old friend from high school days named Debi commented on Facebook that she remembered when my family would fly from Seattle to upstate New York, where my parents were from. And then I mentioned that my mom and dad built a cottage back there and it was a little slice of heaven.
So then I thought I'd send her a photo or two of it, which got me perusing lots of pictures of the cottage from various times and I decided to just make a blog about it. So, without any further doo-doo, here are several photos, with some text for context.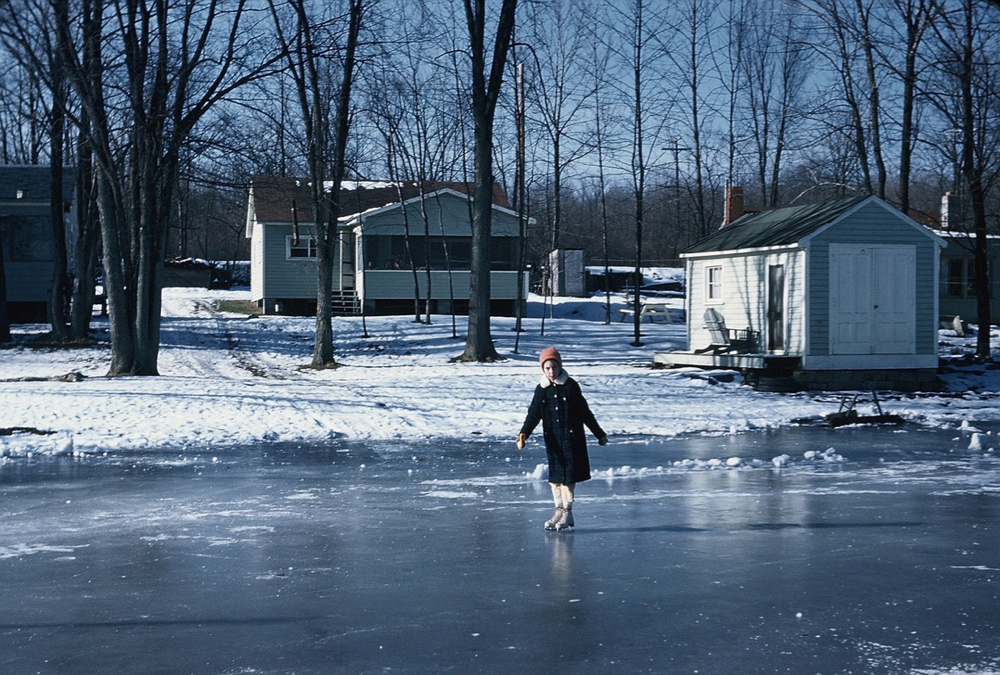 Above is my sister Ellen, who is about six years older than me. So, I'd say this photo is from around 1960, when I would have been about four years old.
Shortly after they were married, my parents bought this lot on one of the smaller Finger Lakes and, with the help of a lot of friends and relatives, built the cottage and the little boathouse. Actually, they built the boathouse first, and lived in it with Ellen when she was a baby, while they built the main building.
Most of the wood came from a farmhouse which was already around one hundred years old. So first they had to dismantle the farmhouse and haul the wood to the lake. The floor in the living room came from the farmhouse and is four inch thick cherry wood. Unfortunately (I think), it is now usually covered with a carpet.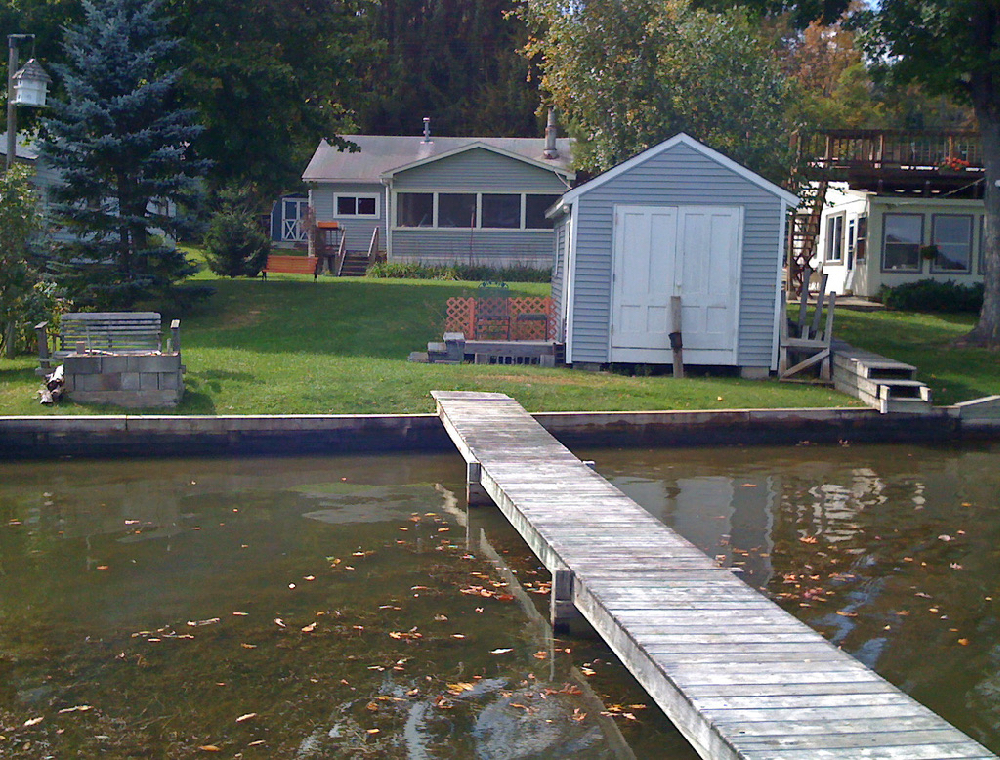 Around fifteen years ago, the water in the lake started eroding the shoreline and we had to have a seawall installed. As you can see, the trees in the yard had been removed quite a while before this.
The boathouse is one of my favorite places. About ten years ago we paid a guy to put some steel I-beams under it so the floor would be much sturdier and thereby maintain the structure for many years to come. People have not been allowed to build anything so close to the water for years, but this was built before such regulations and so is "grandfathered in."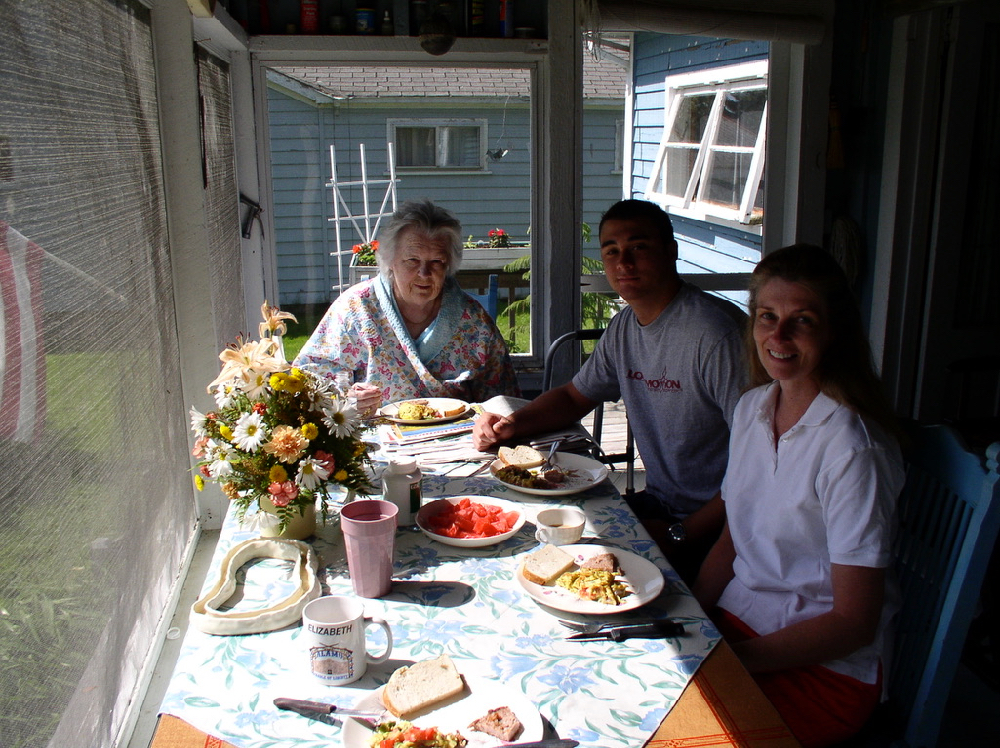 My mom, sister Sharon and her son, Noah. (Mom passed away in 2014. Dad died when he was only 63, in 1986.)
The main room, with freestanding fireplace.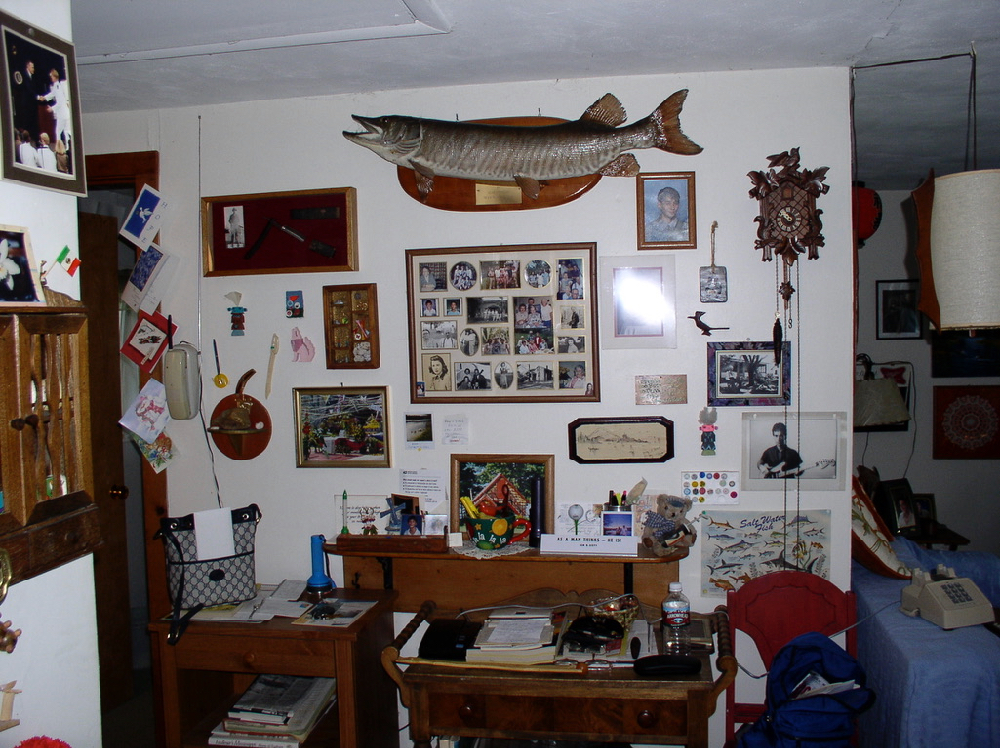 Mom kept the place completely cluttered with all sorts of memorabilia. The fish is a muskellunge (or "muskie"), that she caught in the lake and had mounted.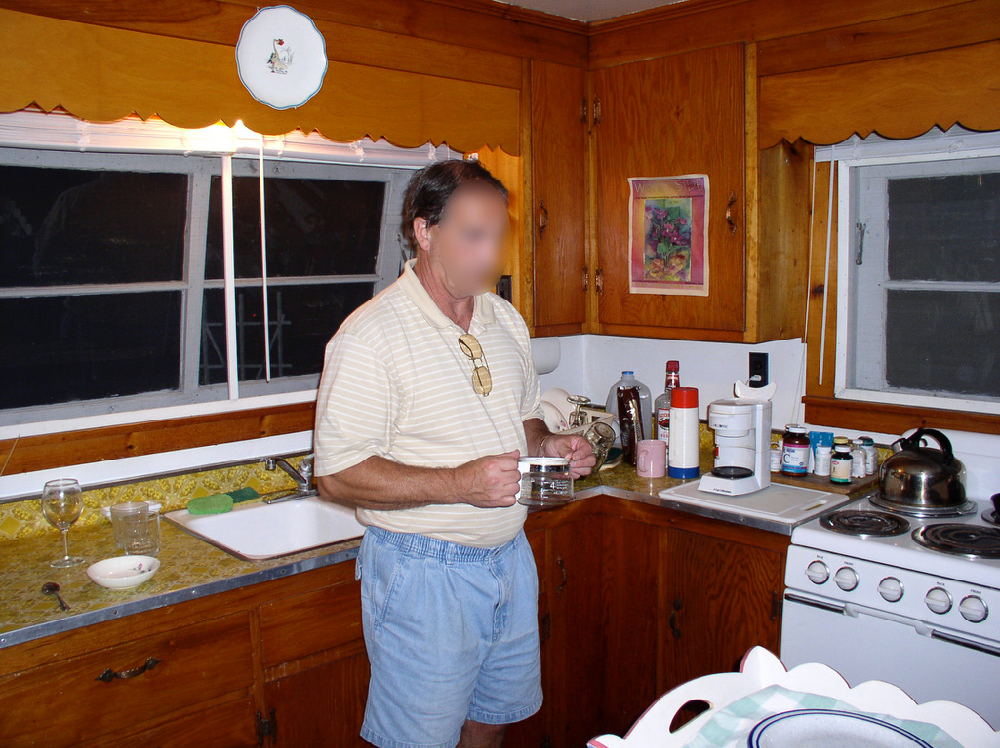 The kitchen, with cabinets made by a friendly neighbor. (I blurred the man's face since I can no longer get his permission to show him.)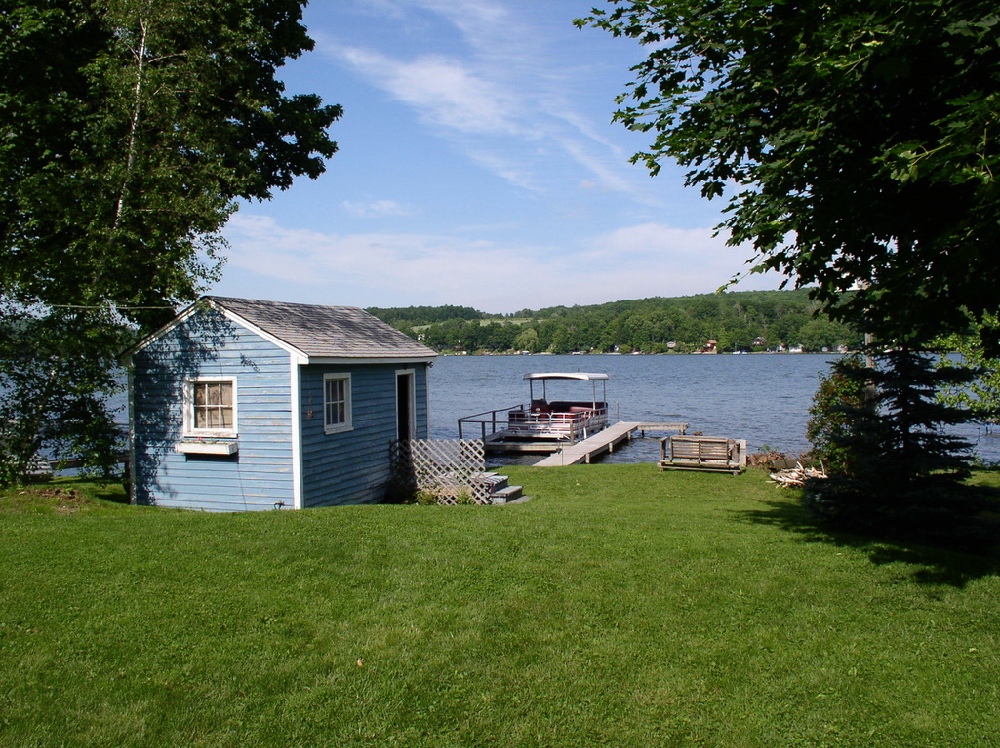 For a while mom had what's known as a "party boat." It's built mainly for taking several people slowly around the lake. However, it did have a pretty strong motor, so Sharon's sons used it to ski behind!
The porch is screened in and a very pleasant place to have breakfast in the morning.
After I left Japan in 1999, I stayed at the cottage with mom for a few months. I found a fully restored 1964 Chevy Malibu convertible in a nearby town, bought it, then erected this canvas garage to store it in. A year or so later I had it trucked out to Berkeley, CA, where I lived from 2000 to 2005.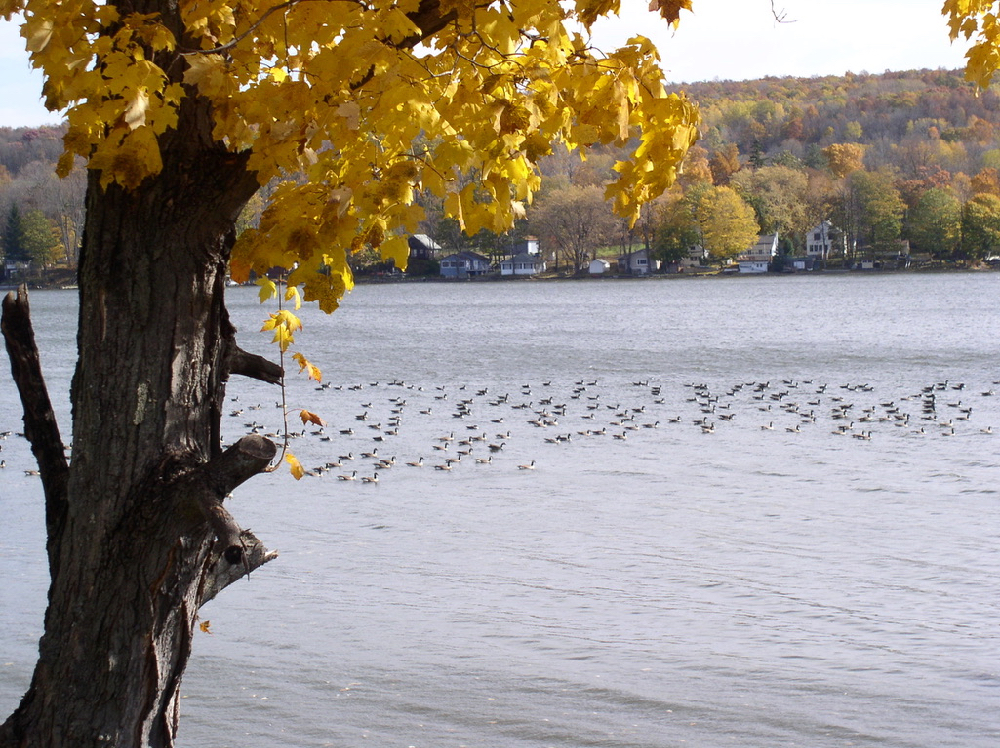 Some geese on the lake in autumn.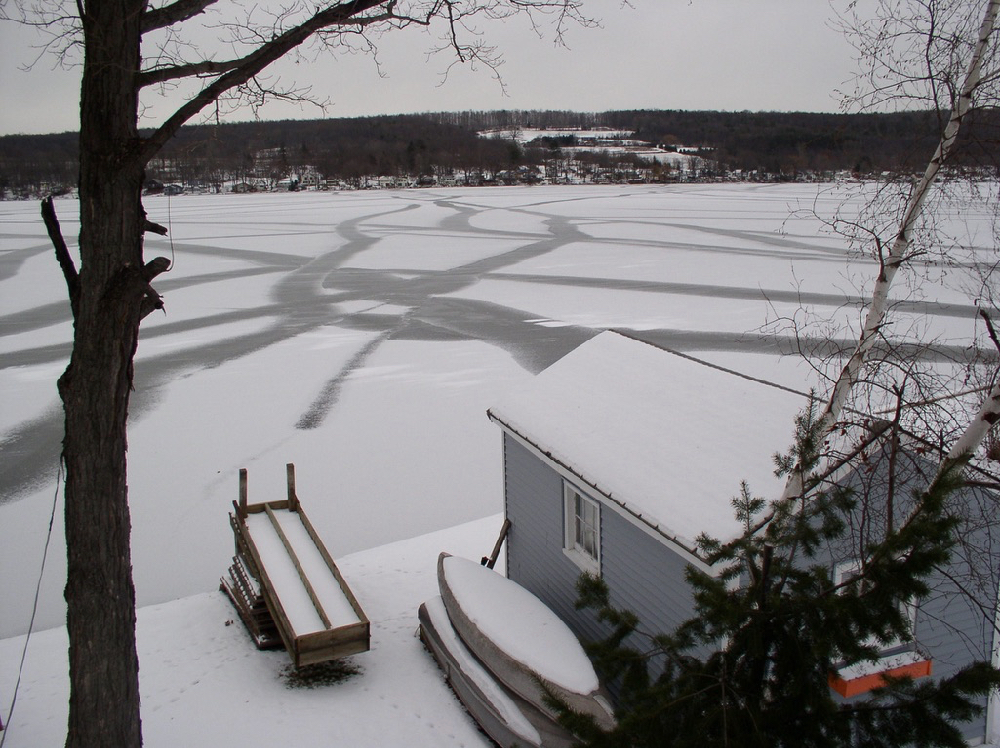 After leaving Berkeley in 2005, I moved back to the cottage for a few months before moving to Thailand. As the lake was starting to freeze, some odd lines formed on it.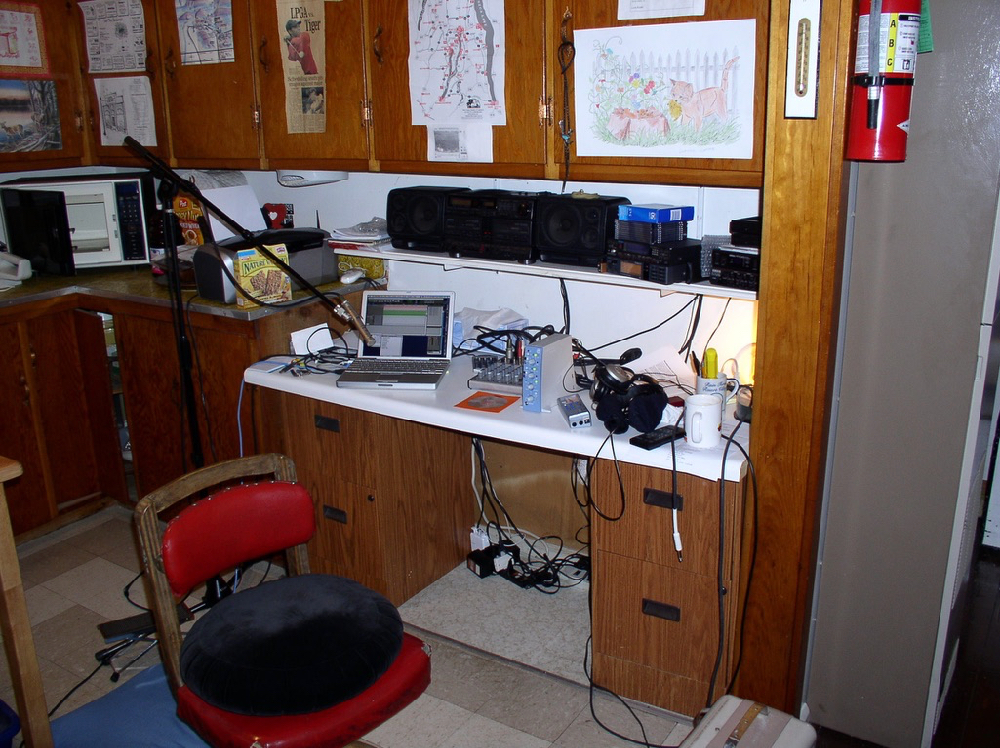 I took the opportunity to record 14 solo guitar songs, which I added to 9 I had recorded in Berkeley. (Amazing what you can do with a computer and a few pieces of gear these days.)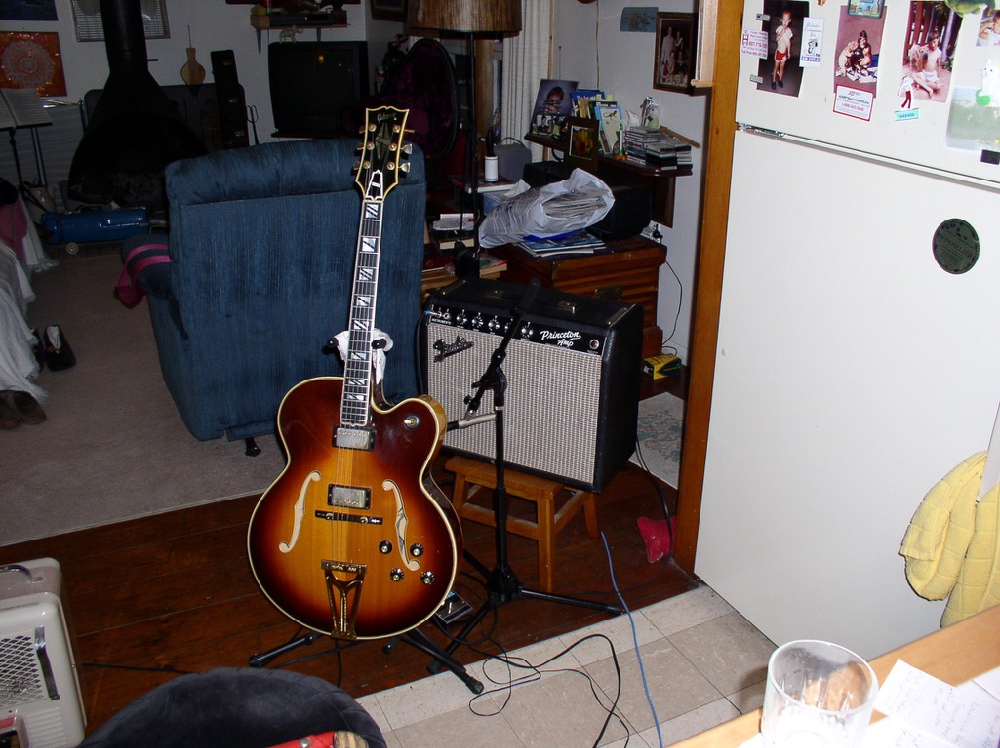 One of the guitars I used was a 1972 Gibson Super 400 I'd bought in California. (The amp is a 1965 Fender Princeton.)
If you'd like to download my CD, you can get it here.
(If you like it and would like to make a donation, you can do it here.)
View of the cottage from a deck above the neighbor's cottage. Most of the cottages on the lake are vacant in winter, though a few people live there year round.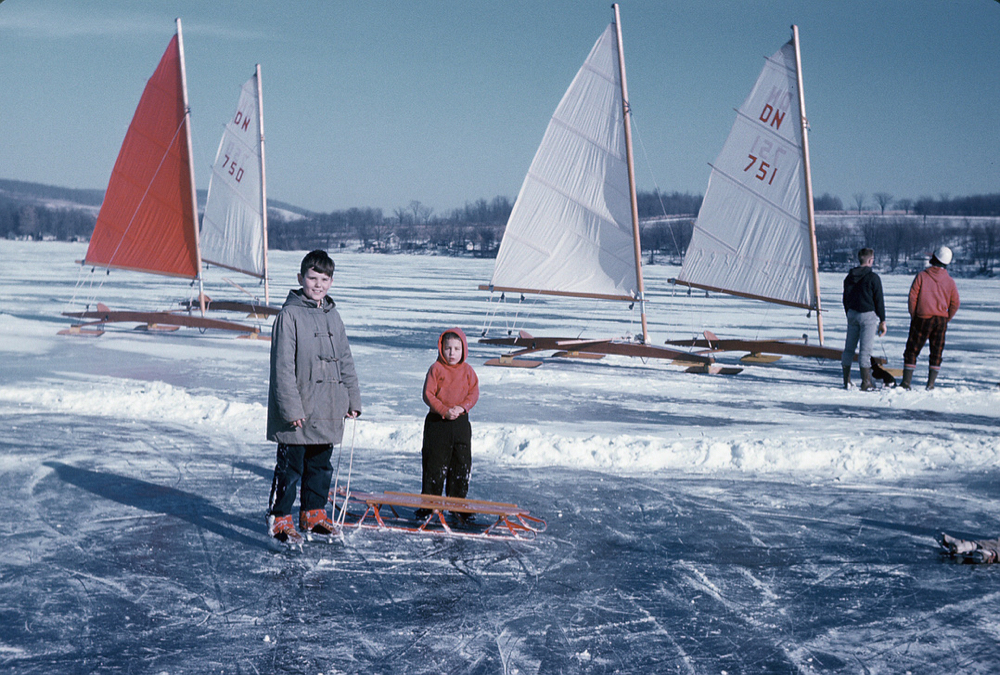 That's me in the red hoodie when I was a young'un, with my cousin Jim, who lived next door to the cottage year round. Jim bought a lot of land not far away, built his own house on it and even built a seagoing sailboat in his barn! Quite a guy.
If there's not too much snow on the ice, people get out their iceboats and zoom across the lake. My dad had one, but I barely remember him using it.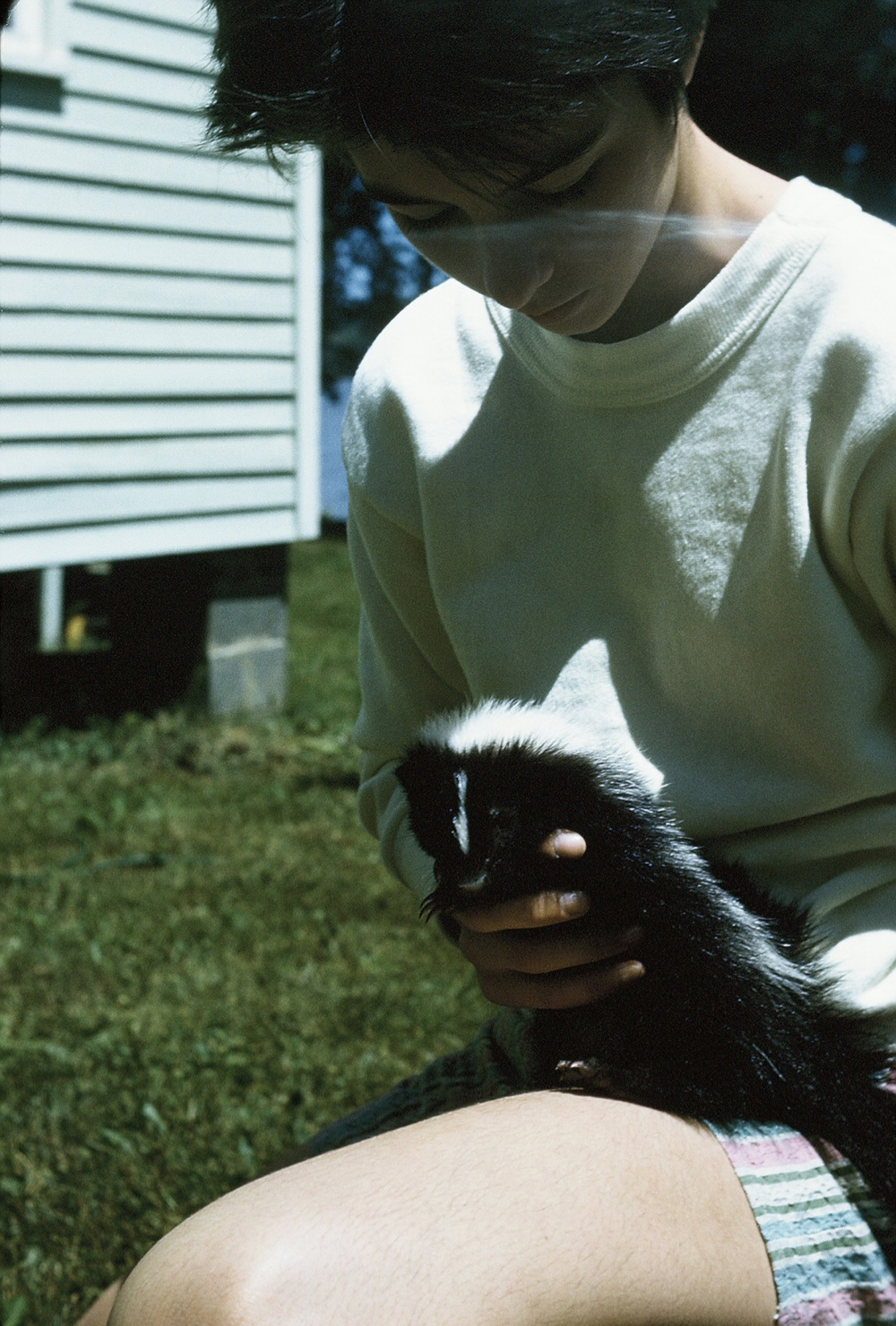 Cousin Jim had a pet skunk named Chanel. Ellen told me they found it as a baby, and when it got old enough to spray, was released back into the wild.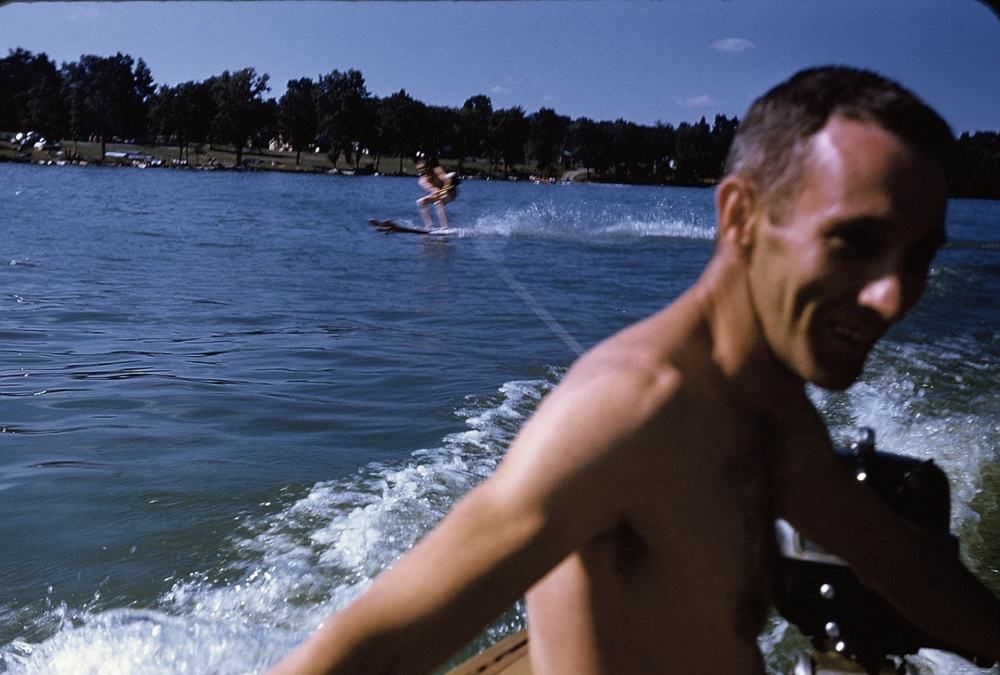 My dad towing his brother (my uncle) Ward, I think, who lived next door to the cottage year round.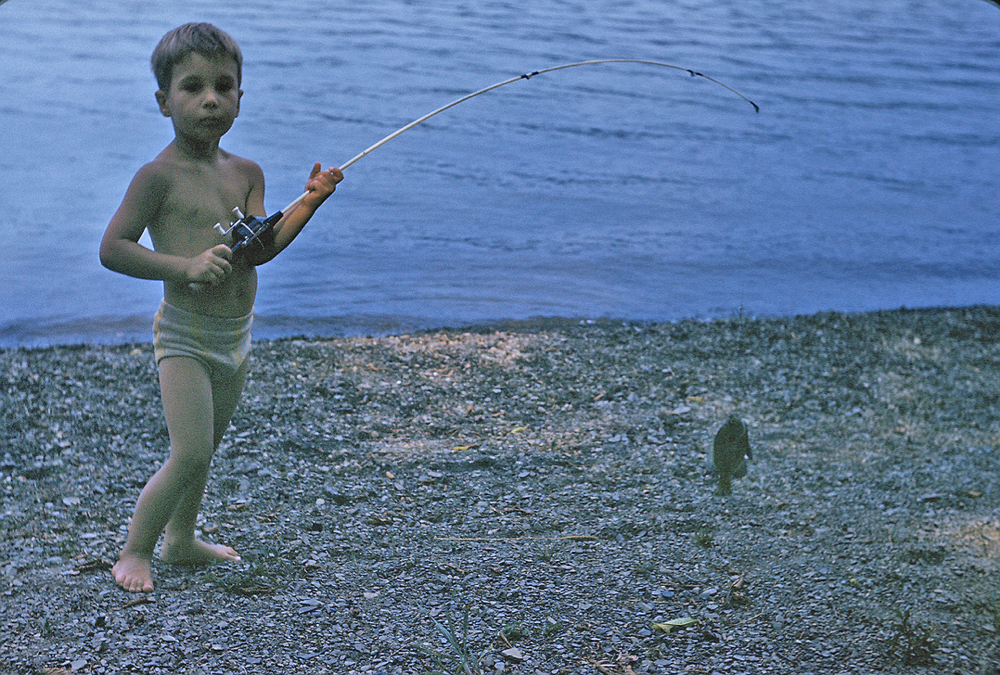 After quite a fight, I managed to land this behemoth.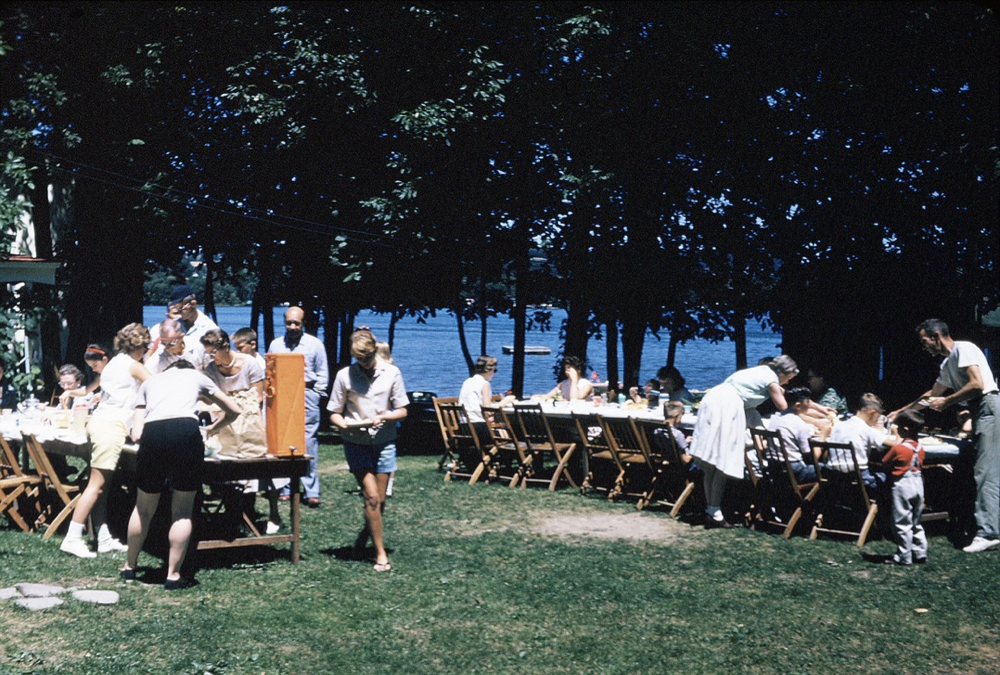 I guess this was a Jensen family reunion. Jensen was my mom's maiden name. Her parents came from Denmark and they had thirteen children (including my mom). They had a farm about a half hour drive north.
I managed to get out of shoveling snow. 🙂