It's near the end of February 2020 as I write this and I just got back from almost two weeks in Hua Hin, a couple hours south of Bangkok on the Sea of Siam. I went there to try out some different motorbikes in the relatively quieter traffic conditions there.
How and why did I get interested in motorbikes at the age of 64, after 14 years living in Bangkok? Let me start at the beginning.
Acknowledging Apprehensions
• "If you ever ride a motorcycle, you're not my kid anymore," is what my mom told me and my two older sisters when we were young. Apparently, she had had a friend who was an emergency room nurse who had scared the bejeezus out of her with gruesome tales of motorcycle crash victims, some of whom didn't make it.
• I had a guitar student a few years ago who had worked as an X-ray technician in the emergency ward at times. He said their slang for a motorcycle crash victim was "organ donor." A while later he was speeding on his Vespa while turning into Lumpini Park, crashed, lost a tooth and broke an arm!
• When I was about thirteen I had a friend who had a small motorbike that he used to ride around an angled dirt track in his neighbor's backyard. He told me it was easy and explained how to pull in the clutch lever to shift into first gear. I recently learned that I fell prey to a common panic called "whisky throttle," which is when you freak out and grab the throttle tighter, which of course speeds you up when you should be slowing down. Coming up the slope I ricocheted off a burn barrel, then into a barbed wire fence. I may still have a dent in my shin from that. And my friend was not at all happy that I'd scratched his bike.
• After working in Tokyo for a year, in 1990 I came to Thailand for the first time, went to Ko Samui and rented a motorbike from the little bungalow resort I was staying at on Big Buddha beach. The first two days were fine. Of course, I was trying to be extremely careful. It was fun being able to get around the relatively small island and explore on my own. Then, on the third day I was riding on the main road between Big Buddha and Chaweng beach and there was a thin coating of sand on a bend and that's all it took for the bike to slip out from under me. I was not hurt badly, but a boy who was riding right behind me pulled over and then led me to one of the several clinics that even in those early years already dotted the island. I was told to stay out of the water to let my wounds heal but of course I didn't. I still have a couple "Samui tattoos" if I look closely at my right arm.
Later, I asked a guy at a rental shop in the main town of Nathon how many accidents happen on the island. He said, "They try to keep it secret, but one person per day dies on motorbikes." Several years later I tried to confirm that number online and found it was approximately correct.
There is absolutely no denying that motorcycles can be dangerous; and because of the experiences above, I've been afraid to try them again, especially in the free-for-all of congested Bangkok.
Dumb Enough To Try?
Still, I see many, many people riding them successfully around Bangkok every day. When I used to teach English here I would use the motorbike taxis four or more times a day to get to my lessons for the seven years I taught privately, and never had an incident. In fact, I admired the skill of those guys (and occasionally girls). And though I've been told otherwise, I've never seen a bad accident in fourteen years living in the Big Mango. Traffic on Sukhumvit road is usually not that fast and most drivers are pretty aware, keeping an eye out for carts with live barbecues coming the wrong way down the street, bad sewer lids, etc.
I think it was when I was in Europe in the spring of 2017 with my trusty Brompton folding bicycle that I realized riding a motorcycle would allow me to cover more ground and see more of the wine growing regions I was interested in. Then I figured being able to ride a motorbike in Thailand could also let me explore places I've never been. Though I've met a lot of people in the Land of Smiles who ride with no license, I knew I'd need one in order to rent a bike in Europe. And you also need one to get your own insurance.
Learning To Ride
But before I could feel confident enough to take the motorcycle driving test, I'd obviously need to spend some time learning to ride one, and to get over my excessive fear. So, toward the end of a trip through northern Thailand during the rainy season of 2018 (which usually lasts from July through October), I traveled up to Mae Sai, on the northern Thai border with Myanmar. An old high school friend was staying there, and since he had a motorbike and time on his hands, I asked if he'd help me rent a bike and get me started riding it.
I took it extremely slowly at first; just practicing going back and forth on one of the rural back lanes. Then we rode through the rice fields outside of town. After a couple days we rode an hour over to the Golden Triangle, where you can stand on the banks of the mighty Mekong River, where the much smaller Ruak flows into it, and look across at Myanmar to the left and Laos to the right.
On the fourth day we rode up into the steep hills around Mae Sai, getting stopped by border guards looking for people smuggling drugs. (It's no longer heroin but methamphetamine pills that are being smuggled into Thailand from labs in Myanmar.) We just told them we were out for a joy ride and they let us through with a smile.
Paper Hurdles
After I got back from Mae Sai, I collected all the documents I'd need to go to the Department of Land Transport (like the DMV in the U.S.), to get a motorcycle license, and rented a Yamaha automatic scooter to use for the driving test. Except, when I arrived at the DLT I discovered that, due to an overabundance of foreigners wanting to take the test, there was a three-month waiting list.
At first I thought the official who told me this was daft, as sometimes happens here. But when I got home I checked online and learned it was correct. There are only five DLT offices in all of Bangkok, which is not enough.
Well, damned if I was going to go back and make an appointment for 3 months out. (I'm never sure where I'll be that far off.) So I posted some threads on thaivisa.com (which is where most Western expats hang out online), to see if there was a way around the problem. Several people who live in rural Thailand bragged that at their local offices you can get a license in a couple hours. The trouble is, you have to prove you're a local resident to use that office. I seriously considered moving to some place in the boonies just long enough to establish residence, but could never decide which rural town would be best.
I also learned that if you take a short course at one of the motorcycle driving schools, you can present your certificate of completion at the DLT and get the license instantly! But after contacting a school near me, they also said they had a few-month wait for spaces to take the course! So again my hopes were dashed.
At this point I got preoccupied with a trip to Europe, got involved in a website project, and a few other things.
Finding The Path
About a year had passed since I'd been to Mae Sai when one day I was eating in the garden area behind a local Western restaurant and met a Brit who rode a 2000cc Harley. I related that I'd been wanting to get a license and he told me about a school he'd gone to a bit north of Bangkok. It was an easy two-day course and there was no wait to get in. He said that after completing the course the DLT issued a license with no questions. Cool, I thought: That's what I'll do!
And so I did. But not before clearing another silly hurdle. One requirement to take the course is a "certificate of residence." You can get one from Thai Immigration, but it takes three weeks or so, and requires two trips to the government complex outside Bangkok. The other option is the US embassy in Bangkok. That takes just one visit, but you must book an appointment online and the first openings were three weeks ahead. Sigh.
Well, after 3 weeks I…
• had the confounded "affidavit of residence,"
• booked the two-day training course,
• stayed a couple nights in a hotel out by the old Don Muang airport near the school,
• completed the course (which was all in Thai),
• then went to the DLT and finally got my Thai Motorcycle license!
Yay.

Which Bike?
After finally getting the motorbike license (I've had a Thai car license for about six years, which is a whole other story), the next question was: Which bike, do I want to buy? I pictured myself mainly using it to weave through congested Bangkok—and small and nimble is best for this scenario.
But I also thought it might be fun to take some longer trips—to the beaches of the south or hills of the north, and a larger bike would work best for that. Should I just get a little bike for town and consider renting a larger bike for the occasional trip? Or should I get a "compromise" bike—a medium size that can work in both town and on the road? Many of the guys in the Motorcycle forum on Thaivisa said they had two bikes; a small one for local trips and a larger one for touring.
Another thing I learned from them was that most of them were pretty opinionated. Many did recommend the Honda Wave, which is I think the most popular bike in Thailand (if not all of Asia). But it's a "semi automatic," which means it has gears you shift with your foot…but there's no clutch lever to pull. (That seemed rather mysterious until, after renting one in Hua Hin, I learned it has a centrifugal clutch, so it disengages when you let off the gas.)
Some people strongly recommended the new fully-automatic scooters, like the Honda Click. Dubbed "twist and go," these have become the most popular bikes at rental shops, since almost anyone can hop on one and ride away. Again, at first I wondered how this could be possible? It turns out it's because of its continuously variable transmission (CVT), which effectively lowers the gear ratio as you go faster.
People who grew up riding bikes with gears and a clutch seem to have a strong preference for those kinds of bikes. But I can't help thinking it's partly an image thing.
There are many types of bikes, but most I'm not interested in: dirt bikes; sport bikes (where the rider leans forward to lower wind resistance–to me those are for young daredevils tempting fate and would be way too uncomfortable for someone my age). Also, the big, expensive cruisers, like Harleys and Honda Goldwings (and I'd need at least a year experience before even trying one of those).
Testing Bikes
Before heading down to Hua Hin I took a one-hour lesson in how to ride a manual bike (i.e., the traditional type; where you pull a clutch lever with your left hand, then shift gears with your left foot). The young Filipino mechanic at the Fatboy Rental Shop in Silom gave me a Honda MSX 125 to ride. We took several laps around some quiet backstreets. I started to get the hang of shifting, but when he asked if I was ready to go out on the main road, which was already congested with traffic, I declined: I've found there are enough things to think about on the big, busy streets—even on a fully automatic scooter.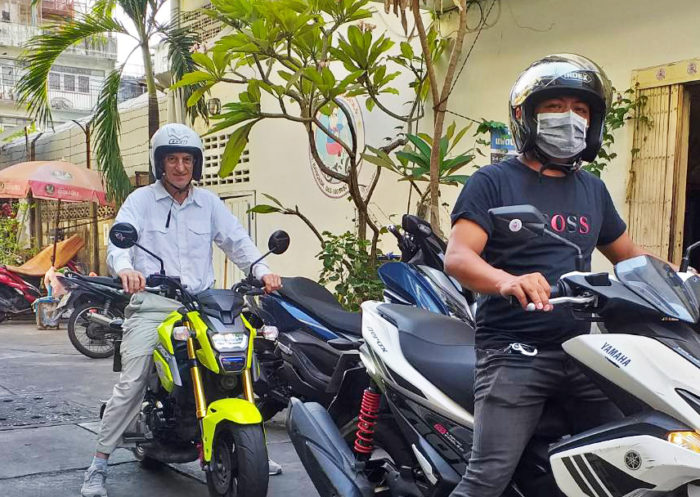 Hua Hin
I rented four bikes in Hua Hin over the two weeks I spent there; three scooters and one semi-automatic.
One thing I learned is that there are far more automatics at rental shops, especially in tourist areas, than manual bikes. The reason is simple: Most tourists are relative novices, so can only safely handle twist-and-go bikes. Expecting them to come back in one piece on a manual bike (or expecting the bike to stay in one piece), is not as likely. Throughout the world there seems to be two main types of rental shops; those renting scooters for local riding, and those with big bikes for experienced touring types. I'm a long way from being ready for the second type.
So, though I was hoping to try a manual bike or two in Hua Hin, once I'd found the two reputable rent shops (which took a few days), I started with a Yamaha Aerox 155 fully automatic scooter.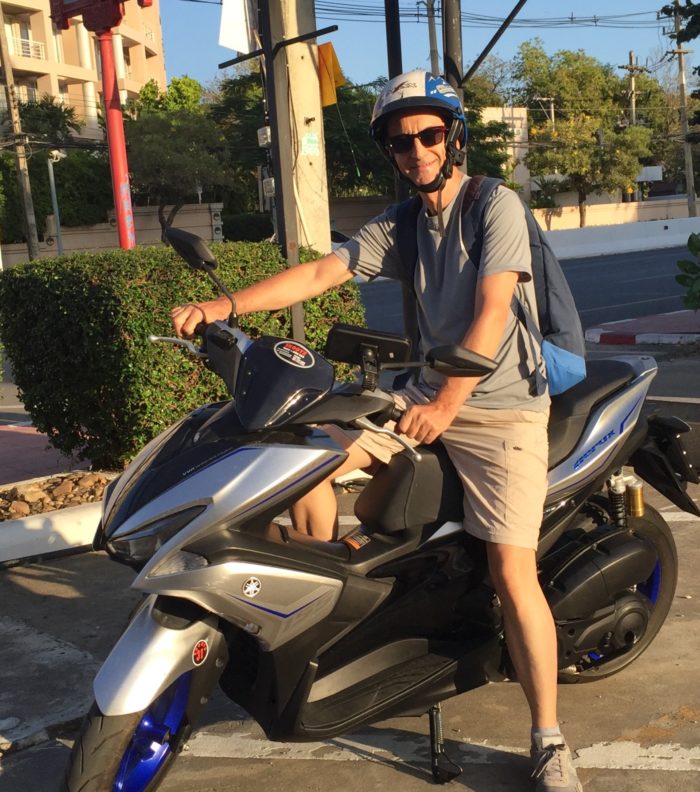 Chris, the Aussie owner of the Skootz rental shop (on the southern Khao Takiab side of Hua Hin), only had three bikes left when I got to his shop—all Aeroxes, and they were lined up on the road in front of the shop. He asked me which one I wanted and when I shrugged my shoulders, he recommended the one on the far right, pointing to the fancy gold cylinders above the rear shocks. I asked if that was an aftermarket modification, but he said it was just one of the high end options the bike was available with. He said they were "gas shocks," and that the cylinders were factory sealed, so maintenance free.
Whatever; it was all Greek to me. All I know is, to date, that Aerox was the smoothest, most stable, most luxurious bike I've experienced. It was immediately easy to ride (and I still don't know how much of that could be due to the fancy shocks…my guess is they contributed to the overall feel, but that even without them it would be an impressive ride).
I putted around town on it that afternoon, getting to know the layout of town, and the next day took the fifty-minute ride to Monsoon Valley Vineyard in the hills to the east. It was the first time I'd gone fast on a bike since my trip to the Mekong in Mae Sai. Then I'd been on considerably smaller and lighter Honda Click, and by the time we got to the Golden Triangle, my hands had gotten a little numb from the vibration. In contrast, the Aerox was far stabler and more comfortable. Though I've never ridden a "big bike" (say something over 500cc), the 155cc motor of the Aerox seemed more than sufficient for anything I could imagine.
After thirty kilometers on the highway, you turn onto a country road that winds through pineapple plantations and a few bump-in-the-road villages before making a slightly steeper ascent. This was the only time I can say that riding a motorbike was really enjoyable: Once I knew I was the only vehicle in either direction for a kilometer or so, on a road that gently winds up through the craggy hills, I could relax a bit, take in the herbal smells of the low brush and feel the breeze, which helps moderate the intensity of the tropical sun.
I did pay to sample three wines out at the beautiful winery but, of course, used the spit bucket in order to keep from getting tipsy (which would be a bad choice for a beginning rider).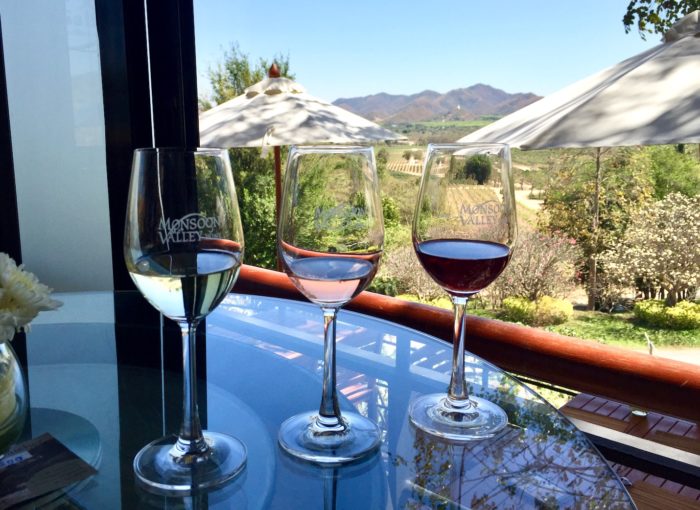 The next day I finally found a Honda Wave semi-automatic to try at the Boy and Boom rental stand. (Sounds like a fireworks stand for young males, but these are actually common Thai names.) Because they don't actually have a shop, but are set up on a sidewalk in the center of town, their prices were lower than Skootz's. Though I was hoping for the 125cc version, I had to settle for the original 110cc Wave, which is the most popular—and affordable—bike in the country.
Because I'd only ridden my friend's 125cc version in Mae Sai for about five minutes on a back street, I reviewed the shifting procedure on YouTube before taking out the bike. Unfortunately, I made the greenie mistake of taking off with the kickstand still down, which scraped loudly on the pavement until I stopped and raised it. At first, I headed down a side street, pretending I new how to ride the thing until I was out of site of the motorbike taxi drivers who loiter around Boy and Boom's stand.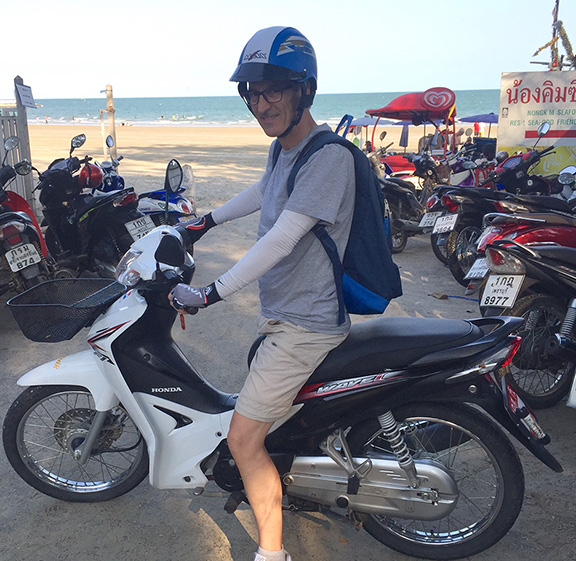 One of the problems of trying out different bikes from rental shops is you don't know what it would be like to ride a brand new version of a particular model. My suspicion though, is that new ones would feel much tighter. Obviously, the brakes would be smoother and more responsive.
In any event, coming directly after my experience with the Aerox, this Wave felt like a rattley, jerky toy. Again, I can't be sure this was due to its being abused by countless tourists, but that was my hunch. (The outside of the bike looked new, however, and there were definitely no scratches or road rash which would be signs of being dropped.)
It's likely that a more experienced rider could have smoothed out much of the jerkiness of shifting gears…and I did get a bit better at that over the next two days. (A few days later I happened to take a motorbike taxi ride into town with a guy who had a Wave 110 and it was a quiet, smooth ride. Is it because he kept his well maintained, or was it due to his riding skill? Likely a bit of both.)
After the Wave it was back to Skootz for a Honda Scoopy 110, which a couple old friends recommended. While many of the new bikes have high-tech, angular plastic fairings on their exteriors and seem aimed at young male buyers, the styling of the Scoopy (I'll admit to disliking the name, though it's probably not a problem for the Thai market), is obviously inspired by the classic Italian Vespa scooter, which is much more rounded.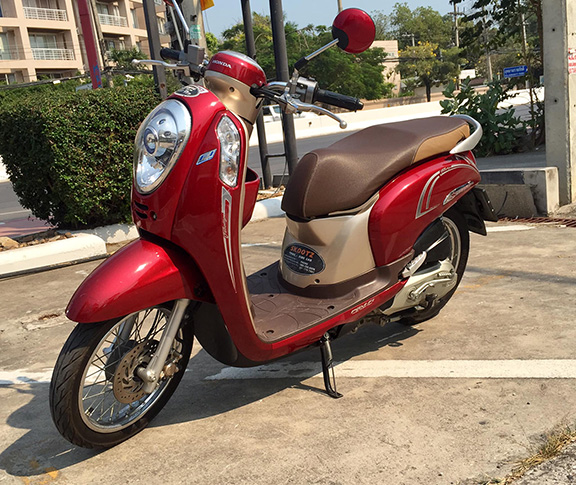 The Scoopy—and the Yamaha Filano, which I tried later in Bangkok—are what's called "step through" scooters, as you put your feet on a flat platform directly in front of you. As a result, this type of bike has no "underbone" frame and, to some, this could mean they would fare worse in an accident. But I'll have to say that compared to the majority of angular-styled bikes, I prefer the rounded ones. (The angular ones remind me of the robots in the "Transformer" movies.) While not as smooth and stable as the more massive Aerox, the Scoopy was nimbler and a pleasure to ride.
The last bike I rented in Hua Hin was another very popular model: the Honda PCX 150. While also highly recommended, I again got the feeling that mine was past its prime. Though not showing signs of being rolled, its exterior had a lot of scratches and the back brake lever squeaked when you pulled it. One of the main things I loved about the Aerox was how smooth it was starting from zero. They just seemed to get the accelerator ratio right. In contrast, every other bike I've ridden has a hair trigger on the right handle. I was left wondering if these bikes, which get heavy use, all need to have the cable that runs from the right handle to the engine replaced or adjusted. If you concentrate hard enough, you can still ease away from a stop. But for some reason, this was much easier on the Aerox.
I rode the PCX a short ten kilometers to the elegant Banyan Golf Club the morning of the third day I had it (the entire second day was wasted because of way too much red wine the night before). Like the 155 Aerox motor, the Honda's 150cc mill offered plenty of power for the journey and short ride in the hills. But again, of the two, the Aerox just felt classier. I'd like to try a brand new PCX some day to see if I get a better impression.
Two More In The Mango
Back in Bangkok I rented two more bikes that friends had recommended: a Yamaha Filano 125 and a Yamaha NMAX 155. I liked the Filano quite a bit; it's really all the bike you need to get around town. It has a big storage area under the seat, a space for a water bottle in front and has the classic rounded styling I prefer.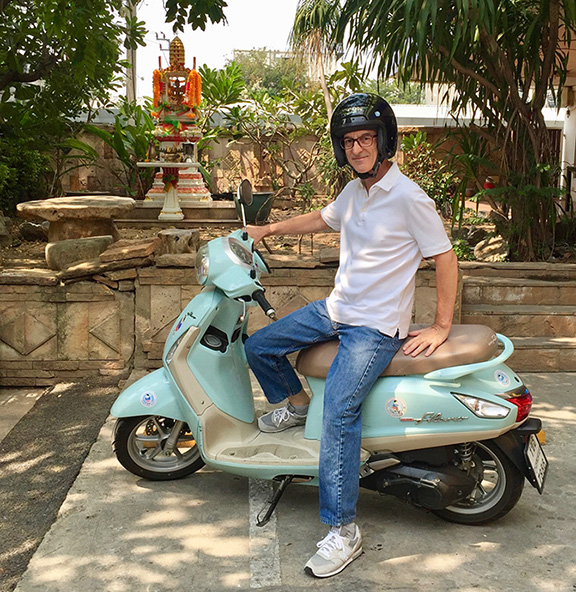 When I went back and exchanged it for the NMAX, it felt like I was sitting on a rodeo bull. Though ostensibly the same 155cc motor as the Aerox, the muffler had been swapped for one with a "macho" rumble (which I didn't care for), and the whole thing pulsated like I imagine Harleys do. I learned later that the Fatboy rental shop likely bought the bike second hand with these modifications. (I'd have preferred a stock model.)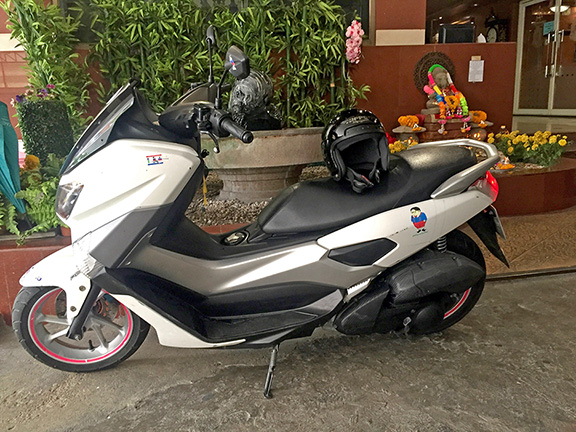 I rode it to an appointment at the US embassy in town and, shortly after parking a few blocks away it started raining—hard. After my appointment I waited for the rain to stop then got my first experience riding on the freshly wet streets. I took turns very slowly until the roads dried off and made it home without incident.
Riding In Town
I've learned a few things from weaving through traffic (sometimes called "lane splitting"), and otherwise trying to survive between points A and B in the metropolis:
• Pro Riders
Almost half the people on motorbikes are "professionals," in the sense that they are delivering food or other items as their job. The main thing they are thinking about is getting where they're going as quickly as possible. Many of them have the ubiquitous Honda Wave 110 or Honda Click scooter or similar small, cheap bike.
But that doesn't mean they can't go fast. One thing I've learned is it feels safer to be riding out in front of the traffic on your own. So, sometimes I'd gun it to 60 kph or so on Sukhumvit or Rama IV roads to get out front. And yet, some wiry Thai guy on a Wave 110 would jet right past me. (And no, I often did not see them coming out of the blind spot to the rear right.)
• Riding Like Walking
Even forgetting the pro riders, the vast majority of riders on Bangkok streets have been doing it so long they no longer think about it: It's instinctive; like walking. I would need several months on the streets until I felt as comfortable on a motorbike as 99% of those around me. Changing bikes every other day also doesn't help. So I'll eventually need to commit to one; then, with time it'll probably come to feel like an extension of me.
• Being The Slowpoke
Another thing you notice is that the pack of riders moving down a busy Bangkok road, move with one mind, like a school of fish. One of the dynamics then, is to choose when you want to "go with the flow" and when you want to "do your own thing." There seems to be a time for each strategy.
For example, a lot of times cars will be stopped and a line of motorbikes will be navigating the spaces between them to get up to the red light. If you can keep up with the flow during these times, it can add to your safety; drivers and riders alike are aware of this river of bikes and will usually defer to it. But the operative word is "usually;" you still need to be prepared for riders trying to merge from an adjacent lane, or vehicles that start to pull forward for one reason or another.
As a relative novice, to be safe, I often slow down when I'm not sure of something. More experienced riders, for example, know intuitively if they will be able to make it through the side mirrors of the cars up ahead. Even so, everyone sometimes needs to walk the bike in the tightest of these cases, angling past one mirror, then the other. Instead of guessing, "I think I can fit," I'll stop and walk through.
Also, when a light turns green, I'd rather let the pack go ahead of me. To my mind, even if riding is like walking to them, they are crammed way too close together as they race off to catch up with the next group of cars. I feel much safer in lagging behind, so I can keep a healthy distance between myself and the next vehicle.
So, I think it's important to ignore whatever pressure you may feel from riders all around you to pack in as tightly as possible, go as fast as possible, etc. Though some may get away with it, luck will run out for others. Asians are known for groupthink. But that mentality, with its overriding emphasis on conformity and "harmony," can be dangerous on the road.
• Smaller Is Better For Town
While it's possible to get around Bangkok on bikes bigger than a Wave, Click, Scoopy or Filano, it's easier on these smaller bikes. They can be walked in and out of parking spaces with very little effort, for example—and sometimes in a traffic jam you find yourself basically walking the bike through tight gaps between vehicles. Because they are lighter, narrower and shorter than, say, the PCX, NMAX or Aerox, they are better suited for this particular job.
And The Winner Is?
So, if a small bike is best for Bangkok, which small bike would work best for me? If, like some, I grew up riding a bike with gears, then shifting would be second nature and a non issue. Since that's not the case for me, and since there is so much stop and go in town, despite using a bit more fuel, a full automatic makes the most sense. So: Bye-bye semi-automatic Waves.
That leaves the Click, Scoopy and Filano. To cut to the chase, the bike that ticks almost all the boxes for me is the Filano. Since they moved the gas tank to the front, it has considerably more storage space under the seat than the other two bikes. Despite the Click being one of the most popular bikes in Thailand, and therefore easier to service and sell, I simply don't care for the angular styling. And though I like the Italian styling of the Scoopy, it's hard to find one without some flowery paint job. If I did find one in a good color and in good condition, I might go for it. However, the Filano has a 125cc motor while the Scoopy is just 110cc. This would make the Filano better for carrying loads (like a passenger), and for getting up hills.
I may well add a "top box" storage container to the back of whatever bike I eventually buy. Some of these are large enough to accommodate a full-face helmet, and would otherwise be handy for carrying items around town.
No Rush
I used the affidavit of residence I got at the embassy to obtain an international driving permit (which turned out to be an easy task). I just made another appointment at the embassy, again three weeks ahead, to get another affidavit. Then, if I want I'll be able to buy a bike. I asked Fatboys rentals if they would sell the Filano I rented from them. They said they would, and their price was fairly reasonable. Still, I'll check out other options, and may not buy until I've gone to the US and back. If I do get a bike, I'll most likely start with a small, nimble one for town. Later, I may consider getting a second bike for longer trips, or just rent when I get to other places.