In July of 2021, after fifteen years in Bangkok, Thailand, I decided to return to Seattle. There, I bought a used car and moved into a friend's condo for a few months.
To Van, Or Not To Van
When Seattle started getting cold in October, I traveled to a small beach town in Mexico for a few weeks. Long story, but I decided to get a long term visa for Mexico, and ended up going to the Mexican consulate in Orlando, Florida to begin the process. While there, I started getting interested in the idea of getting a camper van to travel around the US in. As a single, minimalist, independent type who likes travel and adventure, I thought a van might fit my lifestyle.
A tiny house on wheels: Imagine being able to spend a week on a mountain in Montana, then head to a lake in Minnesota. I could invite friends on camping or hiking trips. Or drive to New Orleans to hear some local jazz, while parking on the outskirts of town. With my Mexican visa, I could explore that country, or even continue to Central or South America. The possibilities seemed endless.
The Mexican Temporary Resident Visa requires you to first apply in the US, then you have six months to complete the process back in Mexico. Since going south of the border again wasn't urgent, I decided to explore "vanlife" a bit while still in the US.
The Three Amigos
There are three main cargo vans with roofs high enough to stand up in: the Ram ProMaster, Ford Transit and Mercedes Sprinter. Since camper vans have become incredibly popular in recent years, there are an abundance of YouTube channels, Facebook groups and Instagram pages devoted to the subject.
In one FB group, a few people recommended renting a van from Dave & Matt Vans (dmvans) in Colorado. After looking into it I realized it would not be a particularly cheap experiment, but as the cost of a new, or near new van, plus the internal build-out can easily be $60–120 thousand, I figured it was worth spending a few thousand to test out some vans, and also just see what I thought of the lifestyle.
(By the way, all three vans I ended up renting had comfortable beds, sinks with electric cold water faucets, several-gallon fresh- and greywater tanks, solar panels on the roof, remote control ceiling fans, lithium batteries, dimmable cabin lights, DC and AC power outlets, reach-in electric refrigerators, swiveling movable tables, gas stoves, heaters and window coverings for privacy at night.)
Ram ProMaster
Dmvans uses the peer-to-peer RV rental site, Outdoorsy, to handle rentals, and on February 3, I reserved a 2021 Ram ProMaster from them through the site. Then I booked a flight to Denver, and also rented a car for 10 days, so I could drive the two and a half hours east to tiny Gypsum, CO where their company is. It cost $1233 to rent the van for 5 days. The flight (including checking in my folding bike), was $360, and the boxy little Kia Soul from Hertz cost $660 for ten days. (In Florida, rent-a-cars were sometimes as cheap as $12/day!)
The drive from Denver to Gypsum on I-70 took me past the Vail ski resort area at 8000 feet. I got to Gypsum at 10:00am and met Steve, who handles rentals, for a walkthrough and a short drive around the block, just to reassure us both that I could handle driving a 10-foot tall cargo van.
Dmvans works exclusively with Ram ProMasters. What makes the ProMaster distinct from the other two cargo vans is its very squarish shape and the fact that it's front wheel drive. The square shape means it's a bit easier to build out—and it's the widest of all the vans in back, so many people can orient their beds across, instead of lengthwise. At 5'8″, I was easily able to stretch out laterally, and the ceiling was high enough that I still had a few inches of headroom.
Dmvans' motto is, "Everything you need, and nothing you don't." There are many companies that make fancier builds, but their idea is to provide a van with a basic build at a price that allows people to get out on the road as quickly as possible. The model I rented was the 19'7″ version, which I think is perfect for a single person like myself.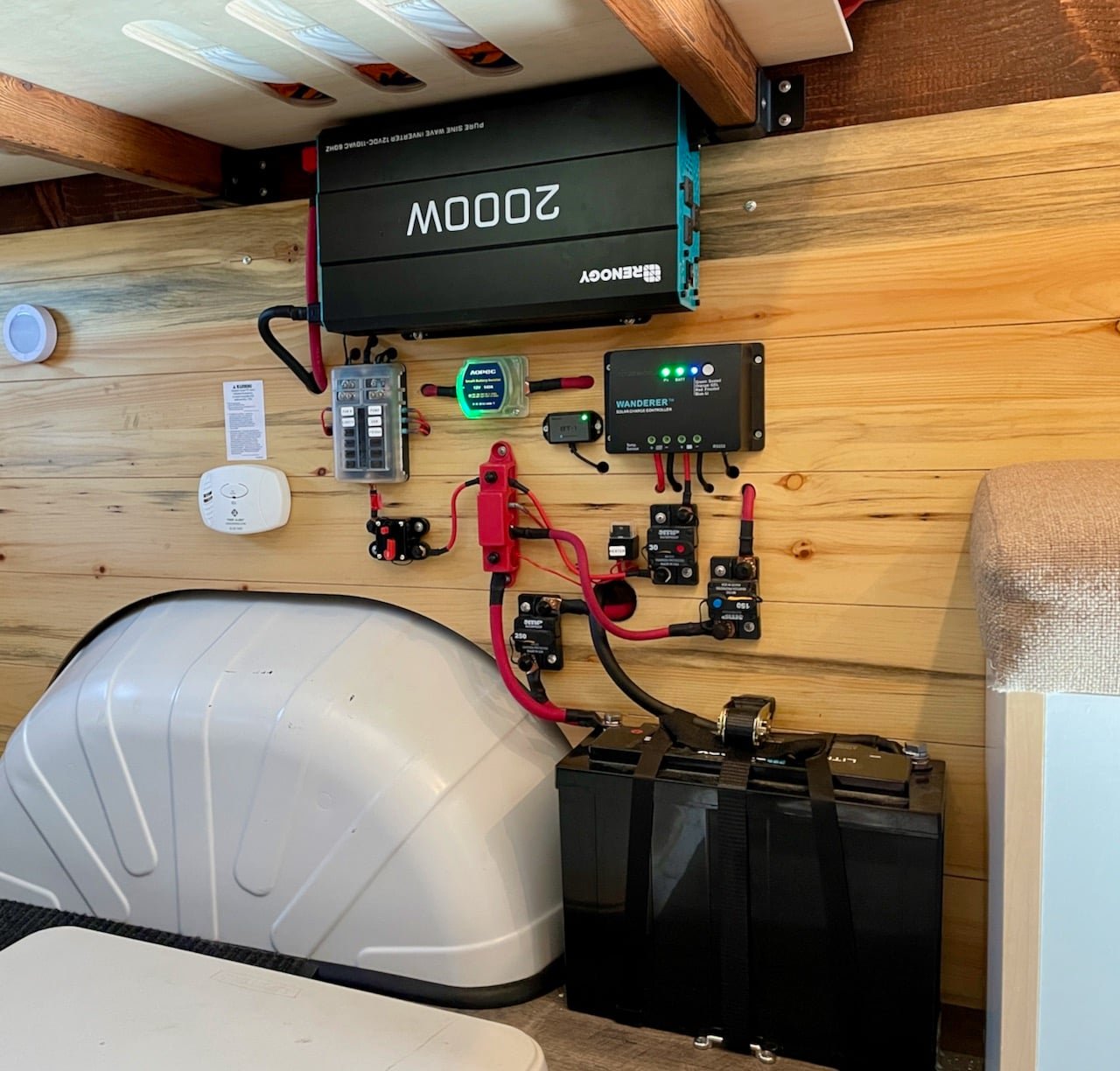 After transferring my gear to the van, but before heading out, I asked to see the two vans they had on the lot that were already built and available for purchase. Because of the high demand for vans, they had only two left, and both were the longer, 20'9″ models. They wanted about $88,000 for each. (One issue with these longer vans is they don't easily fit in a regular parking space, so you have to park in the back of lots in malls, etc.)
Moab Ho!
When Betsy, the woman who showed me the vans, asked where I was off to, I said I had no plan. To which she responded that I ought to think about heading over to Moab, Utah, where I could see some "once in a lifetime" geological formations. And since a woman at the REI in Denver suggested the same thing, I decided I'd head there.
Since it was already afternoon and i was tired from the drive over, I just booked a room in Glenwood Springs, about a half hour west. I-70 snaked through deep, dramatic Glenwood Canyon, after which I was happy to find the Silver Spruce Inn; one of the last few family-run hotels.
The next morning I got back in the van and continued west about two hours before turning south for another thirty minutes to Moab. Once I crossed into Utah from Colorado, the speed limit increased to 80mph and the land spread out and seemed to go on forever. And as there was almost no one in front of or behind me, I had a feeling of incredible freedom.
As you get close to Moab, the landscape rises out of the flat desert and it's reminiscent of Clint Eastwood movies.
On the road to Moab, Utah
Dowd Flats RV Park
I found Dowd Flats by opening Google Maps and searching for "RV park." It really seemed that February was a good time to visit the area, as I was basically the only one staying there, besides manager Vance and his little dog, and two people in larger RVs owned by the hotel across the lane for their staff.
With hindsight, finding this spot made my experience in the ProMaster better than it might have been. Though simple, there was WiFi and a heated building with toilets, showers and a laundry room. Since I spent my three days there cruising around Arches National Park and the cute town, it was nice to know where I'd be spending nights. And the $25 daily fee was reasonable.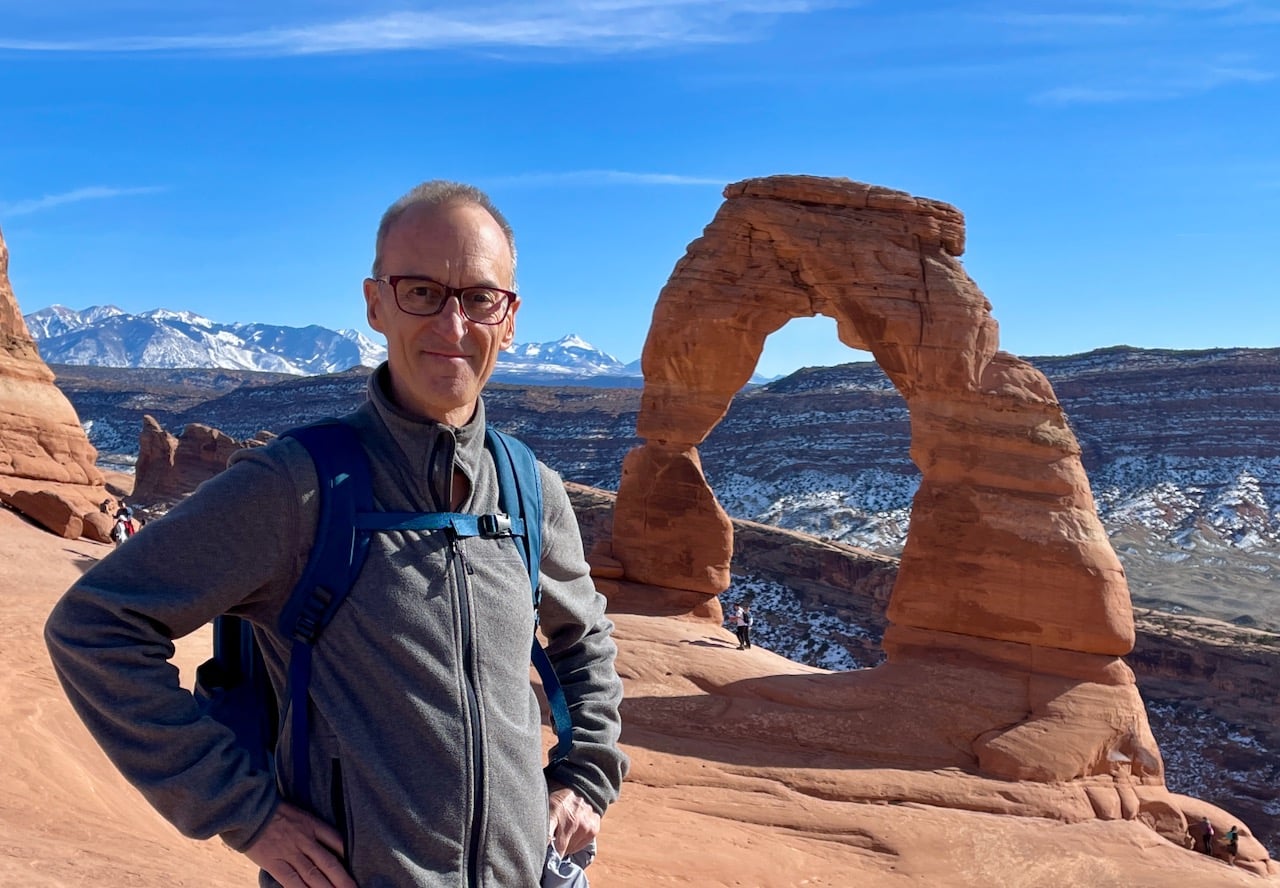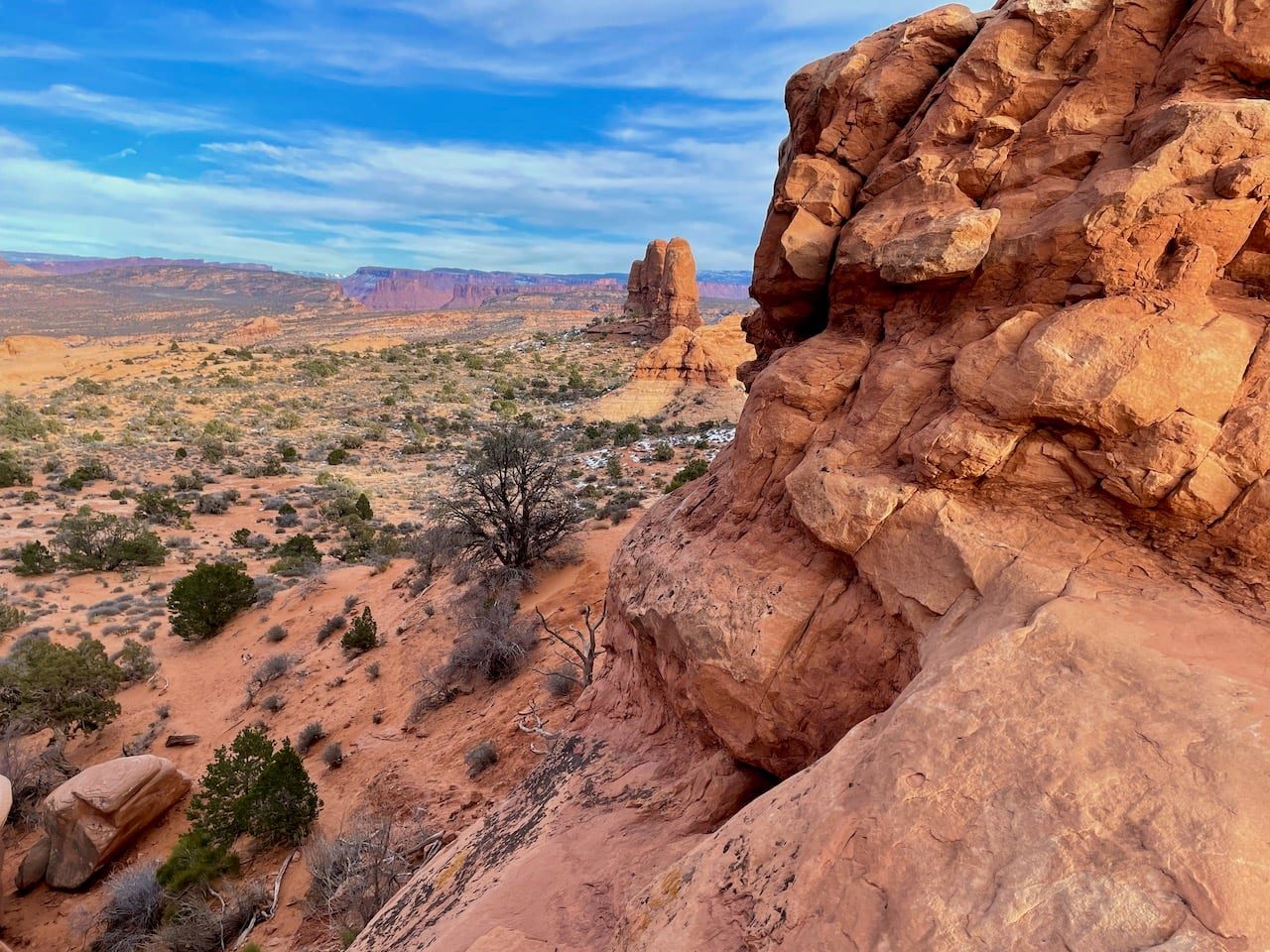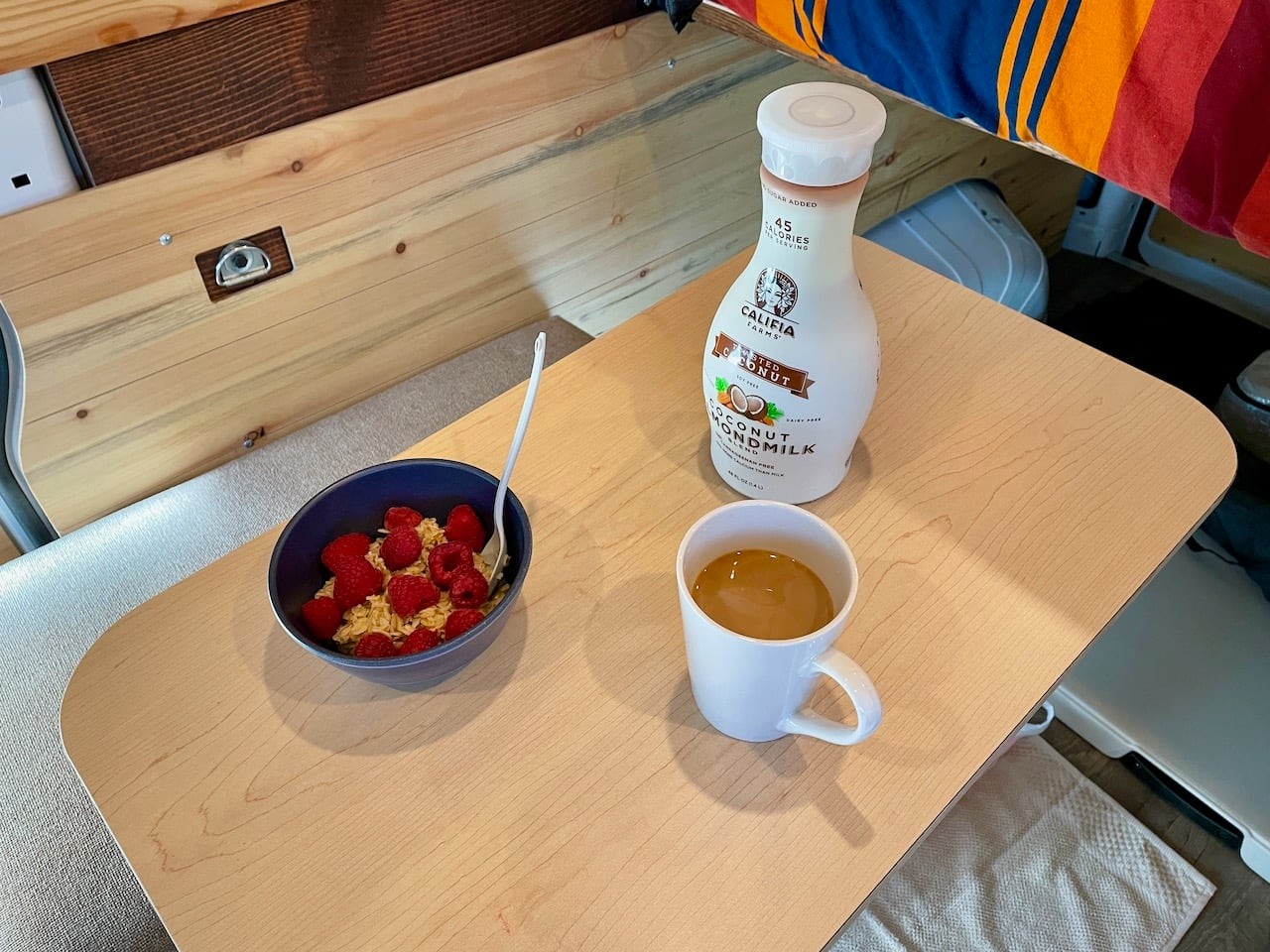 I spent my fourth night in the RV park in Moab, then on the morning of February 13 returned the van in Gypsum and continued east to Denver. I used the Outdoorsy site again to look for other vans for rent in the area. Whereas previously I hadn't found many, now I did. Rather than heading to Los Angeles, where I'd seen there were many vans available, it now made sense to stay in Colorado. But then the weather turned cold and snowy, and I just couldn't see enjoying a new van in those conditions, so went back to the L.A. plan.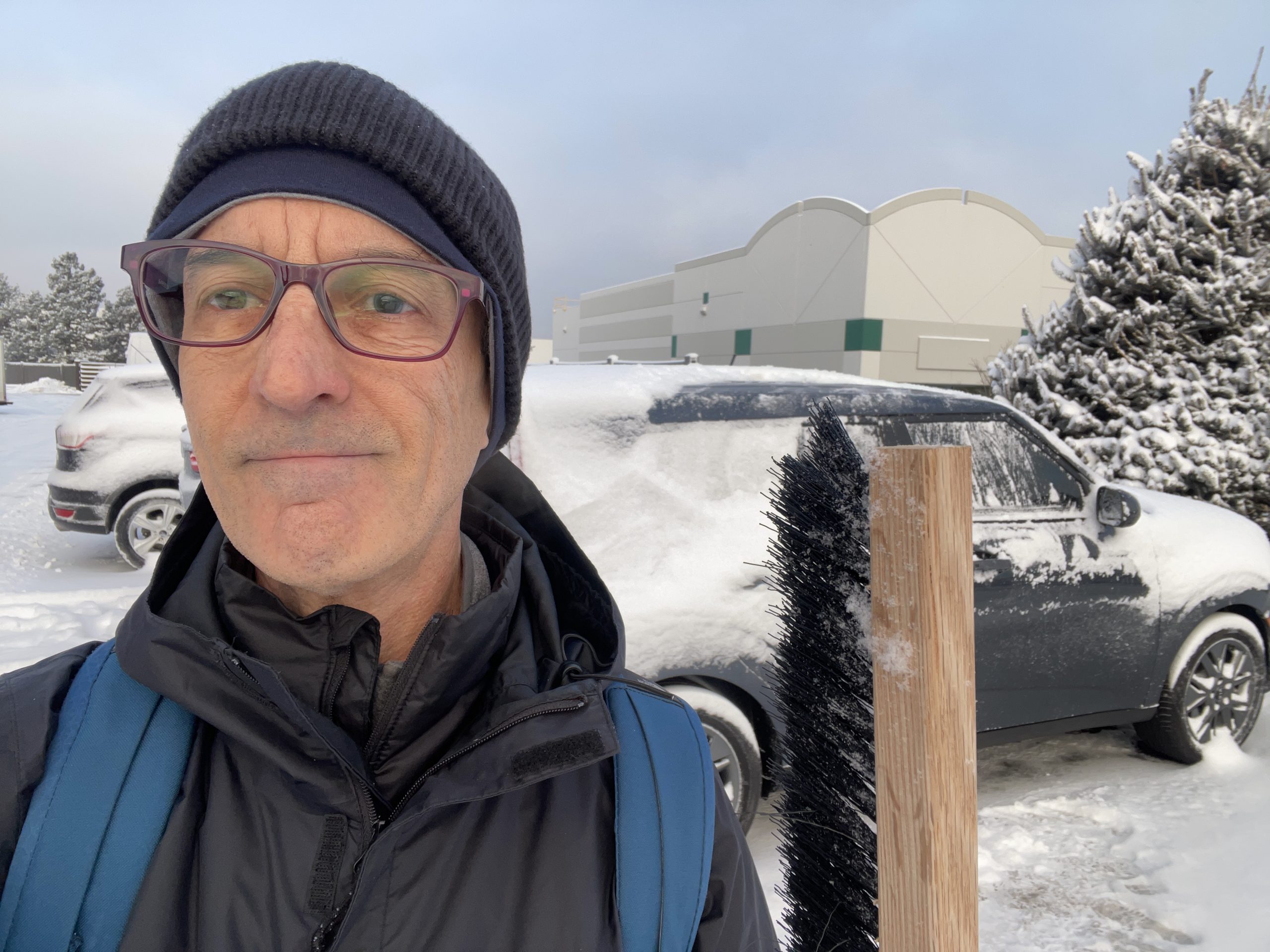 Pomp Springs
As luck would have it, I called my sister at this point, and she said she'd just returned from a few days in Palm Springs. Of course, I'd heard of that place, but didn't really know where it was. After learning it was just a couple hours' drive from L.A., I decided it would be fun to fly there instead, and base my next van adventure out of there.
That turned out to be a bad idea; not because it's not a nice place, but because it's terribly expensive. I managed to book a room at the Days Inn for a Thursday night for $90. However, the next day, they wanted $300 for the same room! "Screw that," I thought, "Since I'm likely going to L.A. anyway, I'll just find some small town between here and there and get a room for, say, $80."
I ended up in an armpit of a town called Hemet, just to discover that the same Los Angelinos who were filling hotels in Palm Springs for the long President's Day weekend had also filled all the hotels there. In the end, I had no choice but to pay $200 for the last room available at the only decent hotel in town.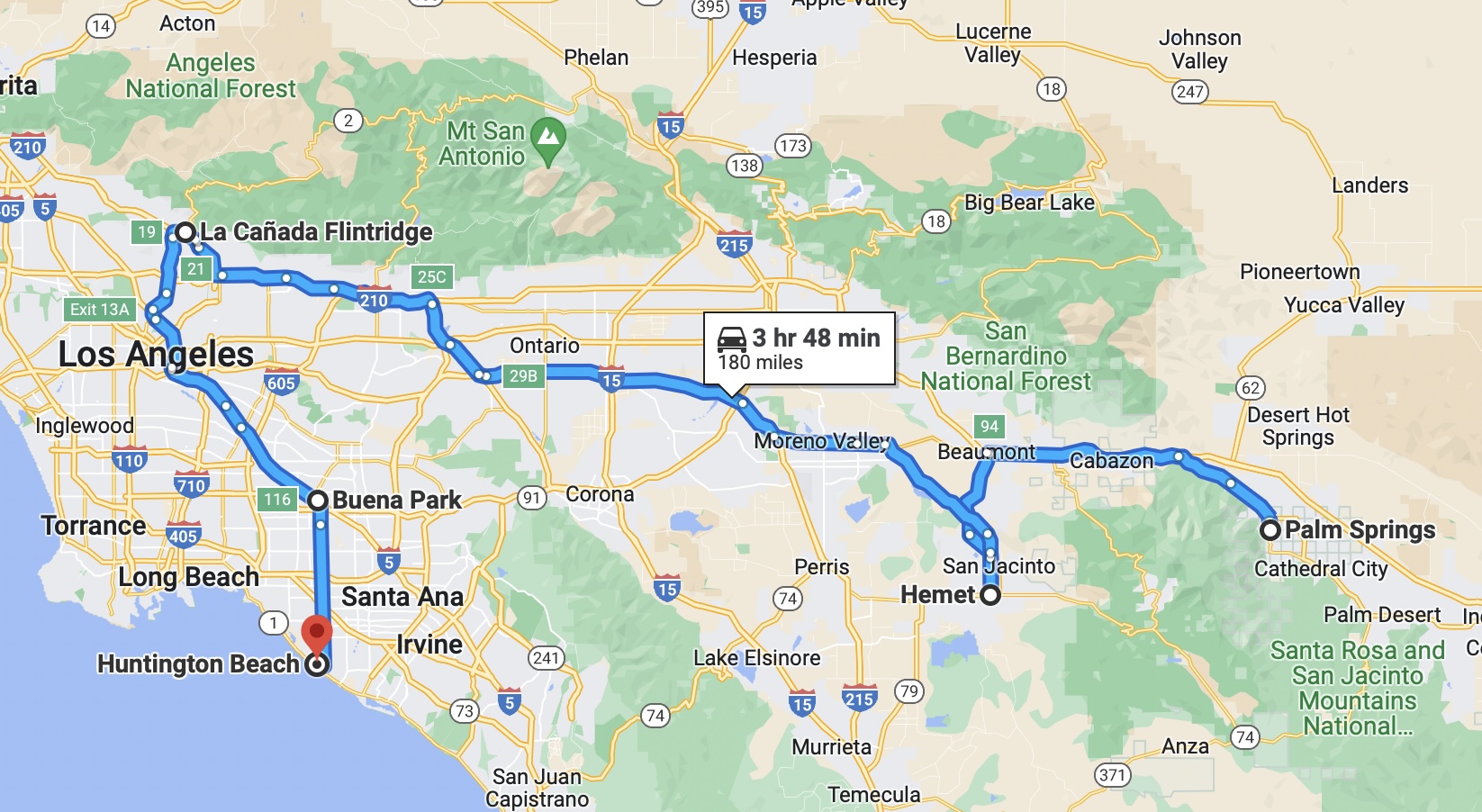 One Big Freeway
At this juncture my luck turned for the better, when an old high school friend who lives in L.A. saw on Facebook that I was struggling to find accommodation and graciously offered to put me up for a couple days.
While in L.A., I had dinner with my nephew, Noah and his wife and also hooked up one evening with an old friend from my days living in the San Francisco Bay area.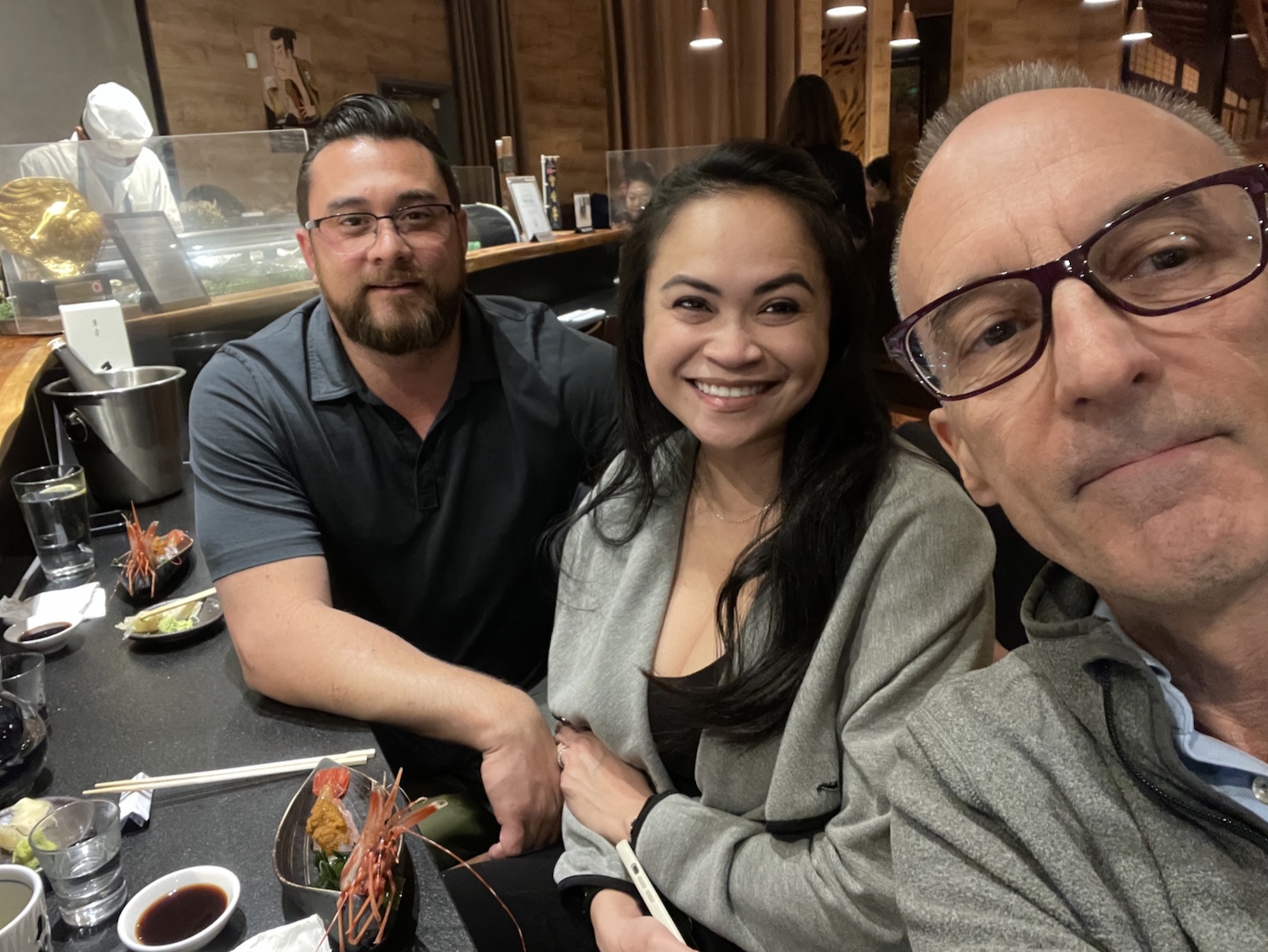 I'd gotten sidetracked from my goal of trying out camper vans, but after a week in L.A. drove my rent-a-car back to Palm Springs.
Ford Transit
I'd had my eye on a Ford Transit on Outdoorsy, but it was located in Alpine, which is east of San Diego, three hours south of Palm Springs. Since there were no sedans available in Palm Springs, I booked another Ram ProMaster from Hertz to drive down to Alpine. (That van turned out to have problems with the locks and backup mirror, so they took $100 off the already cheap $200 price for a 10-day rental!)
The 2020 Transit ($1,123 for five days on Outdoorsy), was owned by a fireman and his wife, and he had done the build himself. Transits come in three roof heights, and this high roof model has 6'9″ of headroom inside, which is the most of any cargo van. Though I'd rather have tried the 20′ model, this one was the longer 22′ one. That would probably be great for a couple, but some online thought a van that high and long could be a challenge to drive in heavy wind.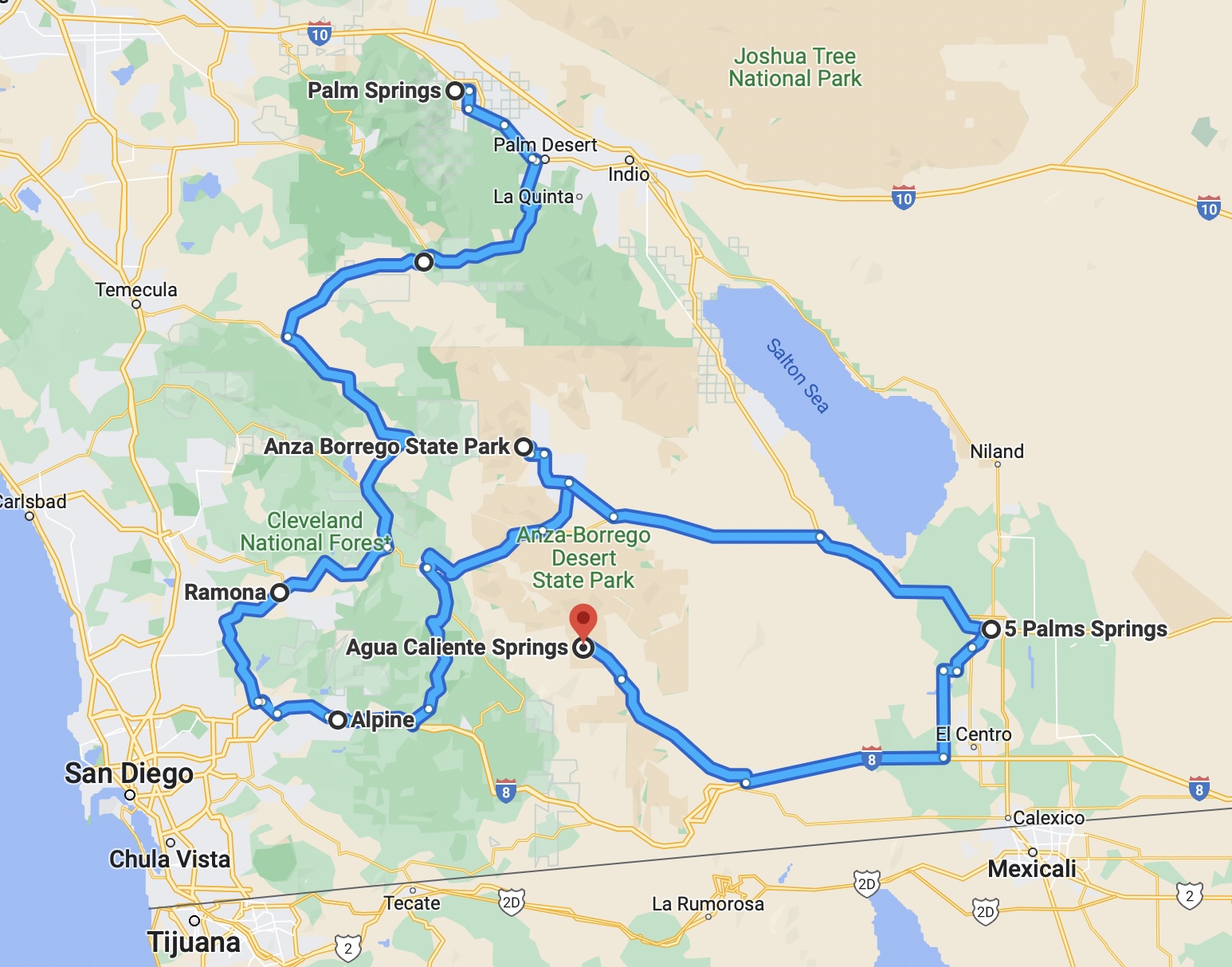 Indeed, some of the roads in the Anza-Borrego Desert State Park had signs warning of strong crosswinds, which I did feel; though I'm sure they are stronger at times than when I was there. The EcoBoost V6 turbo engine was unbelievably powerful, and the 10-speed automatic transmission made shifting barely noticeable.
As of 2020, the Transit was available in all-wheel drive. It would have been interesting to try one of those, but the one I got was the standard rear wheel drive. (They say AWD is not quite as good as 4-wheel drive, but considerably better than just 2-wheel drive when you're in snow or off the blacktop.)
While he had done a very nice job on the van, it was clear that the ProMaster from dmvans was a more professional build. They have completed a lot of them, and the planning and execution of their builds reflects this. I'd seen it said online that, for many of the jobs done by individuals, they had to do some things twice, since they realized they hadn't anticipated something on the first shot.
Anza-Borrego Desert State Park
As I've already mentioned, I decided the easiest place to go test the van was the Anza-Borrego desert (California's largest state park).
Since I'd spent every night in the ProMaster in a relatively cushy RV park, I wanted to use the Transit to do some boondocking, or "dispersed camping," which means camping for free on public lands. At the visitor center in the park, a ranger showed me a few places on the map where you're allowed to do this.
After watching a couple movies about the desert in the nice facility there, and picking up some food in the bump-in-the-road town of Borrega Springs, I headed toward one of the places she'd circled. I must have passed the turn off, but no matter; when I spied a 60-foot RV, a pickup with camper and another van dispersed along the edge of an overlook, I pulled off as well and got ready for the night.
The terrain was as gravelly as the surface of the moon, yet except for a few other RVs passing on the road, it was soundless, and the stars were brighter than I'd seen in a long time (though there was still a bit of 'light pollution' from Salton City, 10 miles to the northeast).
What, No Internet?
I think it was during the first night boondocking that I got to experience another major challenge of vanlifing, which is having no access to the internet. I'll definitely need to learn how people deal with this if I ever get my own van. I've heard some people have phones on different providers so if one provider's coverage is bad in an area, they can try another.
Some are excited about the prospects for Elon Musk's Starlink satellite network providing global access in the future. It's under beta testing in the US currently and may be fully built by 2027.
Some say to just bring real books and take a break from the screen, which is advice I agree with. However, if you don't already have your route planned out, having no web access forces you to do what folks did in analog times: drive around looking for stuff. Which is an incredible waste of time and fuel in the digital age.
So, I guess here's one more reason to do most of your research and planning before heading out. And yeah, it's probably still a good idea to have an old fashioned road atlas on hand, and perhaps some digital or paper maps of specific parks or BLM lands you're going to.
The next day when I found reception again I used the feature of Google Maps to 'download an offline map,' which is great, so at least I could access a map of my area when away from cell towers.
The Other Palm Springs
The next day I decided to drive to 5 Palms Springs, which Google Maps labeled a "swimming lake." I turned off the main road onto a dirt road that, while maintained, proved that the stock suspension of a cargo van makes for a jarring ride.
I had to park, then walk over a dune to find the oasis, which was only twenty feet across, and not a "lake" at all. I must have turned the wrong way trying to get back to the main road, which made for an additional bumpy and frustrating hour.
My friend in L.A. was an old scout master and recommended a hot spring camp site in the park, so I decided to head for it. The fastest route looked to be via I-8, which runs east to west a few miles north of the Mexican border. Just before my exit I realized I'd better get gas when I saw a sign saying it was the last station for a while. I had to pay $5.70 a gallon at that Chevron, which seemed like highway robbery. The fresh water in the van's 15-gallon tank was also getting low, so I put quarters in the machine that doubled as an air compressor and used it's black hose to top it up, only to discover later that it was probably only meant for radiators, as it smelled like the hose. (When I eventually got to the hot spring RV park, I replaced it with the water they had there.)
Carrizo Badlands Overlook
I drove past some tall windmills as the light faded. According to the map, I was only twenty miles from the hot spring resort but, not wanting to drive at night on an unknown road, circled back to Carrizo Badlands Overlook, which I'd just passed, for the night.
I was a bit worried that some ranger would knock on the van, saying it was not allowed to stop there, but in the morning I saw a couple other vehicles had done the same. It may not have been officially kosher, but there seemed no harm in it.
The next morning I made it to Agua Caliente Springs Park, which is actually a San Diego county park inside the Anza-Borrego State Park. There are different prices for different kinds of campers, from cars with tents to large RVs. My van was in the middle and cost just $25 per day, which included water and electrical hookup, in addition to the toilet and shower facilities. Included were an indoor and outdoor hot spring (neither of which were particularly hot, but still nice), and a small swimming pool. There was room for around thirty campers, but on this weekday the place was only half full.
I arrived before the 2:00pm check-in time and, since the store at the entrance was closed on Tuesdays, drove 10 miles further down the road to Butterfield, which had been a stop on the stagecoach route in the past, and bought a can of chili for dinner.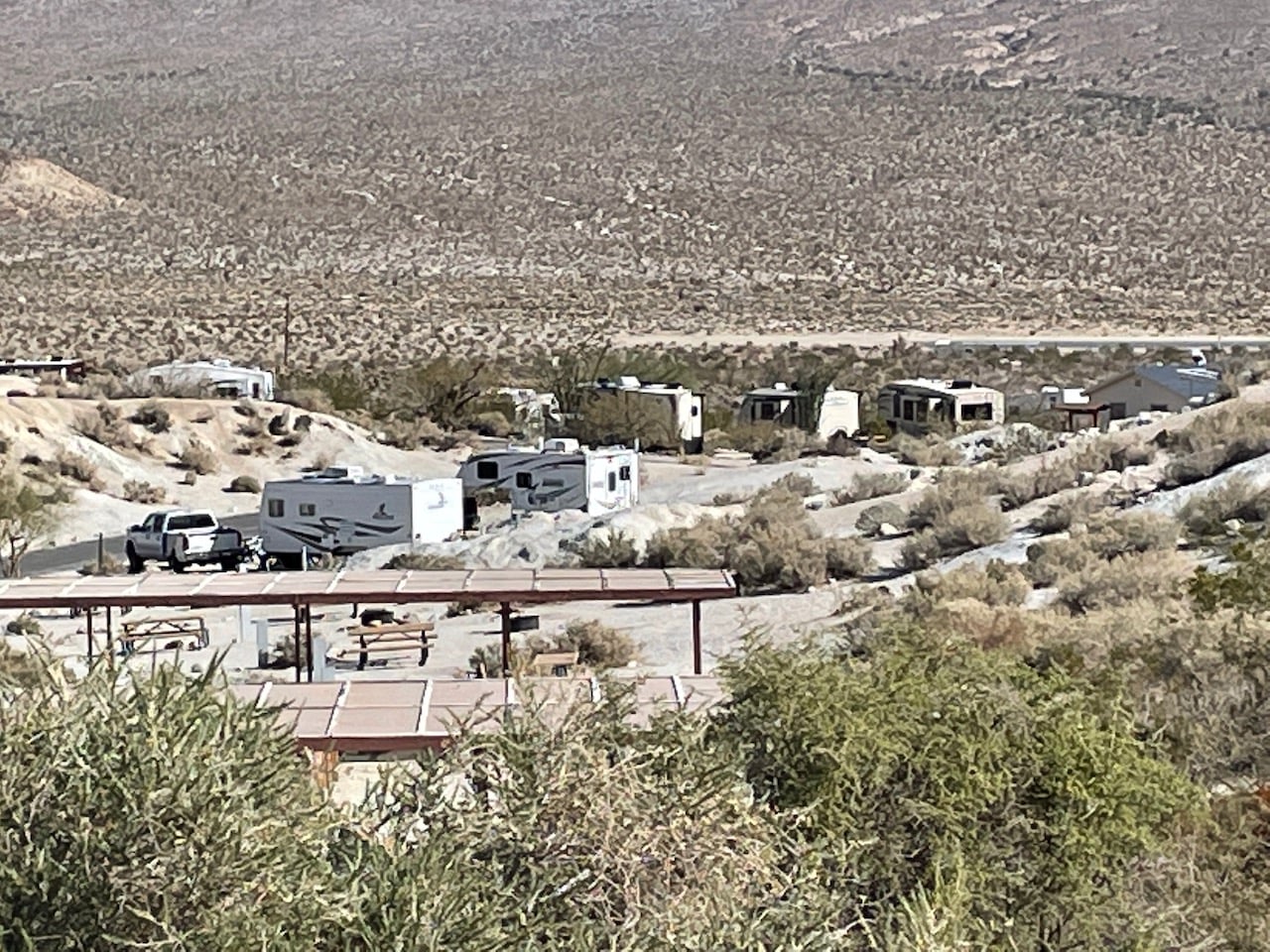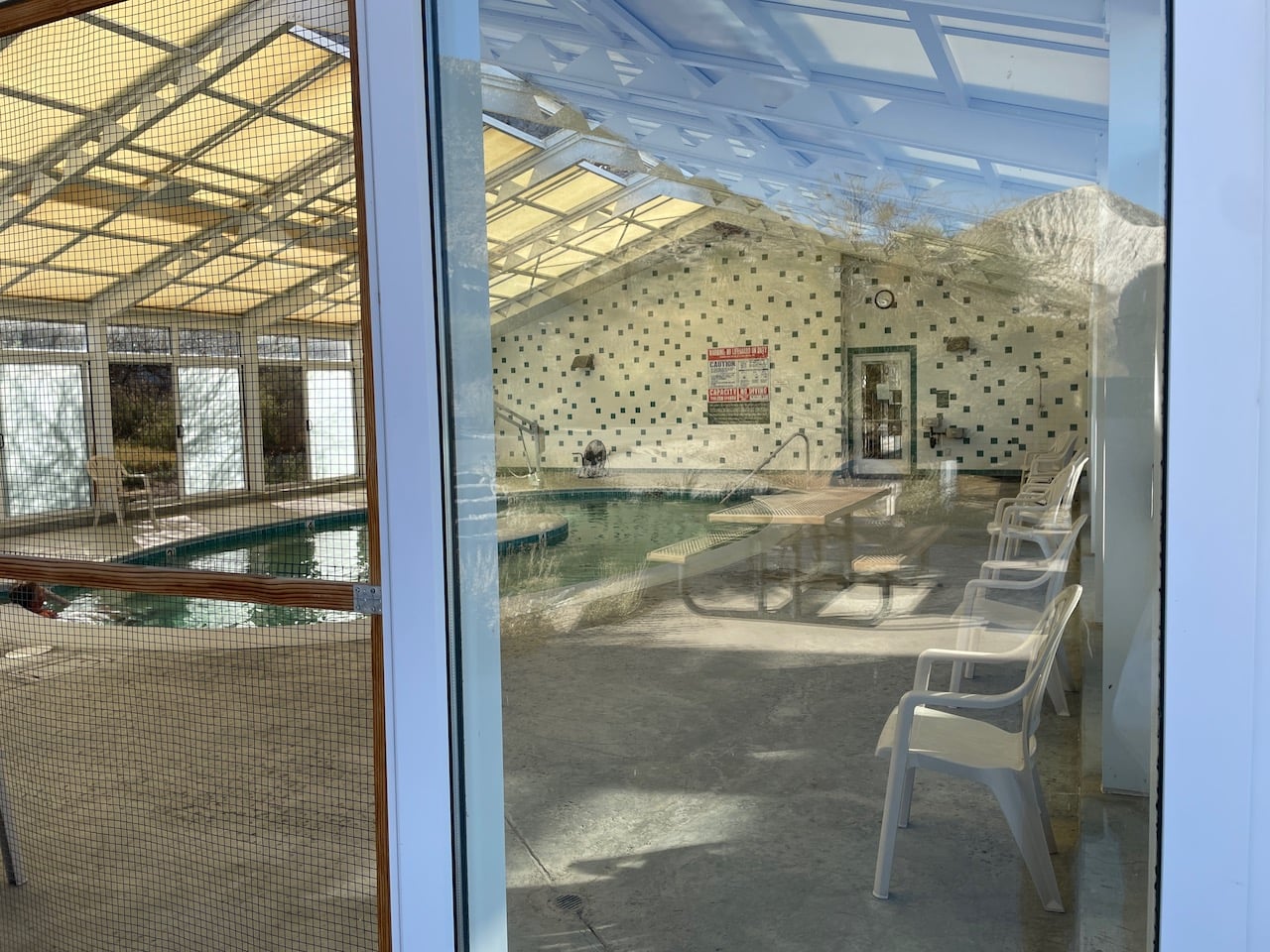 I'd been playing it by ear, but after getting back to Palm Springs with the Hertz van,  decided if I really wanted to know how the three main cargo vans compared, I needed to go for the gusto and try the van of the rich and famous, the Mercedes Sprinter. I also knew I needed to break out of the magnetic field of expensive and snooty Palm Springs.
Mercedes Sprinter
I found a 2020 Sprinter in Houston, Texas ($1,073 for five days on Outdoorsy), which had already been rented out by its owner several times. At 19'4″, it was the shortest of the three Sprinter models, but plenty long enough for my needs. Despite being the narrowest of the cargo vans, at a relatively short 5'8″, I was still able to sleep laterally across the back (but just barely).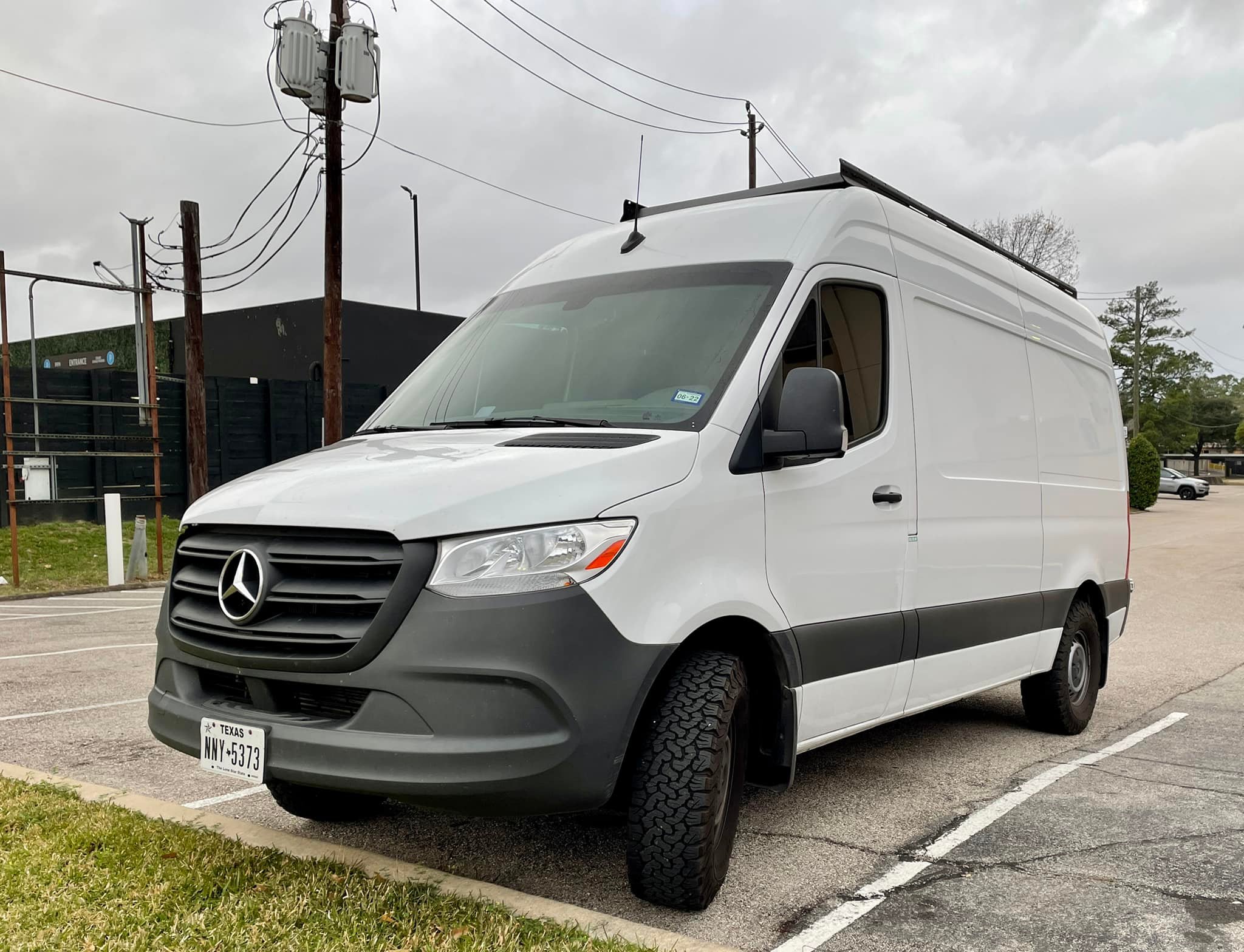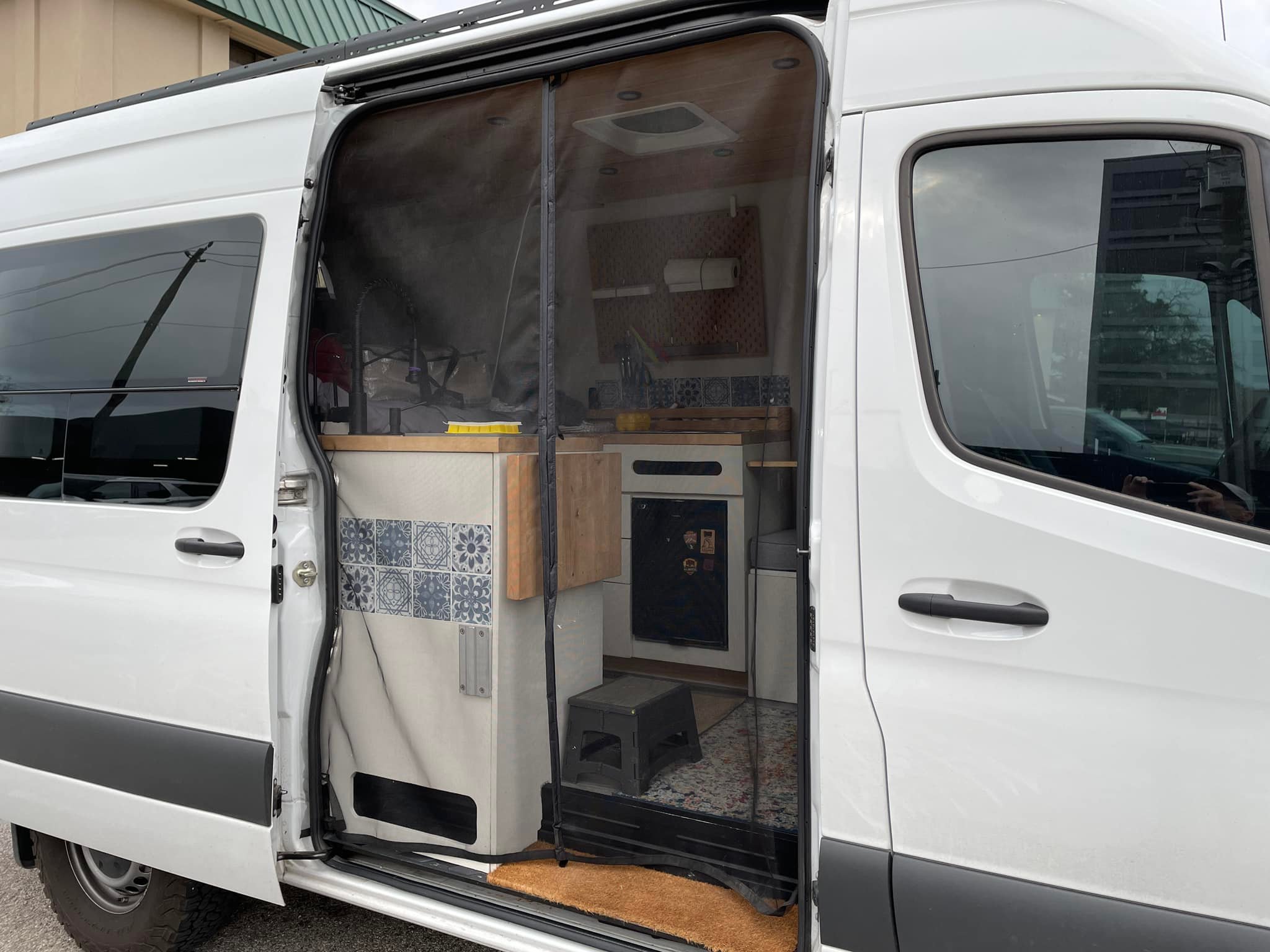 Unlike the first two vans, this one included a Dometic portable toilet, which the owner instructed me to only use for "number one, not number two." Like the Transit, he had done quite a nice job on his build, but again, some of his choices and workmanship paled a bit in comparison to the pro build of the first van.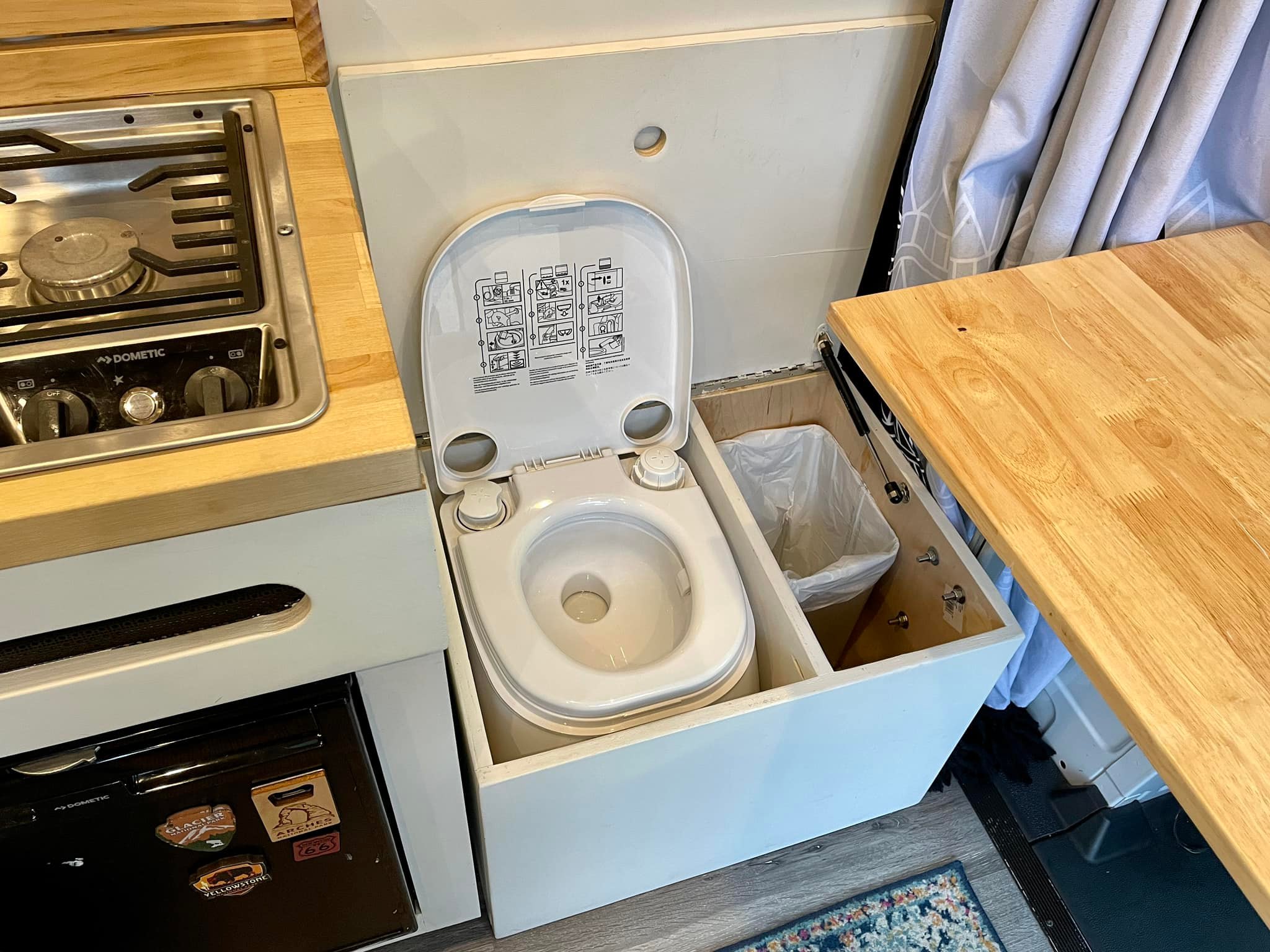 The first impression behind the wheel was of a bit more luxury compared to the Ram or Ford, but I soon realized I didn't care about most of these features. For example, the shifting lever, instead of being mechanical, was electrical. It worked fine, but so did the mechanical shifters on the other vans. When you pressed the button to turn on the horseshoe-shaped dome light, it slowly came on and did the same when you turned it off. That may impress some people, but not me. The seat had about 10 ways to adjust it, but I only care about the standard forward/back and tilt. The upholstery, I guess, was leather, but of the cheaper, composite type. Again, who cares? The fit and finish of the Sprinter may have been a bit tighter than the other vans, but it was honestly hard to tell.
There are a couple things which distinguish the Mercedes from the competition, one being its diesel engine, which gets better mileage than gas engines (diesel fuel is more expensive than gas, however), and another being that there is a 4-wheel drive option from the factory. The one I rented was just rear wheel drive, however. There is also more ground clearance than the other vans. This, plus the 4WD option, can allow you to go farther off road, which I realized is an attractive capability. But as others have pointed out, maintenance and repairs are more expensive, and you're not likely to find an authorized Mercedes mechanic if you happen to break down in the boonies.
I found a spot using the iOverlander app just an hour east of Houston on Trinity Bay called Fort Anahuac, famous as the location of uprisings prior to the Texas Revolution. But there were no remnants of the old fort and it was otherwise a ho-hum spot. So, after a quick burger at the funky Panther Cafe, I drove another hour south to the Bolivar Peninsula, which is a long sand spit on the gulf.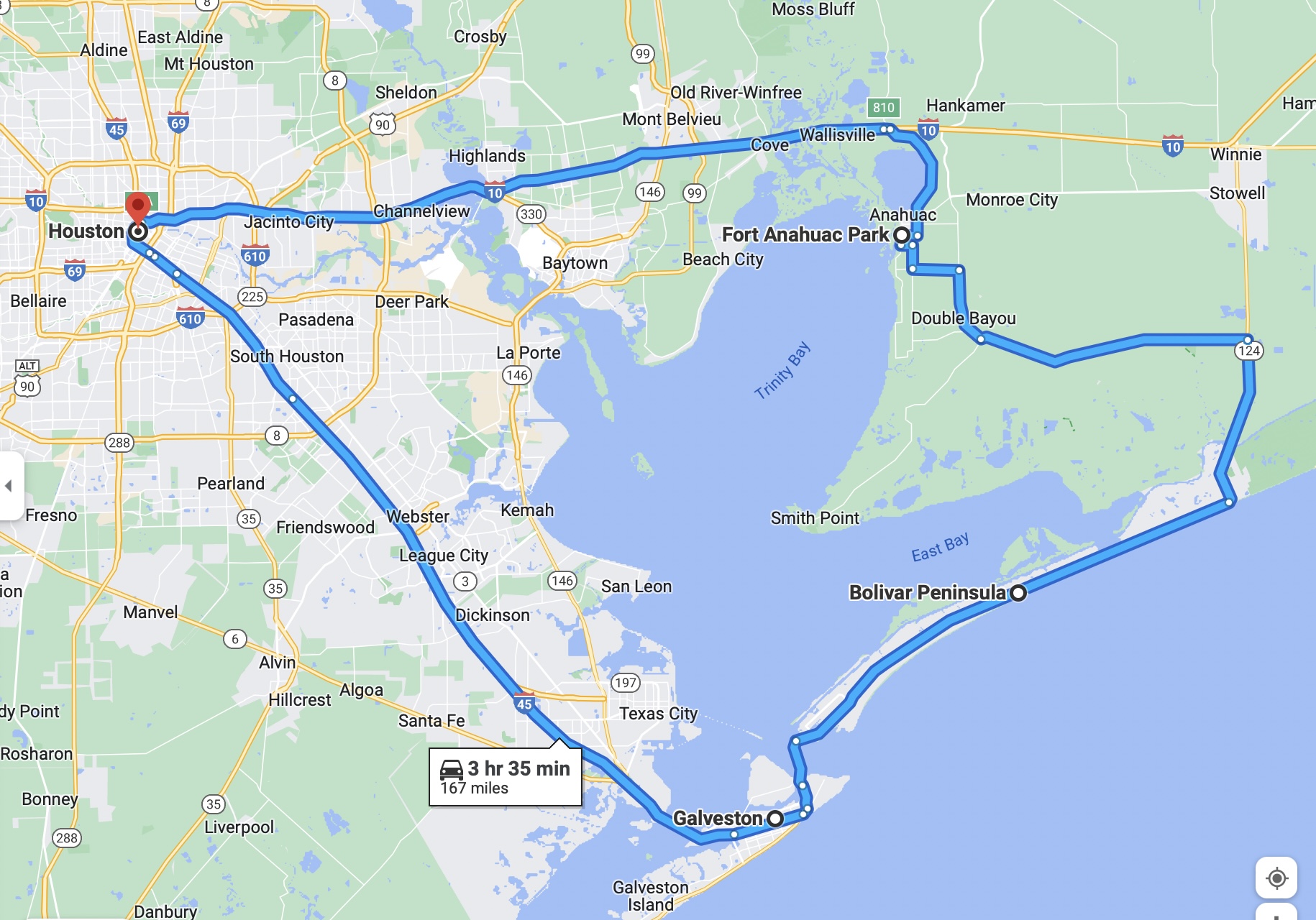 Bolivar Peninsula / Crystal Beach
There are a few hundred vacation homes on stilts near the beach there, but eighty percent of them were vacant this time of year. The only people left in the area were locals and, judging from the menus at the few restaurants still operating, they subsisted mainly on pizza, wings and burgers.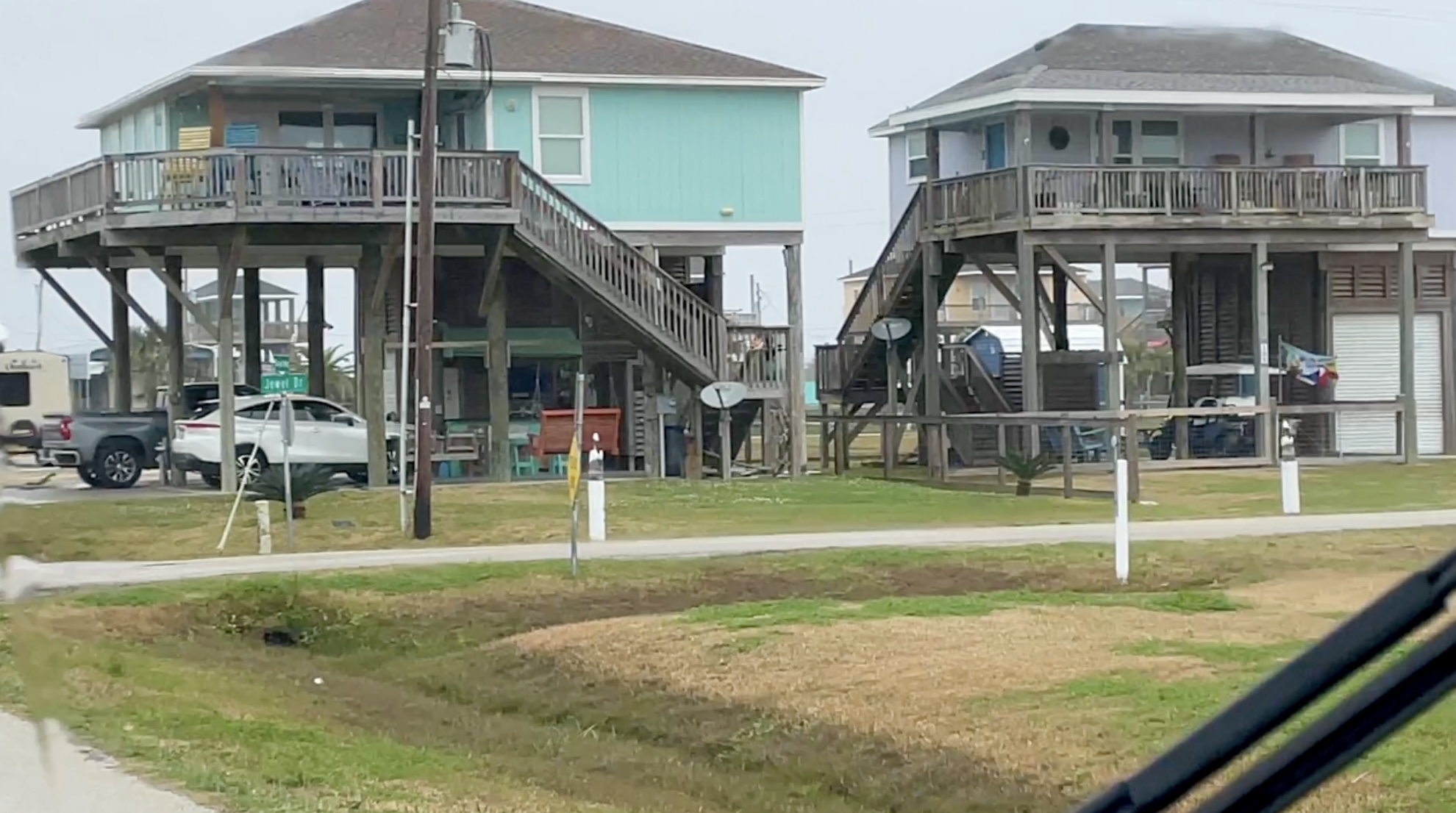 Everybody goes to The Big Store and Ace Hardware, which also has the Peninsula's main gas station, for provisions, and maybe just to get out of the house (or trailer, more likely).
The ocean shore is known as Crystal Beach and is wide and firm enough to drive on. Vehicles are allowed to stay overnight on the sand as long as they show a Bolivar Beach Sticker on the windshield. These you can buy at the Big Store for just $10, and are good for about 10 months!
After getting my sticker, I found a spot at the end of one paved lane next to a public outhouse. I drove down the beach a bit, but got spooked when the wheels spun at one point. Remembering a tip from a YouTuber, I let some air out of the tires, and that got me going again. That night it rained some, which was good, as it firmed up the sand and stopped it from blowing so easily.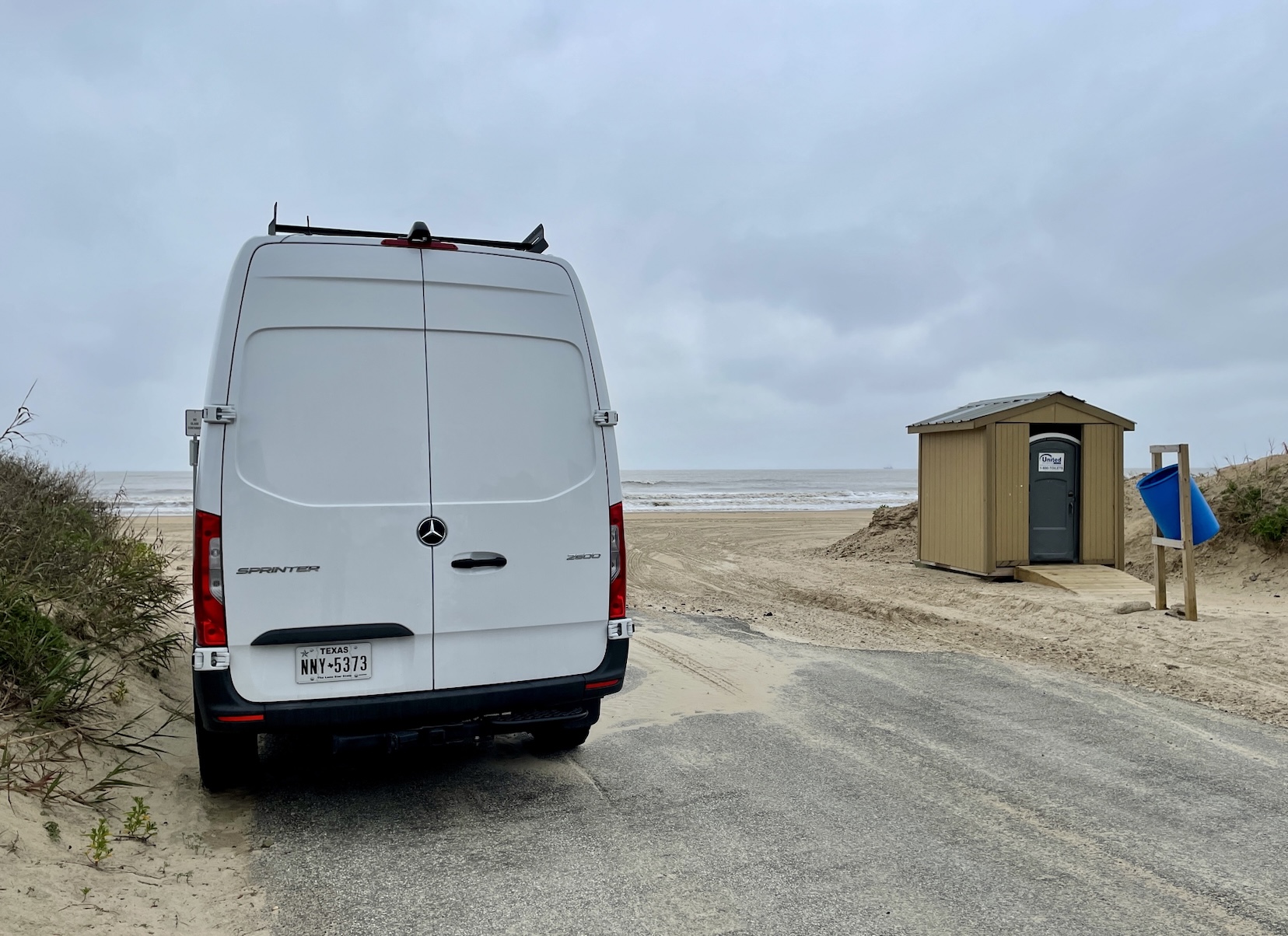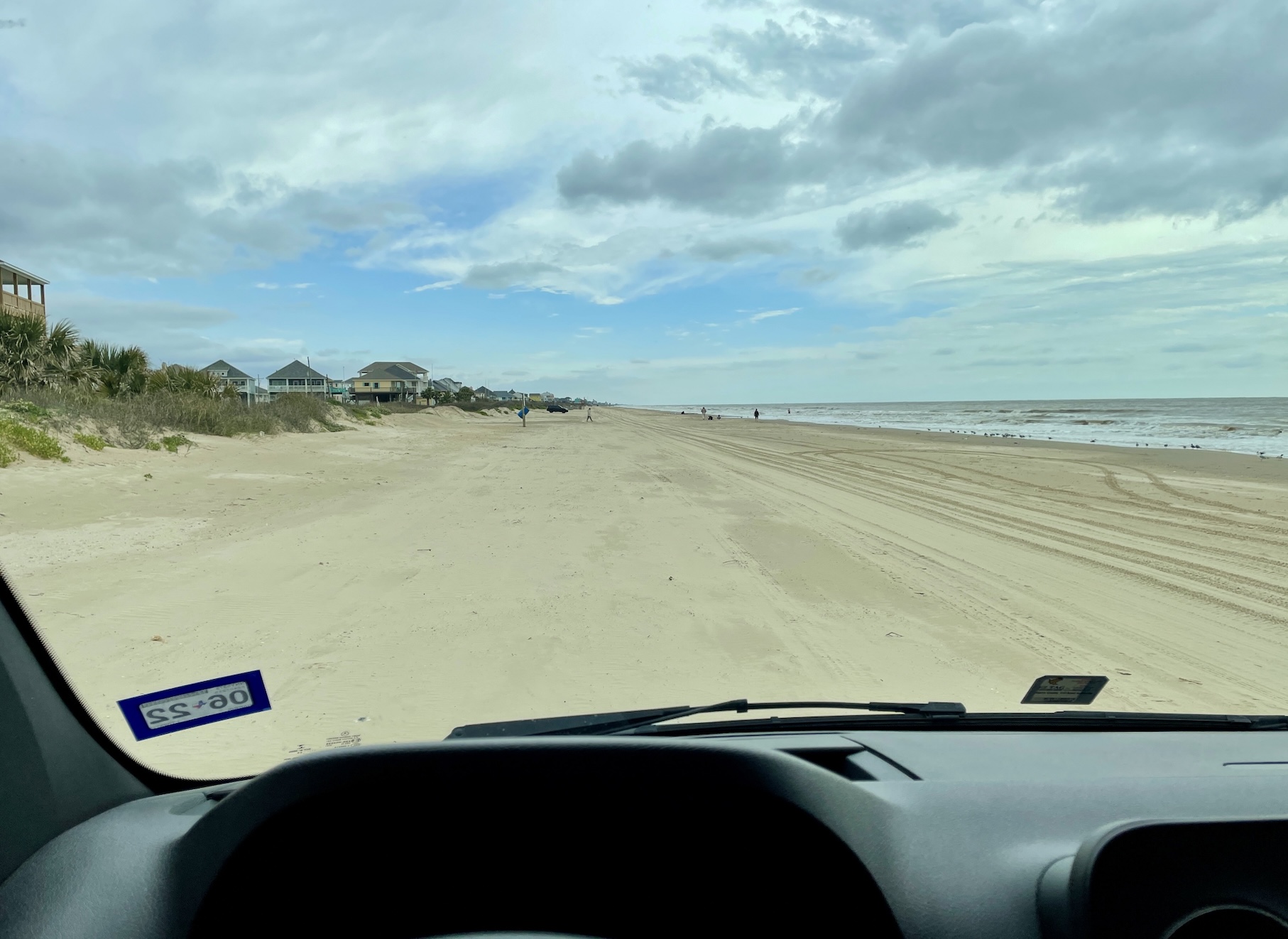 Shore birds on Crystal Beach, Bolivar Peninsula, TX
After two boring days on Bolivar and with no shower, I decided to take the free, 20-minute ferry to the next strip of land to the south, Galveston Island. I knew the Glen Campbell song of that name, but had no idea it was on the southern coast of Texas, or that it had suffered America's worst hurricane death toll in the year 1900 when over six thousand people were killed.
After driving ten miles down the beachfront, with all the hotels, restaurants and the big amusement park on the pier, I swung back eastward on an inland thoroughfare and parked in the historic Strand District. There, I pulled out my trusty Brompton folding bike and enjoyed a few hours riding around, snapping photos of the old buildings, etc.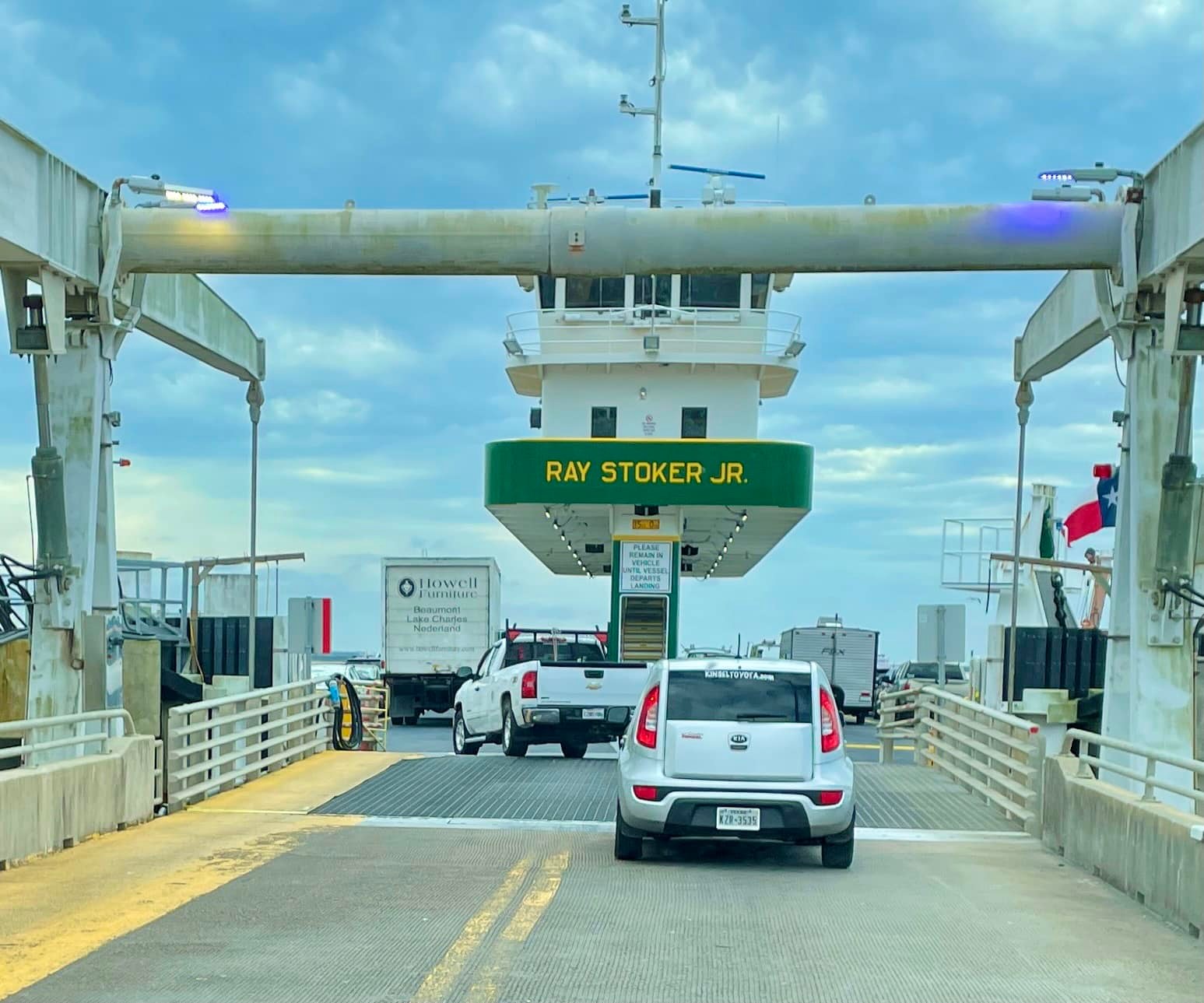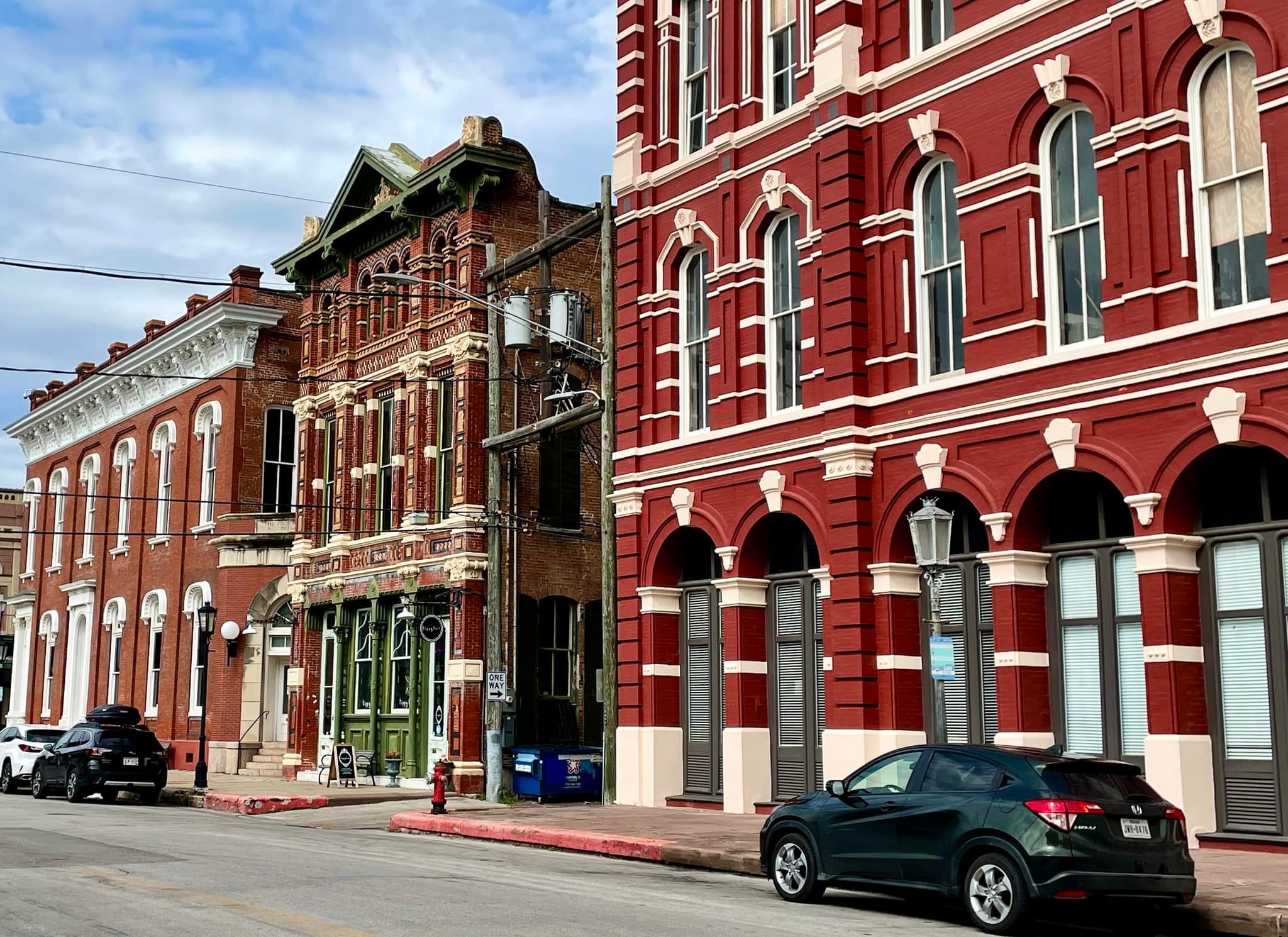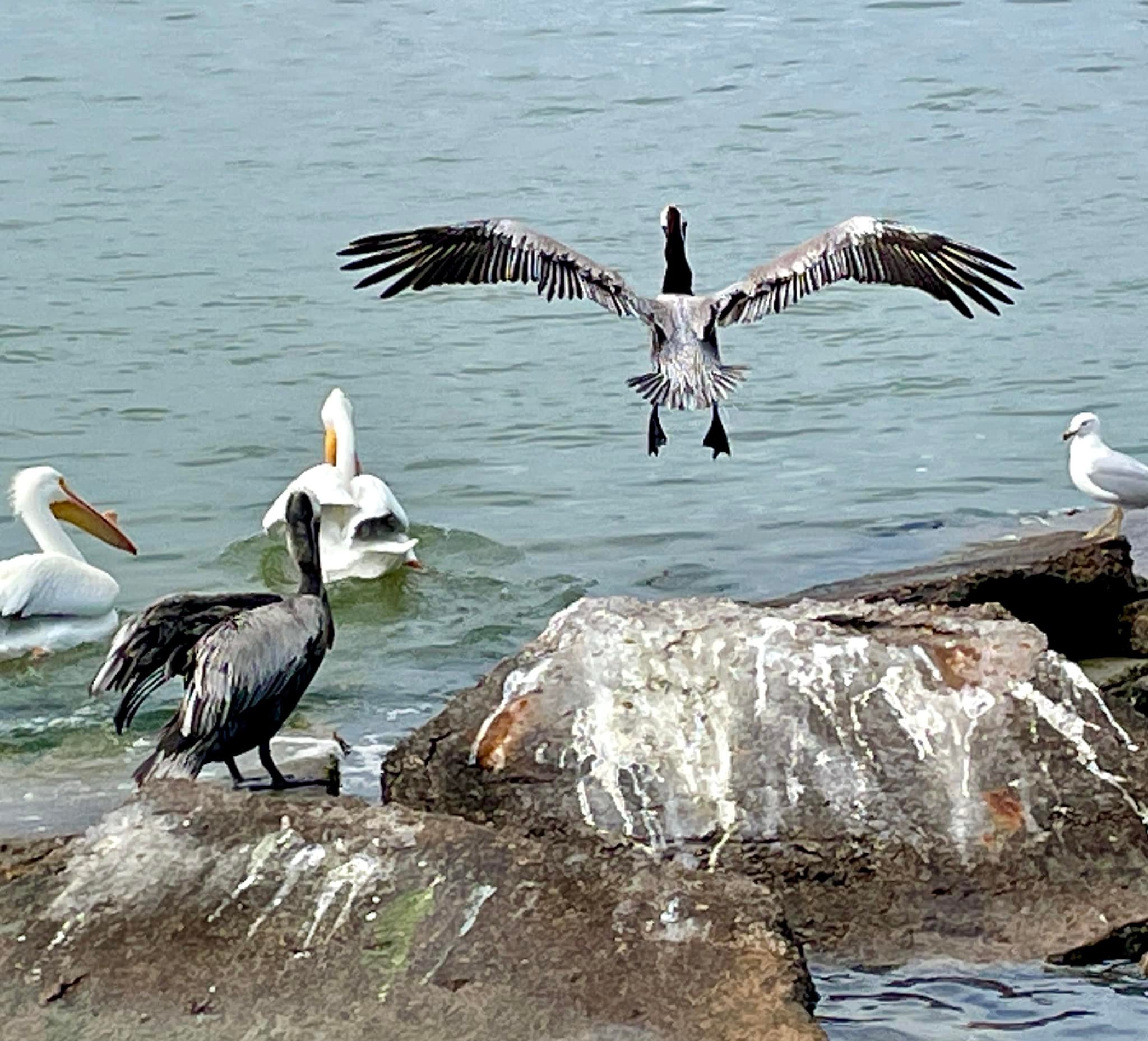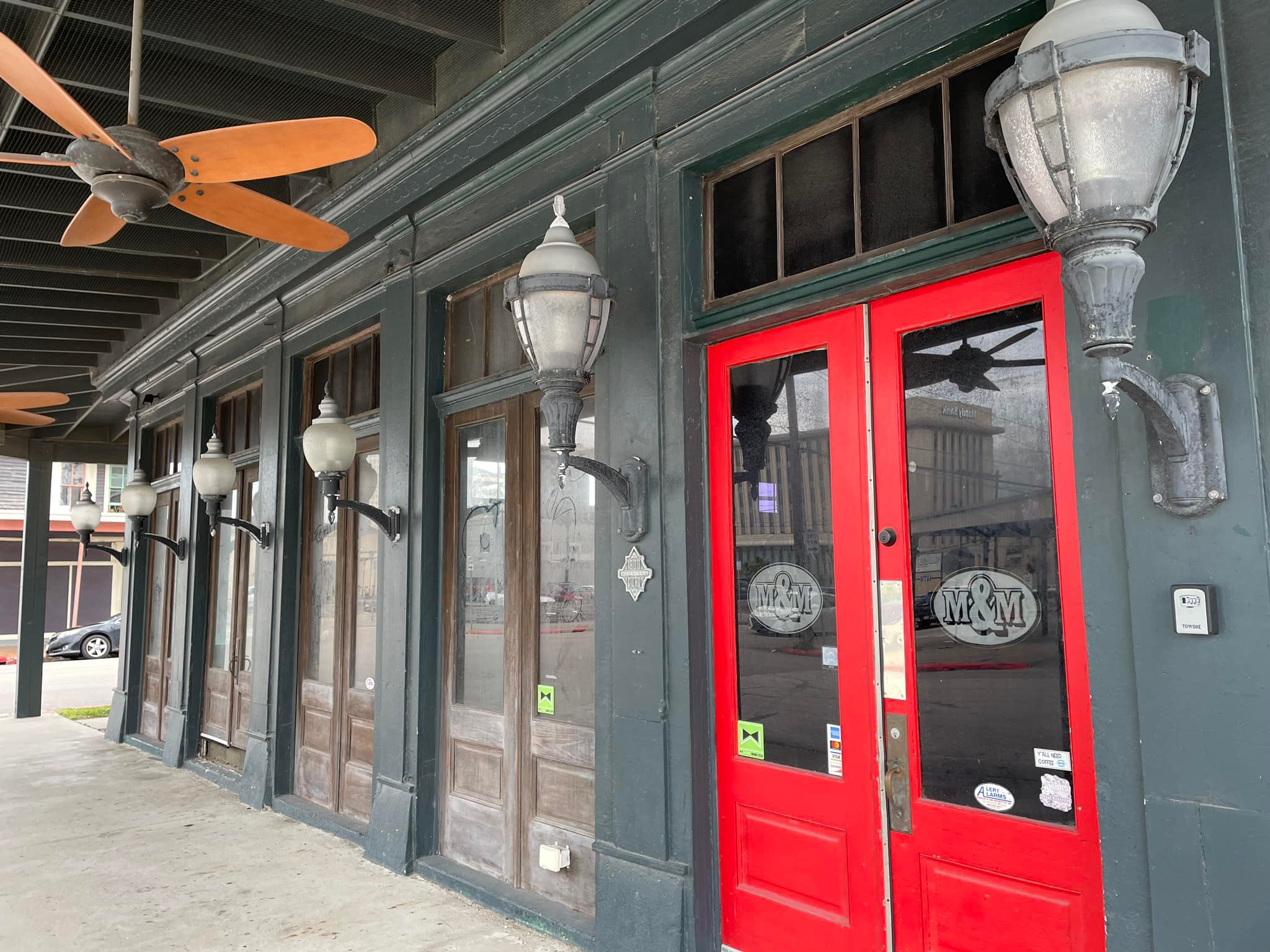 There was an amazing mural on the side of Huli Huli Hut restaurant and bar, so went back and had a nice dinner there, then checked into a La Quinta Inn for a shower and a good night's sleep before heading back to Houston the next day.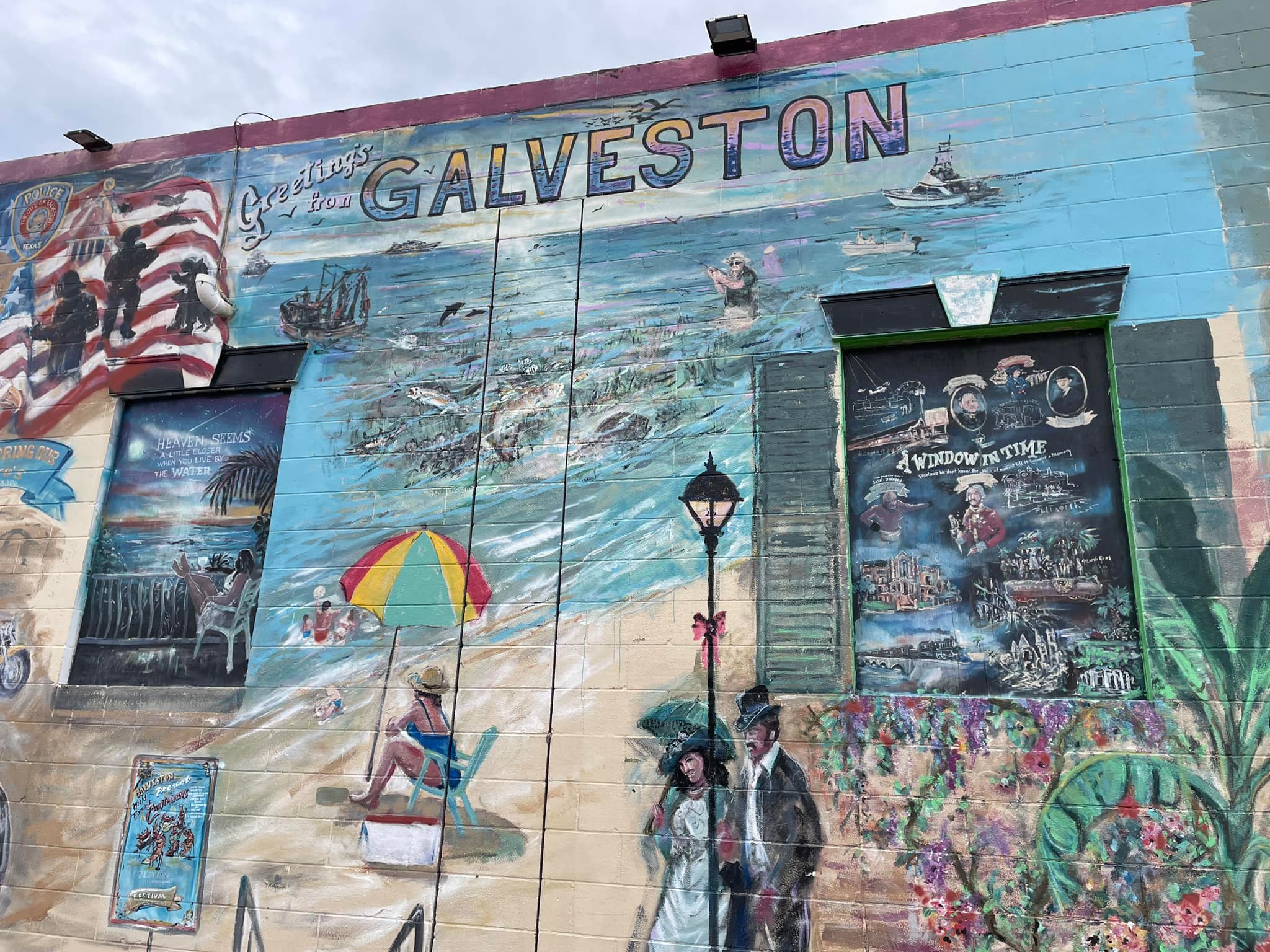 Conclusion
After sixteen days of driving around in three different cargo vans, I was honestly not looking forward to doing it again any time soon. As for living in a van full time; obviously some people do it and love it. But to me, I think owning a camper van (or any type of RV for that matter), makes more sense for people who have a house somewhere they can return to after a month or so on the road. Still, I think the experiment was mostly fun, and worth the approximate $7000 total cost.
Online, people talk about various ways of dealing with the inconveniences of vanlife, like where or how to shower, go to the bathroom, fill up with freshwater, dump blackwater (sewage), etc. Many have memberships at fitness clubs, like Planet Fitness (which has over 2000 branches across the US), or pull in to truck stops for showers. Others learn how to take adequate sponge baths. A few have vans with built-in showers, or a hose in the back they can use to shower outside.
Another option could be to check in to a hotel every few days, if your budget allows for that. But while I'd probably learn to adjust some concerning this if I got my own van, I learned how much I like to go to bed feeling clean, and how I don't like having to worry about using up my water cleaning myself or washing dishes.
Planning: Where, When, How…
How much you can enjoy living in a van also depends on where you go and the weather when you get there. As I said, the convenience and safety of the RV park in the first van was a big plus. But the fact that it got into the 20s at night was not ideal. The ProMaster had a heater under the passenger seat which was fueled by a line running from the gas tank. It worked well and with the thick memory foam mattress and thick blanket, I was warm enough at night. But if I got out of bed, I noticed that most of the heat was in the top half of the van, and the floor was cold. I think the dmvan's basic build didn't insulate the walls, ceiling and floor as well as it could have been.
In spring or autumn it would have been even more enjoyable, as you could spend evenings sitting outside in a camp chair by a folding table. But I did like the fact that I was the only person renting a spot. If I were there in a more temperate season, then there would have been more RVs and probably been noisier, especially if they had dogs, which many do. And there could have been competition to use the shower and toilets at times. I also heard that when I was there (in winter and toward the end of COVID), it was unusually quiet in town, and that normally there are so many visitors that traffic slows to a crawl. I'm not into that kind of scene. The secret's out and van people have started overcrowding the most desirable places.
Speaking of which, if I got my own van, I would definitely try to spend as little time as possible driving around cities, with all the traffic, strip malls and chain outlets. Of course, if you're living in a van, there will be times when you can't avoid it. To me, this is the soul-sucking part of America. I'd want to spend as much time as possible on beaches, in the mountains or desert, etc., communing with nature and enjoying the peace and quiet.
I achieved my goal of trying out the three cargo vans, but I would have had a better time if I could have planned where—and when—to go, such that I was in beautiful places during the best weather. For example, what if I had camped near a fishing stream in the Rockies when the daytime high was around 80°, and where I could easily fill up with fresh water (perhaps filtering it first), and bathe in the creek? Or a clear freshwater lake in some other rural area?
Moab and environs were a great find. But the California desert was just so-so, and the Gulf of Mexico was underwhelming. So yeah, if I'd gone to places more conducive to enjoying vanlife, during better weather, then I'd probably have gotten an overall better impression.
Bad Apples
One thing all van people know is there are some businesses that allow you to spend the night in their parking lots. Walmart and Cracker Barrel are two of the most well known. Knowing there would be times when this could be necessary, the day I picked up the Transit in Alpine, CA, I called the nearest Walmart to see if I could spend the night there. An employee said they used to allow it, but since some had been abusing the privilege by leaving trash in their parking lot, etc., they had put an end to it.
I'd heard online that some people in the van community were giving the others a bad name in this way. It just takes a few bad apples to ruin it for those who are respectful of the hospitality offered by Walmart and others. There are also some who find a place to park and never leave, basically trying to live rent free in towns and cities across the country.
People live in vehicles for a range of reasons, and sometimes it's not by choice. While some are digital nomads and make a decent income on the road, others are destitute, or close to it. While many vanlifers may be thoughtful and classy, not all are. For example, in one thread online, a guy said he saved his dirty dishes for a week, then washes them in a Walmart bathroom. Whatever you may think of Walmart and the ethics of their business practices, if it were your store, would you want people washing a week's worth of filthy dishes in your bathroom? I doubt it.
Too Many Vans?
Unsurprisingly, the vanlife movement is also thriving in Europe. I came across one post online about how it was getting harder to find places to park on the beach roads in southern Spain. There was a drone shot of one stretch of highway where around fifteen vans were parked diagonally next to each other by the sea; not my idea of  'spending time alone in nature.' There were comments about how some European communities were getting fed up with them and finding ways to limit their activity.
When I picked up the Transit, the owner suggested heading to the California coastline to find a spot. But even without looking, I knew I'd be unlikely to find one there. I think it's now at the point where you have to purposely go to places that are not so attractive or accessible to most. (One more reason for off road—and off grid—capability.)
Which Van?
There is a tremendous amount to know about vanlife and, though I learned a lot, I'm still a beginner. If it was unpleasant at times, it was at least partly due to flying by the seat of my pants, which involved several (sometimes literal), wrong turns. However, I've seen that some vanlifers do extensive planning before heading out. I think there may be established routes on the web that, if followed, can ensure pretty smooth sailing.
Another reason why I'm not about to buy a new (or near new), camper van soon is, because everyone and their dog wants one, they are incredibly expensive currently. And you won't find a high roof cargo van on any car lot in the US, unless by freak accident.
Ford Transits, for example, are in such high demand as I write this that they have stopped taking orders for 2022. (I've heard they will start taking orders for 2023 this June.)
Bueno Amigos
To me, the three vans are more similar than they are different. They all drive well and have sufficient power. So, if and when I decide to buy, if I found a good deal on any of them, I might go for it.
That said, I'm not very interested in the Sprinter. They're the most expensive to buy and service, and sometimes you may not be able to find diesel fuel in the boonies. And part of me just doesn't want to display the snooty Mercedes logo.
With hindsight, I liked the ProMaster a lot. If I were six feet tall, I might have to stoop a bit inside, but it was perfect for my height. I also liked the squareness and width, and how I could easily sleep crossways. The front wheel drive of the Ram worked fine during my trip, but apparently it has the lowest clearance of the three vans and, with no AWD or 4WD options, is not as ready for the dirt or gravel surfaces you'd expect down a logging road, on some Bureau of Land Management (BLM), land or in a national forest. Though it may have been partly the result of Moab's 4000 foot elevation, the engine also seemed a bit wimpy.
Dream Van
I guess I'd say my dream van would be a new Ford Transit, configured something like this:
White, high roof, all-wheel drive, EcoBoost engine, tow package, extra windows on sides and rear, swivel seats, power sliding door, cruise control, rear camera, touch screen. (If I ever fill out an order form, I might choose other options, as well.) The current price to order this configuration is about $53,000. But that may be before tax and other fees?
There's also a company called Quigley that is authorized by Ford to convert transits to 4-wheel drive. But besides costing around $10,000, 4WD vehicles get worse gas mileage than 2WD. They say though that if you can afford the 4×4 conversion, you can probably afford the higher gas cost.
No-build Build
Unlike most, instead of building it out with everything before hitting the road, I'd just do the insulation and floor, ceiling and walls, then test drive it to make sure there are no rattles or squeaks. Next, I might do what renowned vanlifer Bob Wells calls a "no-build build." I.e., get a cot, cooler, battery pack, some plastic drawers, etc., and hit the road. After cruising around in this tin can for a while, I'd get a better idea of what features I'd want to make permanent.
Another thing I liked about the Ram's basic build was just that: It was basic, which left a lot more open space inside than the two owner-built vans. Builds like theirs use up every inch of space, resulting in a claustrophobic feeling, where about all you can do is turn around. All van layouts involve compromise and none are perfect, but I'd want to leave as much open space as possible. And though less stealthy, (which is important to some), I'd like to have several windows, for the same open feeling.
Push-button Bed
Though tricky to pull off, I have seen some people install bed frames that go up and down. I definitely think that would be cool: With the press of a button, the bed rises to the ceiling, resulting in even more open space and, say, a table and bench seat below where you can work or eat. Then at night, press the button again to lower it. (There are both commercial and one-off versions out there.)
Realistically, one could spend a lot of nights in cheap hotels or campsites with a tent for the price of a nice cargo van. And a 4×4 pickup truck can get you off grid with a tent for a week at a time. There are so many options. Still, a well-thought-out cargo van is definitely a cool way to go, and it's still possible I may go that way in the future.
—Postscript
By the way, when I was lying in the back of the Sprinter on Bolivar Peninsula one night, I started to wonder if making a down payment on one of the ProMasters at dmvans might be a good idea. So, I emailed them, just to find out they'd been sold a while ago. And they'd be waiting, like everyone else, for new stock to come from Ram, to build for eager clients.
—PPS
Just saw this letter to the editor in a San Diego newspaper about vanlifers over-exploiting the area.