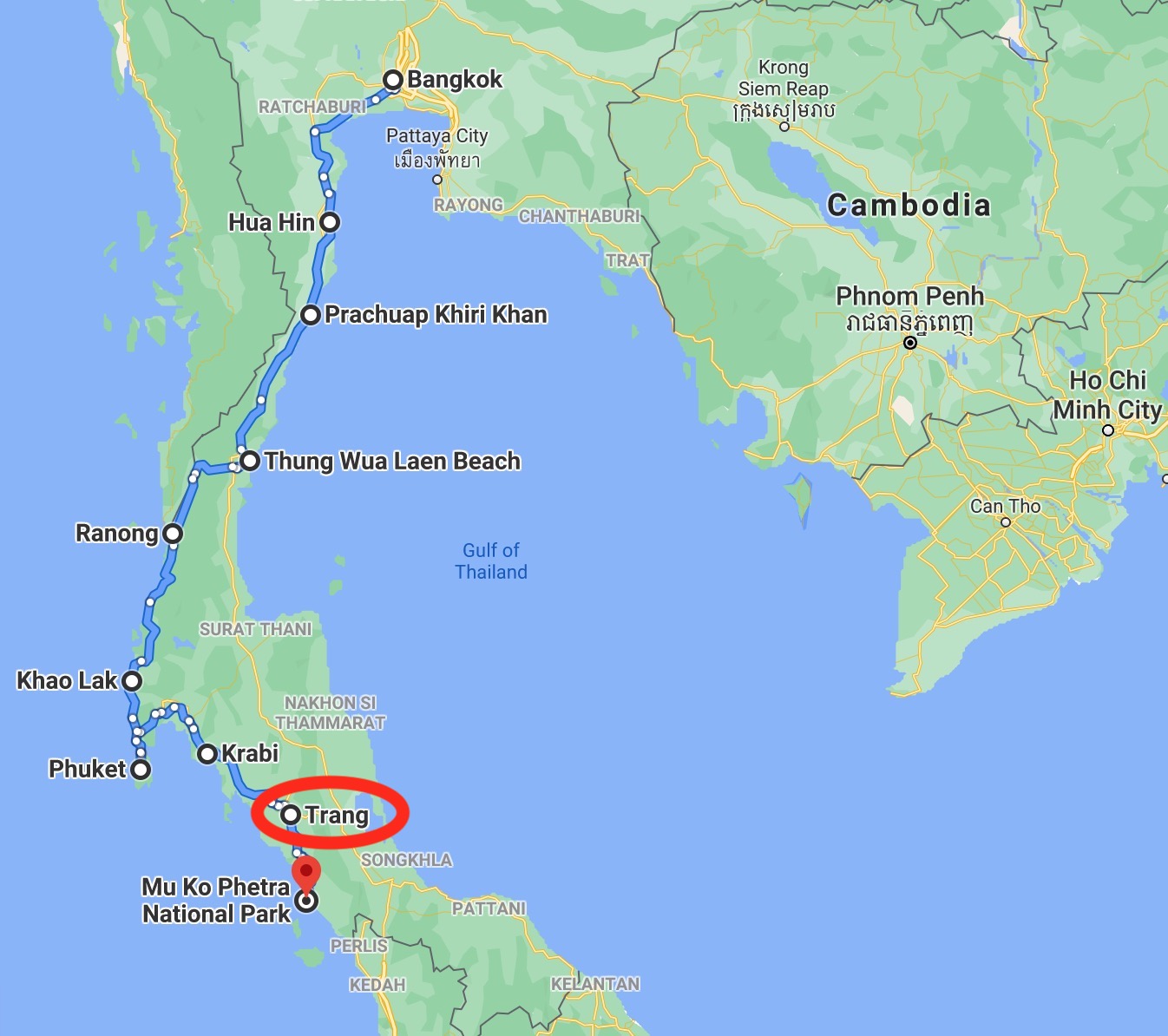 After seeing George in Khao Lak, I headed south to Phuket, stopping at a temple on the beach along the way. (Writing this from Trang, to the south.)
Wooden Tesdhammanava Temple on the beach.
Phuket
I'd only been on Phuket briefly around 20 years ago for diving off the southern end, so thought it would be a good opportunity to get to know the island a bit.
Normally crowded, now no one on famous Patong Beach on Phuket Island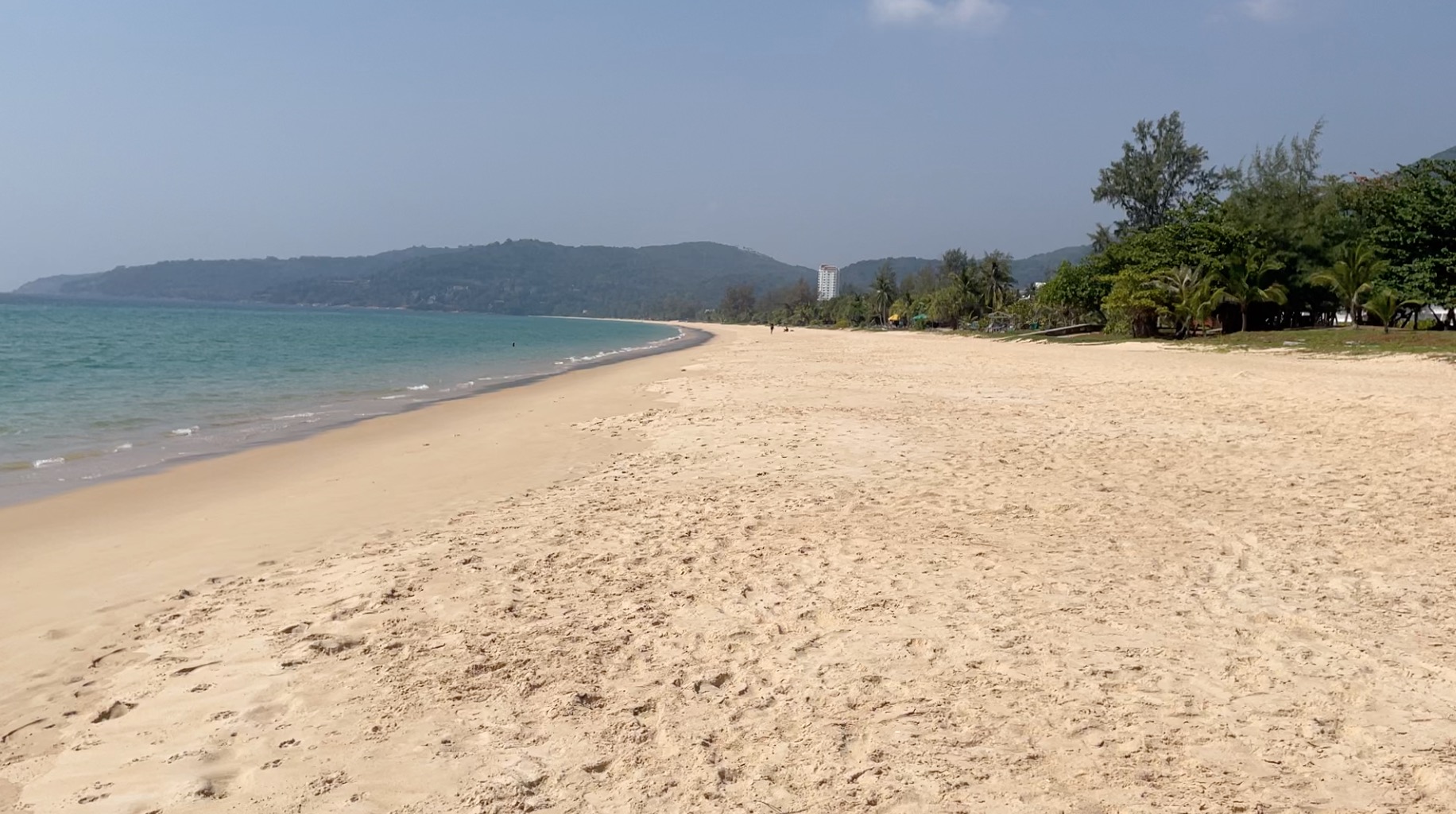 Same with Karon beach, to the south. The many nice hotels, restaurants and other businesses around that beach were all closed. Like a ghost town.
Almost the same with Kata beach (there were a few people and food carts on south end)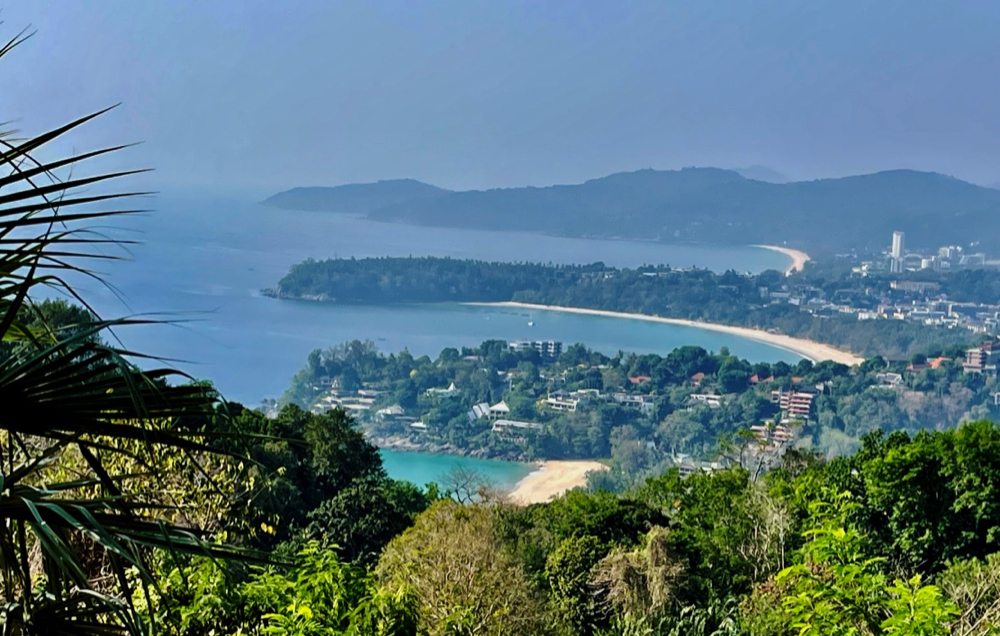 From Karon Viewpoint
I did come to understand why Phuket has become such a draw for tourists from all over the world: It is a physically gorgeous place. But I only took a few photos there, because much of the island is sadly disappointing. Even though no tourists now, driving around the island is largely like driving in any congested Thai town. You can see that money from tourism has caused the island to be way overdeveloped, with almost every square inch of the beach areas exploited. Driving was difficult enough now; in normal times it must be a nightmare. There are a lot of up/down windy roads between the beaches though, so with a sport motorcycle it could be fun.
An Italian friend (who sadly passed away last year), had been looking for places to retire in Thailand. One of the places he spoke highly of was Phuket Town, on the southeast part of the island. He said he liked the quaint Sino-Portuguese buildings and laidback feeling there, and since the beaches were completely dead, I decided to look for a hotel near there.
Seabed Grand Hotel (the bed was, indeed, grand)
I'd been having fair luck using the Agoda booking app, and this time it recommended the Seabed Grand Hotel which was a little outside the town. The woman at the counter assured me there were no barking dogs in the area, which turned out to be true. As some friends had told me, due to covid there were some excellent deals at high end hotels. The room at the new Seabed Hotel was simple, but it had one of the most comfortable beds I've ever slept in and everything was new and first class. While normally going for 3–4000 baht per night, I got it through Agoda for about 900 baht (around $30 instead of $100).
My breakfast kit
One thing I learned during the 50-day juice fast I did last year is that my mind and body do way better on plants than on animal products. While I'm still eating meat and some dairy, I've gotten to having oatmeal with fruit and pistachio milk almost every morning.
Nut milks have gotten easier to find. Even 7-Elevens usually have soy, almond and sometimes walnut milk. But I've found pistachio milk is best, and Tesco and Big C chains usually have it. I still put regular milk in my coffee, as I haven't found a plant based milk I like for that.
Though of course you're not supposed to cook in hotel rooms, I'm careful and the cooker I have doesn't get hot on the bottom. Still, I don't want the maid to know, so I clean and stow after every use.
"Diveskin" swimwear to protect from UV rays
While I didn't get badly burned while snorkeling in Khao Lak, I did get too much sun that day. Then two days later when I got to Phuket I rode my bike around the Patong Beach area.  Despite putting on long pants, long sleeves and a hat, the sun was so intense it went right through my clothes and added to my burn. Unfortunately, ever since then I haven't wanted to be out in the sun. I researched reef-safe sunscreens and also asked the people in a Facebook snorkeling forum about wearing UPF protective swimwear and many people said they always wear it. I eventually found a set at a mall in Trang. It seems wrong, in a way, to wear clothes in the water, but at my age my skin just seems unable to handle the intense sun here.
Mangiafuoco Italian restaurant
Because my skin was still very sensitive to UV rays, and because it's so hot and humid outside, I spent more time in my room and only drove to see a couple of the famous beaches. The first evening I found a very good Italian restaurant called Mangiafuoco which was run by an Italian and his Italian-Thai son, Sean. The house red, an Australian Shiraz, was also quite nice. As I told Sean, once I find something that works, I stick to it, and ended up eating there three nights in a row.
Krabi
Limestone islands in Phang Nga Bay
To drive to Krabi from Phuket, you have to drive north again to the short bridge that connects the island to the mainland, then around Phang Nga Bay. George had also suggested taking a 15 kilometer side trip in order to see a spectacular view of the limestone islands in the bay. There is a business called Sametnangshe where you pay fifty baht to ride in a pickup truck up a steep path to the top of the hill. Unfortunately, I forgot my iPhone in my truck (which is connected to my flatscreen for maps). So, the shot I took back in their parking lot was not as spectacular as the view from above. (But you get the idea.)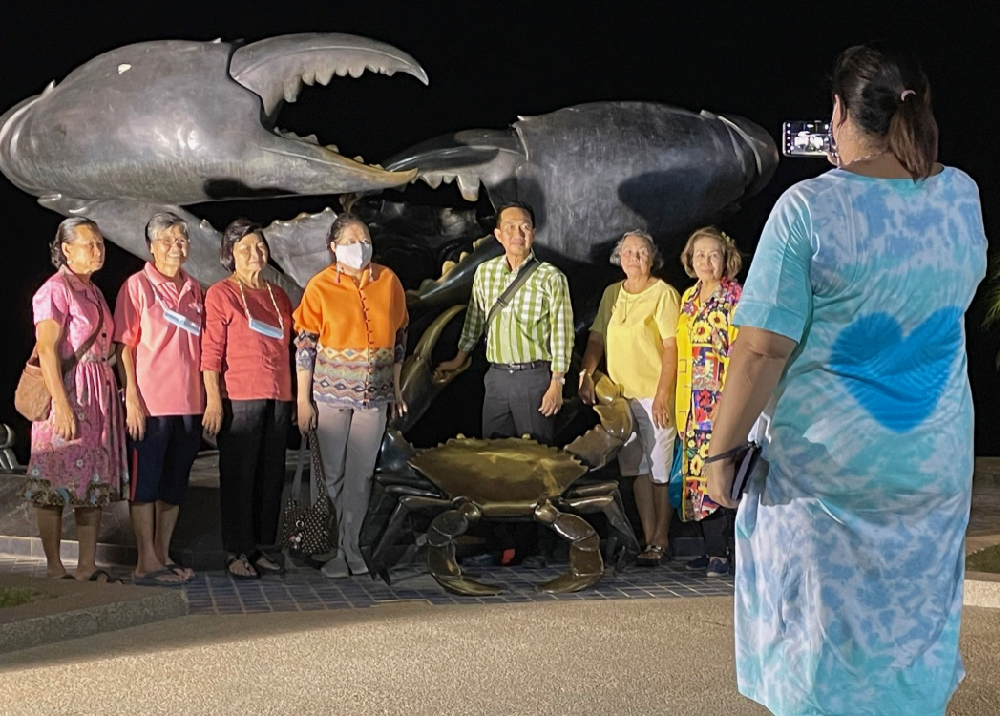 Commemorative photo in front of the Krabi crab by the pier
Not Nice
Agoda suggested the "Nice Hotel," just a few blocks from the pier where boats, in normal times, take tourists out to the several islands nearby like Lanta and Phi Phi. As usual, I asked the woman at the desk if there were barking dogs in the area. "No,"she  lied. After being awakened for the third time at 4:00am by a dog merrily yapping behind the building, I checked out, and by 6:00am had found a room in and older, but quieter, hotel.
Mellow cat near pier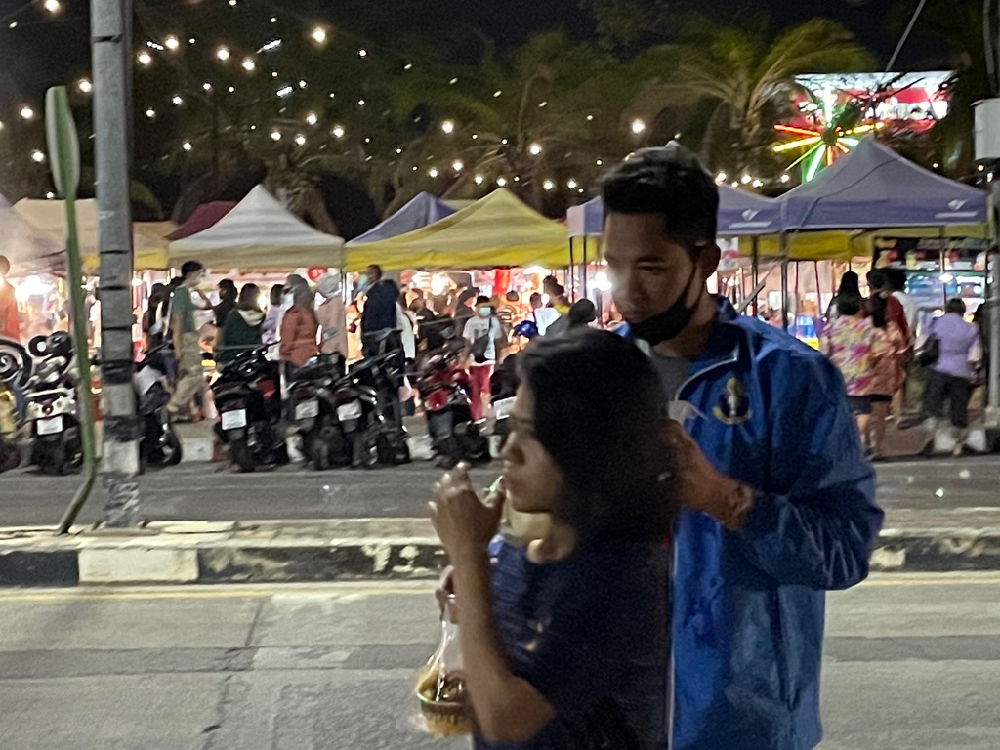 Krabi night market
Before my one night of non-sleep in Krabi, I made it to the night market across from the pier. It was small and not exactly crowded, but it was still good to see some locals enjoying a Friday night.
Street between pier and night market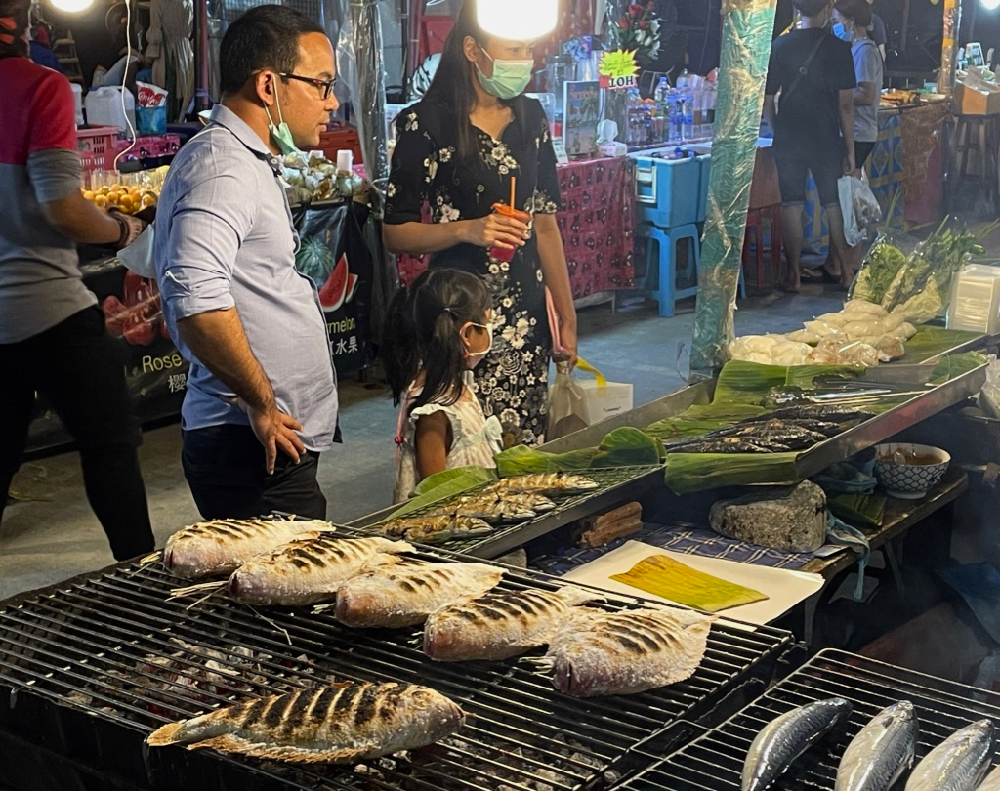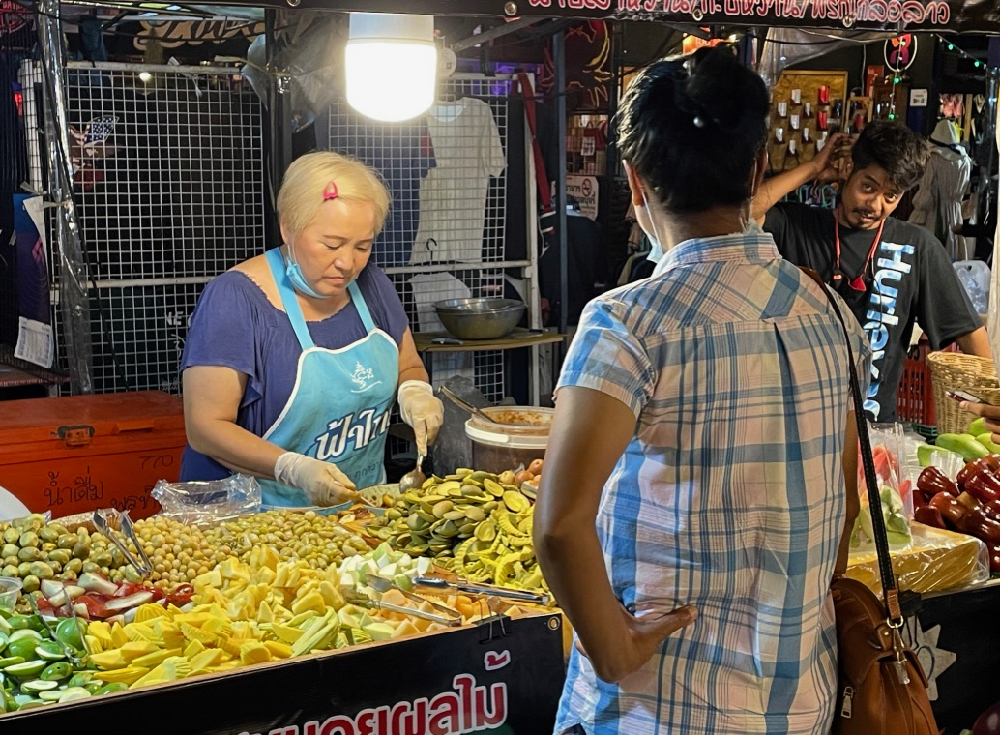 One night in Krabi was enough, so the next day I pointed my truck towards the town of Trang, where I'd been briefly 20 or 25 years ago en route to little Kho Ngai island.