Tonight a funny thing happened while having a beer on the second floor of a restaurant on the beach road here in Prachuap Kirikan town, where I arrived today after spending a few days in Hua Hin, an hour and a half to the north.
Soon after ordering, I noticed a kind of parrot on a telephone wire quite near me. What luck!, I thought, and quickly picked up my iPhone, zoomed in and tried to snap a few shots before it could fly away.
Coincidentally, bird photography had been on my mind. My sister is an avid birder and got me interested in the hobby when she visited Thailand a few years ago. Because I'll doubtless come across some interesting birds on my current trip, I've been studying up on which camera to buy; but I'm still far from making a decision.
Surprisingly, the bird stayed on the wire long enough for me to take a couple shots. It was actually good for me to see how ill suited my new iPhone 12 is for this task. I already understand that a camera with a true optical zoom and a large sensor could do a much better job at capturing this fellow in the waning light. But I decided to take a bit of video, as well, since my subject seemed in no rush to move on.
This bird turned out to be quite a character–hanging upside down on the wires, straddling two of them, and so on. Then it would flit away elsewhere for a minute, then come back to the same wires. It seemed to like to chew on them for some reason.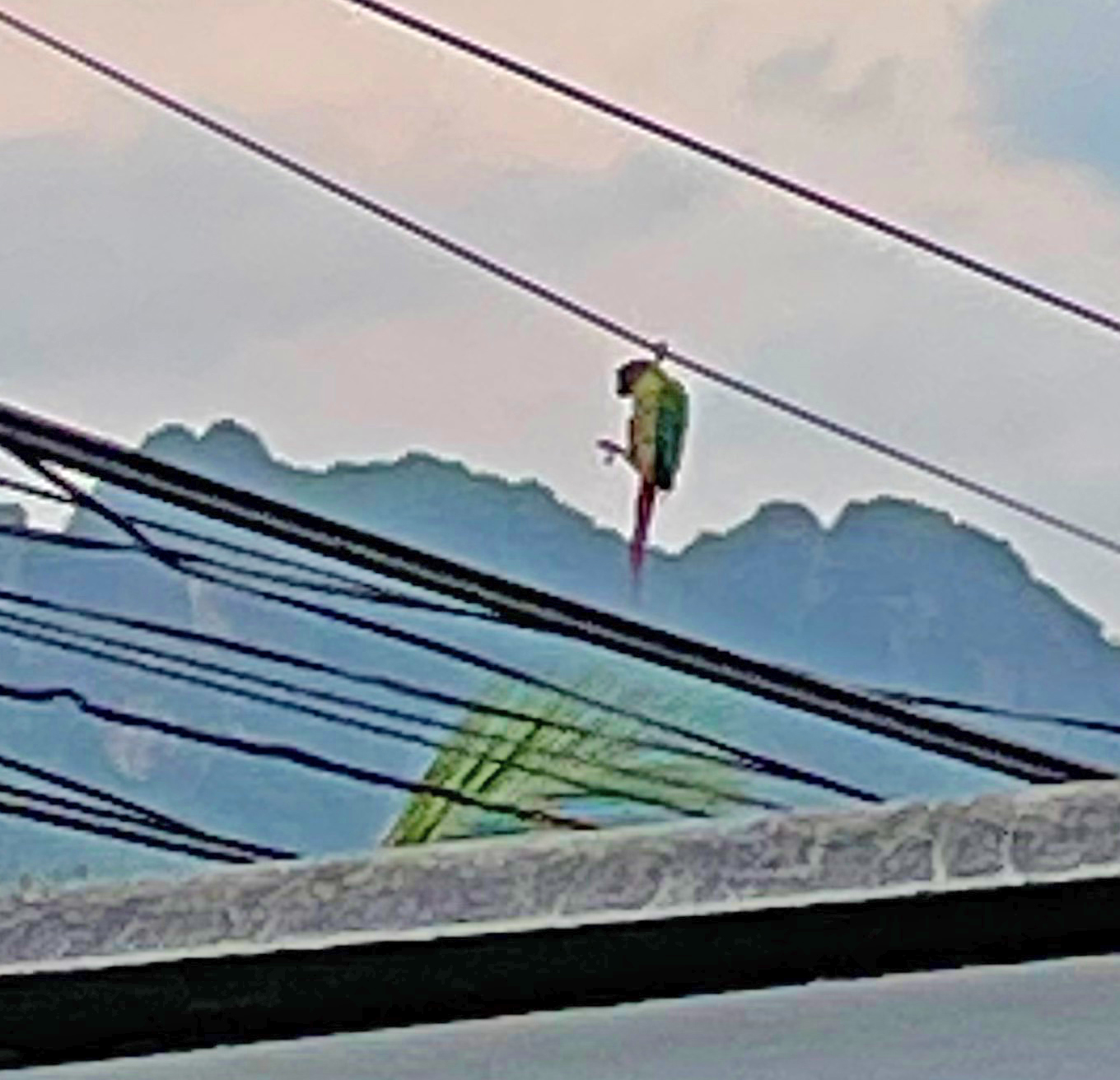 Well, then next thing I knew, I felt something on my head! I instinctively tried to shake it off, and succeeded. To my astonishment, it had been that same parrot (or a kind of parakeet, I now think), and it now sat on the chrome railing about six feet in front of me. So!, I thought: This bird must be an escapee–a pet bird that has escaped its owner and now lives in the wild–but is still accustomed to people.
It didn't seem afraid of me, so I gestured for it to come over to my table, but it didn't. So, I stood up slowly and went over to it, holding out my finger for it to perch on. But it was only when I put my finger right up to it that it finally got aboard and I could see a silver band on one leg. You rascal, I thought, you've been eyeing me all along!
I sat back down at the table with my new friend, who quickly jumped on my shoulder, which would have been fine, except that he (she?) proceeded to climb onto my glasses, rapt in some avian fascination with them.
Eventually I grabbed the little creature, which it seemed not to mind, placed it back on my finger and petted its head a bit before finally placing it back on the railing and watched it fly away.
"That's the neighbor's bird," the western owner said from behind me. "Comes and visits many of our customers." Aha! So that was it. Well, we had a few birds while I was growing up that exhibited some of the same behaviors. But I thought it was quite remarkable that this one, which belonged to the people next door, would not fly into the wild, but enjoy entertaining the local human folk.
Before I left, I asked the waitress if she knew the bird's name. "Sabai," she said, which means "well or comfortable" in Thai and is part of the well known phrase, "Sabai dee mai?": Are you well? If you say it twice, it means "I feel comfortable":  Sabai sabai.
After riding my bike to the store, I came back through an alley that took me to the beach road and right past the neighbors who owned the bird. Sure enough, there was Sabai, chewing mischievously on a branch of a skinny wooden tree they had probably set up for it. They appeared not to have a cage; it was free to come and go. Or to land on the head of the patrons next door. 🙂